Question:
I keep running into a situation where I see an email on my mobile phone, and then a little while later it's gone. Yet when I get home, it's there in my email program (
Outlook
). Having email disappear does me no good when I'm out and about. How do I get those emails to 'stick' on my phone?
With more and more people reading email on their smartphones, this is actually a pretty common situation, as it's very easy to misconfigure things when adding a phone to your setup and have email seemingly disappear.
I'll review what I think is happening, and then explore the alternatives to fix it.
Desktop downloads
For years, most desktop email programs were configured to download email from the email service to the computer on which they were running.
What that really means is that the programs are configured to use the POP3 email fetching protocol. POP3, by default, moves the email from the email server to your PC. The result is that after the email is copied to your PC, it's removed from the mail service's server.
This actually made a lot of sense for many reasons, the two most common being:
Your PC was where you dealt with your mail, so there was no point in having anything on the server after it was downloaded.
Mail service providers often limited the amount of space you could use anyway, often to a small enough amount that even the mail that accumulated over a multi-week vacation could exceed what's called the "quota", or the amount of space you'd been allocated.
In recent years, however, both of those reasons have pretty much been dispensed with.
Mobile access
When a mobile phone accesses email, it does so from your email service provider, of course, but it does so in a different way.
Most email programs that run on mobile devices use a different protocol, called IMAP, to access email.
IMAP differs in that instead of moving mail to the device you're using, it simply makes a copy without removing anything from the server unless you tell it to. It synchronizes in such a way that when you delete on your device, it's deleted on the server; when you read on your device, it's marked as read on the server; when you move things around in folders on your device, things are moved around in folders on the server.
IMAP makes two important assumptions:
The mail server is the official place that email is kept, not your device. Your device is simply a "window" into that master copy.
Multiple devices could all be accessing that mail server at the same time. IMAP keeps them all in sync.
IMAP is perfect for today's world where we can assume connectivity most of the time, and it's not at all uncommon to want to access email from different devices and in different ways at different times.
POP3 and IMAP in conflict
You have your desktop email program configured to download your email to your PC using POP3. Thus when it checks for email it moves that email to your PC, removing it from the mail server.
You probably also have that desktop email program configured to automatically check for email every so often – perhaps 5 minutes, perhaps 30 or more, but the key is that you don't have to be around. As long as the mail program is running, it happily downloads your email on a regular schedule.
Your mobile device is accessing your email using IMAP, which means that it's simply providing you a picture of what's on the mail server.
The net result? That "picture of the mail server" changes every time your desktop email program downloads email. Mail that arrived on the server since the last time it was checked is downloaded to your PC and removed from the server.
From the phone, the email looks like it disappeared.
Solving the conflict
There are two basic approaches to solving the conflict: the right one, which takes more work, and the practical one, which amounts to a hidden setting.
The right solution is to configure your desktop email program – you mentioned it was Outlook – to use IMAP. That way it becomes "just another device" with a window on to the master collection of email stored on your email server.
The issue here is that you can't convert an account in most email programs from POP3 to IMAP. Instead you have to set up a new account within the mail program, using the same credentials but this time specifying that IMAP will be the protocol not POP3. In Outlook that'll create a separate and new set of folders for the IMAP version of the account. You can then delete the POP3 configuration.
I call that the right approach because then everyone is in agreement: the mail server contains the master copy of your email, and everyone else – your phone, your desktop PC, your webmail, and whatever other devices you add in the future – all simply provide a local copy or view of that master copy.
There are two reasons you might not want to go that route:
Your email provider still has draconian limits on how much email they'll store for you.
The process of converting from POP3 to IMAP that I just outlined is too daunting for you.
In this case we'll leave the desktop PC configured to use POP3, but make a change to an obscure setting.
In Outlook, for example, in the advanced configuration of the account, there's an option to "Leave a copy of messages on the server"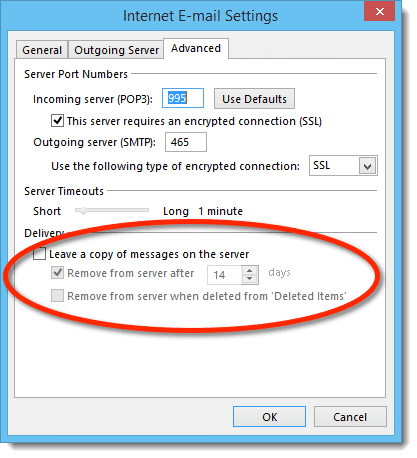 By selecting this option, Outlook will simply skip the step where it deletes the messages after it downloads them. You can also have it automatically delete messages on the server after a certain number of days, or when you actually delete them in your mail program.
What this will not do is synchronize anything else. If you read an email on your PC, for example, it'll still show as unread on your phone, and folders are not supported – POP3 is only about downloading into your inbox.
But it could be a reasonable solution to your current issue.
And of course next time, with a new account, perhaps you'll be able to set up IMAP from the start.
Podcast audio

Download (right-click, Save-As) (Duration: 7:00 — 6.4MB)
Subscribe: RSS