Welcome to Ask Leo!
This is the official "link in BIO" page for those social media services — I'm lookin' at you, Instagram — that provide only a single clickable link to give you information I share online. Check the list below for the specific item that brought you here.
If this is your first time here, or are just curious, here's what Ask Leo! is all about. Be sure to check out my most important articles.
Links from the most recent social media posts will appear at the top. Enjoy!

---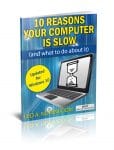 10 Reasons Your Computer is Slow! Free ebook!