The Ask Leo! Store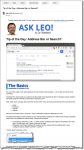 The Ask Leo! Tip of the Day
Get a tip emailed directly to your inbox six days a week to help you use your computer, and your technology, more effectively and with more confidence. Includes online access to all previous tips as well as additional bonuses.
♦
Ask Leo! Online Courses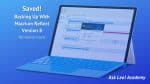 Saved! – Backing Up with Macrium Reflect, the Online Course will show you – step by step – how to back up your Windows computer using this powerful and reliable backup software. You'll feel confident and safe. Ready for anything.
Learn more:
Saved! Backing Up with Macrium Reflect 8 – Online Course
♦
Ask Leo! Books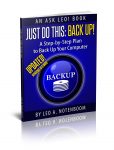 Just Do This: Back Up!
Just Do This: Back Up! outlines a step by step arrangement for backing up your desktop or laptop PC that just works. You'll be protected against everything from hardware failure to malware infestation and all the minor-to-major inconveniences in between.
Learn more:
Just Do This: Back Up!
♦
Backing Up In Windows 10
Backing up is confusing and harder than it should be.
Unless you have help, that is. Backing Up In Windows 10 is here to help.
Using the tools already included in Windows 10 (and a free alternative for a tool that's about to be removed from Windows 10) I'll show you how to set up a backup system that will protect you from almost any disaster.
Learn more:
Backing Up In Windows 10
♦
Now in its thoroughly revised and greatly Expanded 6th Edition.
You can use the internet safely!
In this book I cover the the things you must do, the software you must run and the concepts you need to be aware of – to keep your computer, your data, and yourself safe as you use the internet.
Learn more:
The Ask Leo! Guide To Staying Safe On The Internet – Expanded Edition
♦
Ask Leo! Patronage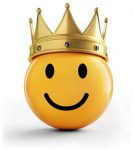 Become a patron of Ask Leo!.
Ask Leo! patrons, pledging ongoing support monthly or yearly, help me to keep doing what I do best: helping people with their technology.
There are different levels of patronage, and with each come an assortment of benefits and bonuses as my way of saying "Thank you!"
Learn more and become an Ask Leo! Patron today!
♦
Other Projects
♦
Just throw money at Leo :-)
I keep saying, you don't have to … really. But if none of the products above appeal to you, here's the deal:
If that's still more complicated that you want, then perhaps https://paypal.me/askleo will help. (Support Ask Leo! is yet another explanation of it all.)
Your choice. No matter what you choose, it'll be put to very good use.
I thank you,

♥