For some, this answer will seem both obvious and somewhat odd for me to address at all.
For others, however, there's an extremely important lesson here. I've come to the conclusion that this concept needs some serious clarification.
And it's not just about what happens here at the Ask Leo! website, but rather how people view the content that they see everywhere on the internet.
You need to recognize advertisements.
I occasionally have people ask me for assistance with a product that I've recommended. The problem is that I have not recommended the product and in some cases, I've never even heard of it!
How did this happen? I presume the individuals asking the question saw an advertisement of some sort on one of my pages and mistook it for my recommendation.
Nothing could be further from the truth.
The vast majority of ads on Ask Leo! come from an outside vendor: Google's AdSense. I do not select what AdSense shows. Instead, AdSense selects ads from its inventory of advertisers based on the content of the page. This is referred to as "contextual advertising." If you're viewing a page that discusses viruses, for example, AdSense may well display ads for anti-virus software.
But the key is that the site owner – me, in this case – has nothing to do with the ad selection. I don't even know what products are available to be advertised; I just tell AdSense "put an ad here", and it does the rest.
"

… an ad is simply some space that a website "rents out" so an advertiser can place their message there.

Now, if this were just about my site, I'd probably not bother to address my arrangement with AdSense in this way. Information sites like mine rarely talk about how they make money. Instead, they focus on… well, the information.
But Ask Leo! is for people who have questions about computers and related technology. The difference between an online ad and a recommendation is information you need to know as you surf not only my site, but the entire internet.
This advertising-based revenue model that I use is extremely common. Many (if not most) of the free sites that you visit every day derive a majority of the income that allows them to exist from advertising displayed on their site. I know that Ask Leo! would not be as comprehensive as it is – heck, it probably would not even exist – were it not for the advertising presented on the site. Alternate revenue models rarely come close to covering even the most basic of costs associated with a site like this.
With all the advertising out there, it's important that you make sure that you recognize just what it is you're looking at when you visit any site.
Not unlike a newspaper or magazine, an ad is simply some space that a website "rents out" so an advertiser can place their message there.
If you can't tell the difference between an advertisement on a website and the content provided by that site, you're likely to make some ill-informed decisions.
I'm not (not, not, NOT) saying that ads are bad or that the products being advertised are bad. Far, far from it. Many products being advertised are quite good – to the point that I've occasionally joked that AdSense's targeting often ends up with the ad being the solution to the problem that led someone to my site in the first place.
But certainly not always.
While the majority of ads on my site and the internet in general are for perfectly fine products, I'm sure they are still advertisements and not endorsements. It's your responsibility to understand that an ad is an ad and to do the due diligence so you can determine if the advertised product is right for you.
And that applies to every site that you visit on the entire internet.
Ads are everywhere and advertisers are naturally going to make their ads as enticing as they can to garner your interest. Whether that interest is deserved – which it may or may not be – is something that only you can decide.
And once again, I have to be clear: Ask Leo! owes its existence to (and derives the majority of the revenue to keep the site operating) from the advertisements that appear on the site.
Ads are not my endorsements. I have very little control over exactly what gets advertised. I can block a limited number of particularly egregious advertisers, so I value your feedback on the ads that you see. Unfortunately, blocking them from advertising on Ask Leo! is all I can do.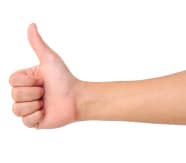 I do have explicit recommendations for particular products. I don't give them freely and that's why there aren't more of them. They also change over time as I find that products that I once favored no longer meet my standards and new products or services arrive to take their place. But they are explicit recommendations and not paid advertisements.