Question:
Is there any way we can stop Google doing this (anti-privacy) stuff?
I have a PC which I normally use with Firefox, but sometimes Chrome (usually when page translation is needed). My son occasionally uses the PC but always with Chrome.
Today I went to fill out a form for entry to a competition: as soon as I entered the first 'S' of the name, Google filled out the WHOLE of the rest of the form with HIS mobile number, HIS email, in fact all his personal details. He assures me he has not activated any autofill or checked any 'remember me' boxes and (since he's well over 30yo and totally honest) I believe him. The entry form came from a local newspaper and is nothing directly to do with Google or their services.
SO the question is – how to prevent this happening by default – after all, this means that ANYONE who uses this PC has access to all my son's personal info.
Surely Google can't be allowed to get away with this, and anyway, either way, the rest of your readers need to know of this gaping hole in security created by Google?
*Note to self – uninstall Google Chrome.*
Comments please Leo?
Sure. I think you're blaming the wrong entity.
There's a lot of confusion when a browser (yes, any browser) automatically fills in something on web page when we start typing.
There's nothing deep, dark or nefarious going on here. No one's trying to violate your privacy. It's simply your browser doing its best to be helpful.
Turning off the option in Chrome
Since this is so concerning to you, before I explain what's happening, let's turn the "automatically filling" feature off.
Go to your Google Chrome settings by clicking the "hamburger" menu at the far right of the toolbar: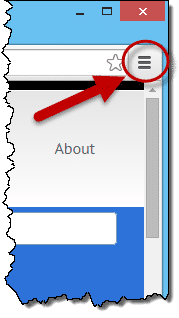 In the resulting drop-down menu, click on Settings: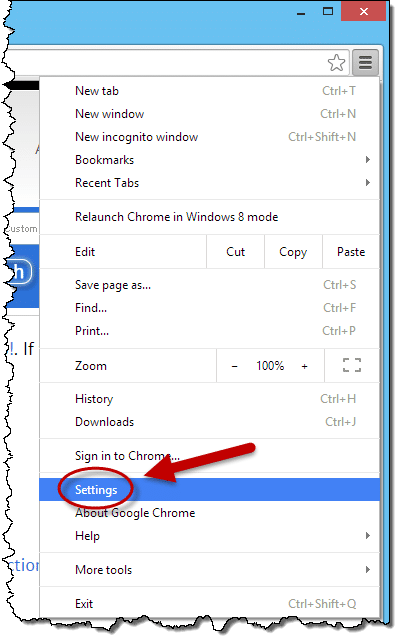 Scroll to the bottom of the settings page that takes you to, and click on Show Advanced Settings…: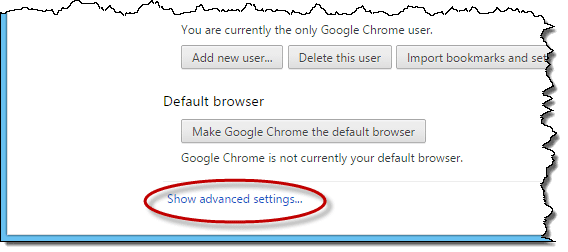 Now, scroll down into the newly-displayed advanced settings and look for Passwords and Forms:

Uncheck the "Enable Autofill…" line. You should no longer see information automatically fill in when you start typing into web forms. (I also recommend turning off "Offer to save your web passwords", but that's a different discussion.)
Of forms and auto-fill
Where things get confusing is with this concept of a "form". Basically anything you can type into that's on a web page is called a "form" – as in a form you fill out. When you ask a question here on Ask Leo! you're filling in a form on the ask-a-question page: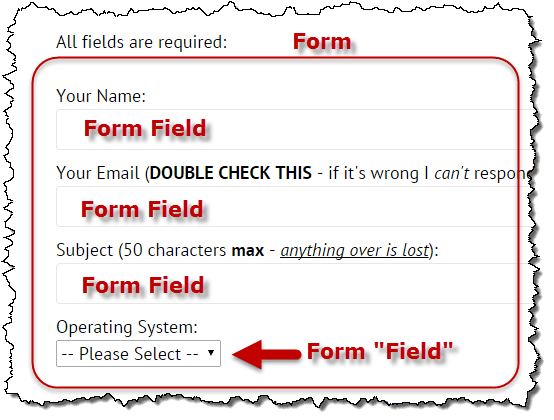 Another good clue that a form is being used is that there'll be a button, often labelled "Submit" that you click to finalize or submit the information you've just entered to the website. It doesn't have to be "Submit" – it could be "Ask Leo!" or "Enter this contest" or "Coffee is awesome". The key is that it's a button that signifies you are done entering in your information into the on-page form, and wish to submit it to the website.
Almost all browsers have the option to remember what you typed on most types of forms and form fields, so that they can offer to automatically fill that information for you the next time that form field comes around, thus saving you the effort of having to type that information in again yourself.
As you've seen, some browsers are smart enough to recognize all the fields in a form at once.
That's all that's happening here. Your browser is trying to be helpful.
Forms get complicated
One of the reasons that things appear so confusing is that things are, in fact, very inconsistent.
Some browsers will show you a list of previously entered values when you start typing. For example, in a name field, as soon as you type the first letter, all values previously entered into that field that begin with the same letter might be displayed for you to select from. Or not.
Some will enter all the fields on some forms at once. Others may not.
Some browsers will recognize fields by name on any form, and thus offer the option to enter the same information into fields of the same name other forms. Or not.
Some web pages will be written in such a way that some fields that look the same to you and I are not, under the hood. So the browser may offer to auto-fill what appears to be the same types of field only sometimes. Or not at all.
But ultimately the idea here is that the browser – be it Chrome or Firefox or Internet Explorer or something else entirely – will simply try to be helpful by offering you what it thinks are appropriate suggestions from your form-filling past.
Email gets complicated as well
One of the very common points of confusion is web-based email.
For example, when you compose a new email you're simply entering data into a web form. Thus, when you start typing in the "To:" line and some suggestions are offered, who's making those suggestions?
Is it the web-based email service controlling the "To:" line? If so, you control what suggestions are made and how – with options provided by that service.
Is it your browser simply offering to fill in what it sees as a common web form field? If so, the email service has nothing to do with it, and you control it as we did above, by changing settings in your browser.
It could be either.
With everyone trying to be so helpful, it's easy to get get confused.
Logins and passwords are special, and confusing too
I also have to call out logins and passwords simply because they are forms too – a form that typically has two or three fields:
ID
password
"remember me" checkbox
I point these out separately, because browsers also deal with them separately. You can see from the settings we changed above that Chrome treats web forms and web passwords as two separate things.
Unfortunately, it gets even more confusing as web pages can be written such that logins look like normal web forms, and occasionally web forms look like logins. The net result is that even when you say "don't remember passwords", you may find the browser offering to fill in a login field because you still have "fill in web forms" enabled.
Clearing the history
One other thing you might consider is clearing your browser's "memory" of what you've typed in in the past.
For Chrome, still on that Advanced settings portion of the options page, look for the Privacy section: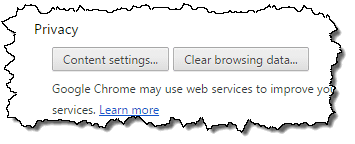 Click on the Clear browsing data… button: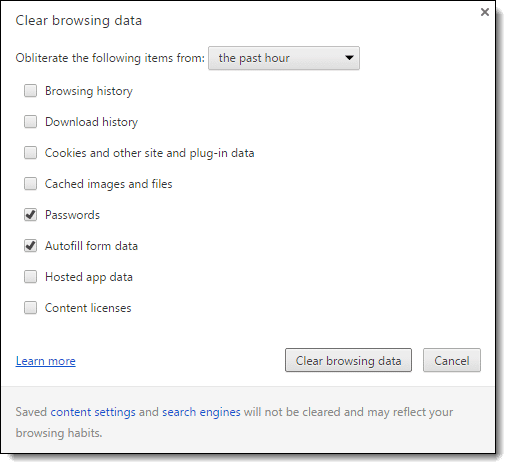 Check the "Autofill form data" and click the Clear browsing data button to clear Chrome's memory of what you've been entering in fields.
Other browsers have similar controls and options.
Podcast audio

Download (right-click, Save-As) (Duration: 8:01 — 7.3MB)
Subscribe: RSS