That's the question I was asking myself as I got up one Saturday morning and noted that I'd not received any email since Friday evening.
That's highly unusual, particularly as some of those emails are automated notifications that happen on a schedule over night.
What I found was that a hacker had (inadvertently) caused me to DDOS myself.
I thought I'd share this peek into the complexities of email. While it might get a little geeky at times, here's what happened, why everything actually worked as it should, and how I fixed it.
But first a word about backups and backup plans
My email is run through my own domain name – similar to leo@randomisp.com where I actually own the domain randomisp.com. Rather than support my own email server on that domain, I simply have that email address forwarded to my Gmail account. I login to Gmail to read and send email, even though my correspondents never see the gmail.com address.
A quick test showed that it was in fact that Gmail account that had stopped receiving email. Test messages sent to it from other services, like Outlook.com, never arrived. Interestingly, email sent from that account was also not being delivered.
My first step was to set up actual email services on my private domain. (In my case, that was very easy to do as I run my own servers. An alternate solution would have been to change the forwarding to another service, like Yahoo! or Outlook.com where I also have accounts.) That got me back online to receive any new mail that arrived and allowed me to send email once again.
I actually wasn't worried about the messages that hadn't yet been delivered since the prior evening. As you might expect, I have another layer of backup. When mail is sent via my private domain, I also squirrel away a copy of the mail message as a backup in addition to forwarding it to my Gmail account. Those backups were available (although they were somewhat inconvenient to access), if I needed them. I elected to see how things played out before going that far.
Diagnosing the problem
I'm sorry to say that this won't help the average email user, but because I run my own servers, I was able to look at activity logs generated by my mail server. I noted that when I tried to send something to my Gmail account, there would be an error message:
The user you are trying to contact is receiving mail too quickly. Please resend your message at a later time. If the user is able to receive mail at that time, your message will be delivered.
Too quickly? Well, that's odd.
Note that this type of failure isn't something that would generate an immediate "hard bounce" or failure notice. In most cases, the messages would be held by the email server that was trying to send them so that it could automatically try again later. A hard bounce back to the sender would only happen if a message couldn't be sent after many attempts – usually several days.
So the mail was probably waiting for me, in limbo somewhere.
But then I realized that "limbo" was probably my own server. Because the mail had made it to my own domain to be forwarded on to Gmail, it was my server's attempts to pass it on to Gmail that were being thwarted. That meant that the messages were sitting in the mail queue on my server waiting to be tried again later.
So, I went to look at my server's mail queue.
Nearly 1000 messages were waiting to be sent. That's definitely not a normal amount for overnight.
The life of a server on the internet
A quick diversion. As you may or may not know, almost any server that sits on the internet is under a fairly constant attack from automated hacking software and malware running on infected machines elsewhere on the 'net. There are various forms of attack, and they happen at different rates and come from different locations – typically overseas.
But they're pretty constant.
"

…almost any server that sits on the internet is under a fairly constant attack from automated hacking software and malware…

One form of attack is to attempt to break into content management systems (software that manages website publication) that might be installed on the system. I happen to use WordPress on several sites, and because it's one of the most popular content management systems,  it receives a lot of automated attacks.
Like Windows, the best defense is to keep the software as up-to-date as possible, but also like Windows, it's a good idea to include additional security software. One such piece of software is a firewall plug-in for WordPress that blocks common types of attacks. It's actually very nice to have that additional security in place.
One of the reasons why I know that it's happening is that the firewall plug-in sends me an email when it blocks an attack.
And that's where the pieces of the puzzle fall into place.
What happened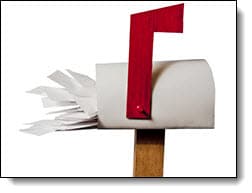 Sometime Friday night, one of my sites came under a heavier-then-normal hacking attack. The firewall plug-in did its job nicely and blocked them all, sending me an email about each one. The net result is that it sent something like 700 emails to me in less than a few minutes.
When those were forwarded to my Gmail account, Gmail balked. An email flood (or "mailnado" as someone on Facebook  put it) can bring a mail server to its knees, so Gmail has to do something like this to protect itself. Fortunately, it's not rejecting the mail as much as it's saying, "I'm too busy. Go away and come back later."
Gmail would thus throttle the incoming mail to my account for a while. It's not published anywhere, but based on what I've seen, it's probably on the order of 12-24 hours, and it is probably adjusted based on any continuing attempts to flood the server.
This  hacking attempt to my website had caused my server to essentially create a Denial Of Service (DOS) attack on my mail account.
After doing exactly nothing, mail started to flow again later on Saturday. Even the messages that had originally been sent overnight would trickle in over the next day.
What I changed
1) The firewall could be configured to not send a message on every similar attack type, but rather bundle them up into fewer emails.
2) I changed the email address that those messages were sent to so that they would be archived on my server, but no longer forwarded to Gmail.
Ultimately, my experience was nothing more than the system working as it should. Fortunately, I had the tools and access to properly diagnose what was going on. In retrospect, I believe that even without server access, the problem would have become obvious as the 700 firewall messages were eventually delivered. It just would have taken a day or two to sort it all out.