As I do each year, it's time to take a look back and see what people were reading, commenting, and, for the first time, watching this year.
I find it an interesting perspective on what people were looking for, what issues they were dealing with, and which answers they found most useful.
2019's Most Viewed Articles
These are the articles that the most people looked at, read, and hopefully walked away from having been helped or educated.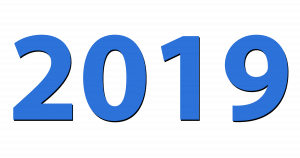 10: What's an "Internal Server Error" and How Do I Fix It? – Apparently this year saw more server problems than prior years, since this is generally caused by server-side issues. Either that, or the links folks are clicking on are getting broken more often — the next most common cause of this issue. [new]
9: Can Everything I Do Online Be Monitored at My Router?  – Exactly what can be seen at your router, especially with routers that are poorly configured and even hacked, (and now adding in the "internet of things"), remains a topic of great interest to many, many people. [#1 last year]
8: CHKDSK: What Is It and How Do I Run It? – Back in the practical bucket, CHKDSK is a disk repair utility that many turn to when facing disk problems. It has its quirks, and this article covers not just what it is and how to run it, but also what to do when you encounter some of them. [#4 last year]
7: How Do I Move the Taskbar Back to the Bottom? – This has been one of my most popular articles for years. Do you know you can put the Windows taskbar on any edge of the screen? Many people don't, until it shows up where they don't expect it. (It's easy to have happen accidentally.) [#3 last year]
6: Someone's Sending from My Email Address! How Do I Stop Them?! – This is all about spam, and how easy and common it is to forge email that looks like it's coming from anyone. When they forge it to look like it's coming from you, this question results. [#7 last year]
5: How Do I Delete Multiple Emails When I Have a Lot to Delete? – Honestly, I blame Outlook.com for this one appearing on this year's list yet again. Not only does the interface keep changing, but exactly how you delete a lot of emails at once is not at all clear. [#6 last year]
4: Email Hacked? 7 Things You Need to Do NOW – Email accounts continue to get compromised at an alarming rate. This article is all about how to recover your account and prevent it from happening again. [new]
3: What Is "About:blank" and How Do I Get Rid of It? – I'm honestly not sure what to make of this article's rise in popularity this year. Whether it's malware, browser misconfigurations, or something else, about:blank (which is, itself, not malware) seems to have been popping up a lot for people. [new]
2: Can I Use a Charger that Provides the Same Voltage but a Different Amperage? – With the ever-increasing plethora of devices that require external power supplies, it's no surprise this article is as popular as it is. Exactly what power supply will work with what device gets very confusing very quickly. [#2 last year]
1: How Do I Recover My Facebook Password? – For years, my peers joked that my primary function at Ask Leo! was to help people with lost Hotmail passwords. Clearly, that torch has been passed. [new]
2019's Most Commented-on Articles
One way to measure how popular or controversial its topic might be is the number of comments.
10: The Journey to My New Computer: Choices – In this article, I laid out the choices I was making on the road to purchasing my new computer. People had opinions.
(For the record, I'm typing this on that very machine.)
9: Should I Install the Latest Windows 10 Update? – It's no surprise that Windows 10 and its updates generates significant discussion.
8: How Long Does Windows 7 Have Before It's Phased Out? – Also not surprising is people's interest in Windows 7's now imminent end of support.
7: Will Windows 7 Keep Working After Support Ends? – Not just wondering about its end of support, but also whether or not they'll be able to keep using Windows 7 after that deadline.
6: Is Online Banking Safe? – People continue to share successes and fears when it comes to online transactions.
5: How To Reduce Your Frustration with Technology – Many comments here from people sharing their frustration with technology.
4: Coping with Gray Text – Default color schemes and website designs are a problem for many people, who shared both frustrations and coping mechanisms.
3: How To Keep Using Windows 7 Safely After Support Ends – Windows 7's end of support makes its third appearance on the list, garnering many, many comments, particularly from those intending to stick with it.
2: Crank Your Password Strength Up to 11! – Passwords are here to stay. Many people shared their approaches to managing long and secure passwords.
1: Is There a Real Alternative to Windows? – Nowhere is the frustration with Windows more evident than in those looking for alternatives. Many people weighed in with their opinions and strategies.
I also have to include an honorable mention: Microsoft, We Deserve Better appeared as the 11th most commented-on article this year, though it was last year's #1. It continues to provide an opportunity for people to discuss Microsoft's Windows 10 updates.
2019's most viewed videos
This is a new analysis for me, reflecting a little more focus on my YouTube channel. YouTube represents a slightly different audience.
10: Can My ISP See I'm Using a VPN? – Privacy, even from your own ISP, is an important issue.
9: How Do I Close My Hotmail or Outlook.com Account? – One of my older videos, from 2013, continues to be relevant to many people today.
8: What's the Difference Between Hotmail.com, Msn.com, Live.com and Outlook.com? – Microsoft continues to confuse us, and people continue to look for clarity.
7: Do I Need These Microsoft Visual C++ Redistributables? – Microsoft continues to confuse us, and people continue to look for clarity.
6: Changing the Windows 7 Login Background – This is also an older video, but apparently something that remains of interest, even in Windows 7's waning days.
5: Where Do Facebook Friend Suggestions Come From? – Facebook is a source of much concern when it comes to privacy; unexpected friend suggestions is one way these concerns manifest.
4: Taskbar Missing – A short title, an older video, but still a very common scenario many people are trying to solve.
3: I Have Two Facebook Accounts, How Do I Delete Just One of Them? – This is a surprisingly common scenario, with a fairly simple solution.
2: Free Microsoft Office in Windows 10 – Yes, there is such a thing, and though it might not be exactly what you expect, it might be all you need.
1: Why UEFI? – Perhaps one of the more frustrating aspects of new computers, an explanation not just of what UEFI is, but why it exists.
Observations 2019
2018 was all about Windows 10. If there's one theme to pull from the links above, it's that 2019 has seen more concern about Windows 7 and its impending end of support.
The #2 theme might simply be that frustration with Windows 10, from stability issues faced by some, to forced updates, to design decisions, continues to be a hot topic.
I'll repeat what I said last year: let's hope that 2020 is less frustrating for us all.