As I write this, the most recent Windows 10 feature update has been released. It's in that in-between state right now: you can get the update manually right now by downloading it from Microsoft, or you can wait a week or so for it to start rolling out automatically via the normal Windows Update mechanism.
Or, you might be one of those who don't want the update at all — at least not yet.
The question of the hour is, of course, do you?
The current update
The update being released is the "1903" feature update. Based on experiences I've heard with the last several updates — including a delay to this one — I expect we'll be asking ourselves the same question every six months, when Microsoft rolls out another.
In the case of this specific update, I've installed it on two machines — Windows 10 Home and Windows 10 Pro — and both installations are working and working well. I've had no problems, and I currently have no hesitation installing it on other machines.
I pro-actively downloaded the update to get it on those two machines. On my other machines, I'm letting things sit so I can experience the automatic update path as well.
But … so far, so good.
Preparation
Naturally, I recommend you back up your system prior to taking the update, no matter how it arrives.
Honestly, this should be no additional work for you if you're following my recommendation that you take daily image backups1. If something fails, you can simply revert to the backup taken the prior day.
If for some reason you're not backing up regularly, now would be the time. As soon as you hear that a new Windows Update is on its way, take a full image backup of your machine.
But consider setting up that daily regimen while you're at it.
Most of the time, you want updates
Scary headlines to the contrary, most of the time, you want the updates offered. Be it monthly quality and security updates, or twice-yearly feature updates, they generally install and work well for most people.
Most, of course, is not all. My sense is that the headlines blow this number out of proportion to reality, but there will be some number of machines for which the update will fail. Some failures will be minor annoyances and others will be major stumbling blocks, but they will happen.
They're unlikely to happen to you specifically, but again, "unlikely" isn't the same as "guaranteed that they will not".
That's why we started with a backup, after all.
Feature updates on your schedule
The only real way to ensure that a feature update happens on your schedule (when you're ready to deal with any fallout) is to proactively download and install it yourself.
Set aside a little time, as feature updates tend to be large and time-consuming to install. Download the installer from the Windows 10 Update Assistant page, and run it.
If, after the installation, everything is working properly — as it will for most people — then you're done. Spend a few minutes familiarizing yourself with any new features, and carry on with whatever you normally use your computer for.
If, however, you do experience a problem, you can decide either to live with it or restore your most recent backup image (taken prior to the update). In the latter case, you now know you don't want this update — not yet, anyway.
Preventing the update
The irony is that the very update currently being distributed includes more control2 over updates in the future for Windows 10 Home users.
If you're running Windows 10 Home prior to the 1903 update, you have no official options, and few unofficial ones. Check out How Do I Disable Windows Updates in Windows 10 Home? for the options you have.
In Windows 10 Pro or better, and Windows 10 Home 1903 or later, you do have the option to defer feature updates (possibly up to a year), and quality updates (for up to a month).
If you experience a problem, or you just want to wait for the public track record, delaying a month is exactly what I recommend. In the Settings app, in Update & Security, under Advanced options, either:
Set "Pause updates" to a date a month in the future.
or
Set "Choose when updates are installed" to 30 days for both feature and quality updates. (This option may not be available in Windows 10 Home edition.)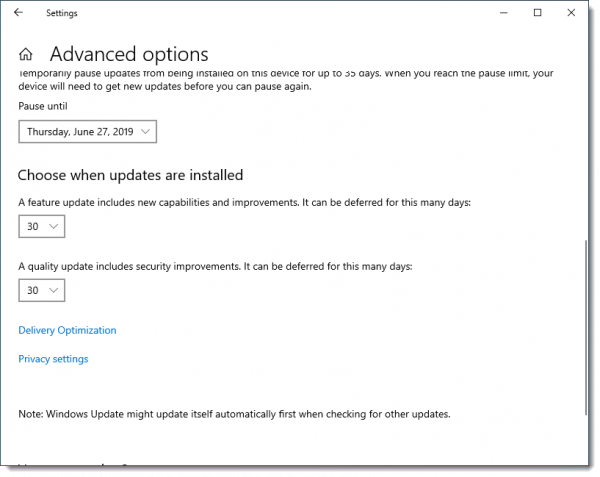 Take it, you must, or …
As difficult as it is to hear sometimes, updates are not just important, they're required. You've heard the litany of security-related scare tactics to try and get you to update, but the bottom line is that Windows 10 does improve over time.
Yes, absolutely, Microsoft should allow us greater control over what happens when. In no way am I arguing otherwise.
But it's still our responsibility to keep our systems updated and secure. Unfortunately, that may involve some risk as well as some additional work.
If Microsoft's approach to updating isn't something you're comfortable with, all I can recommend is moving to a different platform (such as Mac, Linux, or Chrome OS). Be forewarned, however, that each of those receive updates periodically (or in some cases, nearly continuously) as well.
Podcast audio

Download (right-click, Save-As) (Duration: 5:47 — 2.7MB)
Subscribe: RSS
Footnotes & References
1: My recommendation remains monthly full and daily incremental image backups, unless there's a specific reason to do otherwise.
2: Though not the full control we want and, in my opinion, deserve.