I would think that no PC would be immune from malicious threats if they landed on some corrupt site that then installed malware or key-capture software. Is there any reasonable way to continue to safely do online banking?
Sure.
Avoid getting infected.
I know, that sounds trite and flippant, and I don't mean to be so. Ultimately, though, all the advice boils down to exactly that: do what it takes to stay safe on the internet.
I regularly bank online. In fact, I've done so for years without incident. I much prefer it over the alternatives, particularly since many alternatives seem to be slowly disappearing.
Follow the basics
It really boils down to remembering and consistently following the basics.
Use a strong password. Many account thefts are due to poor passwords. You must have a strong password on your banking accounts. It's your best, first line of defense.
Don't share passwords. Giving your password to someone you "trust" is another way banking accounts get compromised. The problem arises when the individual turns out to be not so trustworthy or not as security-conscious as you need them to be.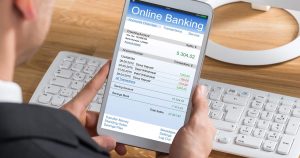 Use two-factor when available. Two-factor (also "multi-factor") authentication prevents unauthorized entry into your accounts even when the password is known. Using SMS, a dedicated app, or some other approach is the best way to truly lock down your most important accounts.
Open only email attachments you trust. If you're the least bit uncertain, don't open 'em. Email attachments are by far the most common way malware lands on machines these days.
Learn to recognize and avoid phishing. In order to fool you, hackers constantly send email that looks like it came from your bank. Don't click on links in email messages from your bank. Instead, visit your bank as you would without the email: type the address of your bank's website into the browser address bar (or use a bookmark you saved previously).
Secure your network. Make sure to secure your router. Understand what it means to use an open Wi-Fi hotspot or other shared network connection safely. Yes, you can bank online safely when traveling (again, it's something I do), but it does require that you pay attention to network security.
Avoid shared or public computers, period. While library computers or the machine you can borrow while visiting your friend might be convenient, you have no idea what's on them. They could be full of malware or include undetectable malicious hardware. Avoid using them for anything sensitive.
All banking is dangerous
All banking, online or off, is dangerous.
In my opinion, you're more likely to be affected by bad behavior you have no control over — such as that in the bank's back room or at some hacked third party — than you are to have your information compromised due to your own failings… as long as you follow the basic security rules, as you should already be doing.
Podcast audio

Download (right-click, Save-As) (Duration: 3:35 — 1.7MB)
Subscribe: RSS