When your favorite operating system, software program, or online service gets updated, it can take some getting used to. What was once familiar may now require learning new ways to get your tasks done.
I get frustrated when this happens…
…but not for the reasons you might think.
Change is hard
I get frustrated by the tsunami of complaints such changes generate from users.  I hear it every single day and it makes me sad.
Why?
Because it doesn't have to be this way if folks approached technology — and for that matter, life itself — a little differently.

Like it or not, change happens
The world keeps changing, and it's not going to stop. Period.
The only thing that will never change is the fact that things keep changing.
Given that change is absolutely, totally, and completely unavoidable, you have exactly two choices:
Get angry and bitter and convince yourself that the change-makers are responsible for all sorts of assorted evils in the world.

1

Accept change. Embrace it. Learn from it. Exploit it. See how it's made the world a much, much better place. Enjoy it, even.
Which will you choose? (And have no doubt about this: it is a choice.)
One reason to set aside your frustration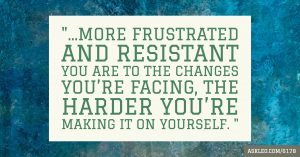 Besides making you happier, there's a very practical reason for embracing (or at least accepting) change.
In the nearly 15 years I've been doing this, something's become very clear to me. Given the same computer, the same situation, and the same problem, the person who allows themselves to be frustrated by change has a much more difficult time using their devices and resolving problems.
The only difference is the attitude they've chosen: resistance to change.
Let me put it more clearly: if you allow yourself to hate change, you will have a more difficult time with the exact same issues than a person who chooses to accept it.
People who use technology the most effectively are the folks who not only accept change, but even look forward to it. These are people who are curious. They are interested in learning what more technology can do for them and how they can best leverage the latest and greatest to make their lives more effective, efficient, and even fun.
On the other hand, the more frustrated and resistant you are to the changes you face, the harder you make it on yourself. By choosing to be upset, you choose to make your experience more difficult.
Change isn't made with malicious intent
I often hear from folks who are utterly convinced that whatever change they encounter is created for the express purpose of angering them2 — or for some other dark, conspiratorial intent.
Folks, pissing off your customers is just bad business …
… and don't doubt for one second that this is all about business.
Hardware and software vendors are in a constant competitive battle, and you don't stay competitive by standing still. In fact, halting innovation and change is a fast track to failure.
Companies remain competitive by continually striving to make their product better: better than the previous version and better than the competition.
And that means making changes.
Change isn't always better
You'll get no argument from me that changes made in pursuit of "better" are sometimes anything but.
That doesn't mean that all change is bad. It simply means that specific change was wrong.
The companies that produce these products are constantly researching and testing and coming up with ways that they truly believe make their product better.
Sometimes, the idea turns out to be wrong. Sometimes, the execution of a good idea fails. Sometimes it might be great for the majority of people … just not you.
And yet for every change that fails, more changes — significantly more — truly improve the products we use every day.
You can choose your response
Change is inevitable, particularly when it comes to computers and technology.
When faced with an unexpected change of some sort — be it in your formerly-favorite application or the operating system you've used for years — you have a choice make. Which will it be?
Get grumpy and annoyed? I don't recommend it.
Instead, accept that change is a necessary part of the innovation that has led to this amazing world we live in.
And in that acceptance, decide whether it's change you can learn from, change you can live with, change you need to avoid, or change you can't accept and must walk away from. Even if you choose to walk away, if you do it out of a rational evaluation rather than an angry reaction, you'll end up in a significantly better place.
Accept change and technology just works better
Give change a chance.
You don't need to accept every change, but if you can accept its inevitability, you'll have a much better time of it. I'm not kidding when I say that technology just seems to work better for those who accept, embrace, and even look forward to change.
Podcast audio

Download (right-click, Save-As) (Duration: 5:51 — 2.8MB)
Subscribe: RSS