So far, I've discussed the equipment I have and what I do with it.
That sets us up for today's article: distilling that information into requirements, and making decisions of exactly what I should buy. And then, of course, placing the order for my new machine.
As before, my specific situation — what I consider important and what I decide on — will only apply to me, but hopefully, seeing the process I use will be helpful when it's time to replace your own computer.
Requirements
I call them "requirements", but in reality they're guidelines: negotiable characteristics and specifications of my new machine. Given everything I use it for (as outlined in the previous article), it appears I need:
A machine that is portable: I'm replacing my laptop, after all.
A machine that has a powerful CPU to make video editing responsive, and rendering (the process of producing the final video file) relatively fast.
A machine that can hold lots of RAM, primarily so I can run virtual machines as well as more demanding applications like Photoshop and World of Warcraft.
A machine that has a decent display: as I use it all day long, it needs to not only be clear and large, but comfortable.
A machine that has sufficient disk space to store all those virtual machine images, photographs, and video files.
Not very helpful, is it? I've basically outlined a "perfect machine": small, fast, lots of RAM and disk, and a beautiful display.
Balancing that against what's available and how much it costs is where the difficult decisions get made.
Manufacturer
I did a little high-level research of manufacturers that would meet my needs. A cursory look at the many name brands that exist show that there are many to choose from, and they all have both horror stories and rabid fans. They can each produce lemons as well as rock-solid hardware.
I settled on Dell for two reasons: they make it easy to configure what I'm looking for, and I have a long track record of success with Dell machines. When I've needed support, their website contained 90% of everything I've needed, and in those few cases where I actually needed to talk to someone or return or exchange components, they've been fine to deal with.
I know Dell has their haters, but so does every other manufacturer. My comfort level, particularly given my own abilities to know and find what I might need, is quite high.
Form factor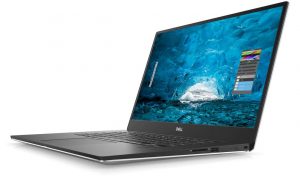 I know I want a laptop. Even though I'm replacing both two laptops and a desktop, the ability to be reasonably portable is important. This is the machine I'll take when travelling.
What I elected to consider this time around was using a docking station with my desktop. I would be able to plug a number of devices into the docking station — an external monitor, a "real" keyboard and mouse, perhaps some additional external storage, and a wired network connection — and connect the laptop to all of it with a single connection.
Dell makes several lines of laptops. I settled on the XPS 15 series. I've had Latitudes in the past and they served me well, but they didn't seem to meet my more strenuous "also a desktop" needs in terms of performance. I've tended to shy away from Inspirons as lower-end machines, and the Precision series is too costly.
I thought about but decided not to attempt a 2-in-1 laptop that could also be used as a tablet. In thinking about what I do and how I use my machines, I just didn't see it being useful. (If I ever want a tablet, I'd probably get an iPad or a Samsung Galaxy Tab. Maybe.)
Choice: Dell XPS 15 Laptop with a companion docking station.
CPU
Since at times I'm  a heavy processor user (video rendering, for example), I looked for both speed (Ghz) and number of cores. Purists also look at things like bus speed, cache sizes, and so on. While that can make a difference (hard-core gamers swear by it all), my personal experience is that it's not worth my time to take things to that granularity. Speed + cores gets me what I need.
Of the available options, a six-core Intel Core i7 running at up to1 4.1Ghz fit my bill. I could spend $500 more for a newer Core i9, but once again, my experience is that the absolute latest and greatest generally isn't worth the premium in price when it's first released.
Choice: 4.1Ghz Intel Core i7 8750.
RAM
What matters here is not how much RAM a machine comes with, but the maximum amount it's capable of holding.
Given my propensity to run multiple virtual machines while I'm doing other work, RAM capacity matters a lot to me. As a result, I looked for the highest option I could find. From what I could tell, the XPS series has a maximum capacity of 32 gigabytes. I made sure to select a configuration that met that need.
Oddly enough, I could not order the machine with 32 gig of RAM — only 16. I expect I'll order an upgrade after I see how it performs.2
Choice: 16GB, expandable to 32GB.
Disk
Disk is a difficult question when replacing a desktop. My previous desktop had a half-terabyte internal SSD, but also an eight-terabyte external hard disk from which I did a lot of my work. Video files lived there, for example.
That's a little less practical on a laptop you plan to carry with you. My compromise was to install a one-terabyte internal SSD (again, 2TB was available, but I didn't consider it worth the additional cost), and then plan on another external higher-capacity hard disk. The impact will be on my workflow: deciding what will live on the internal SSD, rather than assuming that the external disk would always be present, such as when traveling.
Choice: 1TB SSD internal, with a multi-TB USB3 external drive to be named later.
Display(s)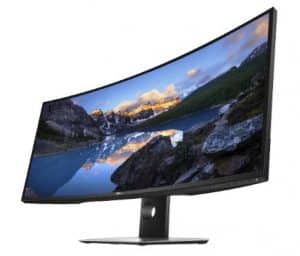 There were essentially two options when it came to the laptop display:
High Definition (1920 x 1080)
Ultra-high Definition (3840 x 2160) Touch
I was surprised that the basic display isn't also a touch screen, but that's somewhat beside the point. For my work, the higher resolution alone is worth the extra $400. That it also happens to be a touch screen is a bonus. (While a touch screen on a laptop can be nice, I don't use it nearly as much as the mouse and keyboard.)
But wait! There's more!
I also planned on replacing the screen on my desk. When I use it as a desktop machine, I want a (physically) larger monitor to work from. This is the one area of this process where I splurged on more than I really needed. Honestly, a good 28-inch UHD monitor would do me just fine, but I elected to "supersize it" with a 38″ curved monitor, also from Dell, capable of 3840 x 1600.
Choice: Laptop: UHD Touch screen; External: Dell U3818DW
Buy now!
I also elected to purchase directly from Dell, even though many of the items above are available from third-party sellers — even on Amazon — at slightly reduced prices. I considered this choice an insurance policy: there will be no question about warranty, or who to contact, if there is a problem with anything.
The final numbers for the equipment listed above:
XPS 15: $2,229.99
TB16 Dock: $279.99
38″ Monitor: $1,169.99
Plus tax and shipping, of course.3
In the next article of this series, I'll cover unboxing (sorry, no "unboxing video" :-) ), as well as my initial setup and reactions.
Podcast audio

Download (right-click, Save-As) (Duration: 8:50 — 4.1MB)
Subscribe: RSS