Why it's
not

malware, and how you can even use it.

About:blank is a special blank page in browsers that appears due to problems, malware, or malware removal. It can also be a useful home page.
I get the "about:blank" page whenever I run my browser. Lately I've been getting "about:blank#blocked", too. What is a simple, fool-proof way to get rid of it?
About:blank is a blank page built into web browsers to display when they have nothing else to display.
That's it. That's all.
It's not something you "get rid of."
The problem, of course, is that about:blank can show up unexpectedly. Here's why, and what to do next.
"about:blank" is a blank page built into your web browser displayed when there's nothing else to show. It's not malware but can result from malware being removed. "about:blank#blocked" is sometimes displayed as the result of security software blocking access to something. "about:blank" can also be used as a fast browser homepage.
About about:blank
About:blank isn't really "about" anything. The word "about:" is a keyword some browsers use as a way to enable some functionality or display standard pages. You can read more about "about:" in this Wikipedia article.
About:blank displays a blank page, similar to that shown above.
That's it; about:blank is nothing more and nothing less than a blank page built into your browser.
Most browsers have to display something in the browser window. If they can't figure out anything else to display, they display about:blank.
About:blank is not malware, but…
Since I keep hearing from people assuming otherwise, let me be extra clear:
about:blank is not malware
However, your browser may display about:blank because of malware.
Again, about:blank is not malware, it is not a virus, it is not malicious. At worst, it's a symptom of malware. Malware sometimes breaks things, making your browser unable to display a page, in which case it displays about:blank instead.
The solution in these cases is to run up-to-date scans for malware.
Malware removal and about:blank
Malware can break your browser and leave it in a confused or broken state. The browser may also be left in such a state after malware is removed.
What that means is the process of removing malware might cause the browser to become confused. Perhaps it was displaying a page provided by the malware which, once removed, leaves the browser nothing to display. The browser must display something, so it displays about:blank.
The solution is simple: change your homepage back to what you want it to be.
About:blank#blocked

In recent months, we've also seen reports of the browser displaying the about:blank page with an element reference1 of "blocked".
This is apparently used by some security packages, and perhaps even the security features in some browsers, to block access to links or content that are considered risky or malicious. The reason is simple: the browser needs to display a page, but the original target is blocked for security reasons, so about:blank is displayed instead. The element "blocked" is added to describe what's happened.
If this is something you're seeing regularly, review your browser security settings, your security software settings, and your browser extensions.
Since there are so many reasons this can appear, there is no single fix I'm aware of.
About:blank as your browser homepage
Your browser homepage is the page you see when you first run the browser or hit the "Home" button.
You can set the homepage to whatever you like. "About:blank" is one option, specifically because since there's nothing to display — it's a blank page, after all — it's fast.
As an example, in the most recent version of Microsoft Edge, click on the ellipsis icon in the upper right of the menu bar, and then on Settings in the resulting menu.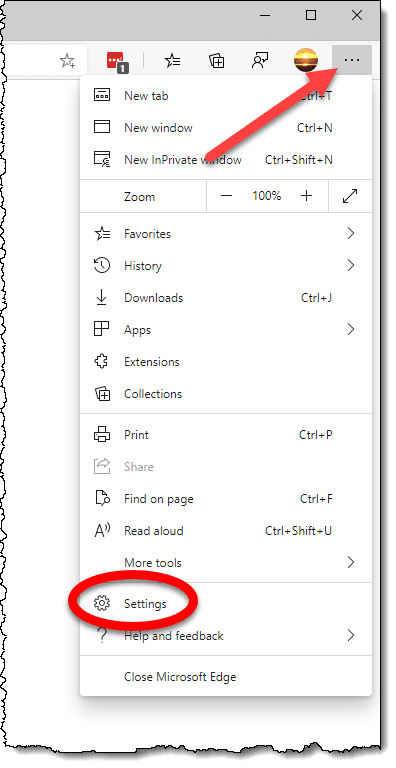 On the resulting page:
Click On startup in the left-hand menu to access the startup options.
Click on Open a specific page or pages
Click on Add a new page
Enter "about:blank" as the new page to add
Click Add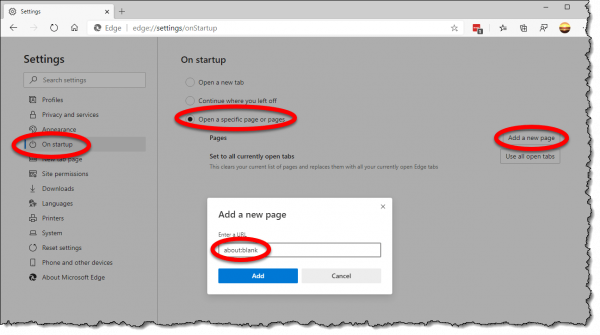 The result will list "about:blank" as the page to open when you start Microsoft Edge.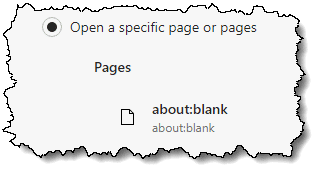 To enable and set the Home button to about:blank:
Click on Appearance in the left-hand menu
Click on Show home button to toggle it on
Enter "about:blank" as the page to go to when Home is clicked.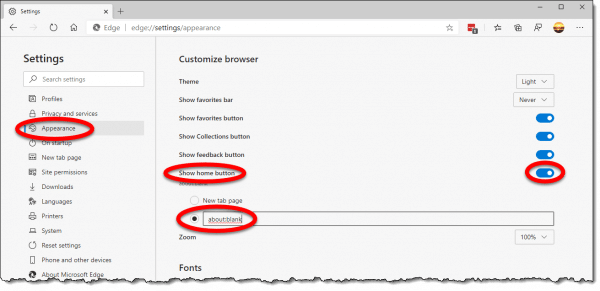 Now your browser will (quickly) return to about:blank whenever you click the Home button and when you first open the browser.
Podcast audio

Download (right-click, Save-As) (Duration: 2:21 — 2.7MB)
Subscribe: RSS