What you can do to make things easier to read.
Gray text is a problem for many people. Unfortunately, there's no simple solution, though there are some (very) ugly ones.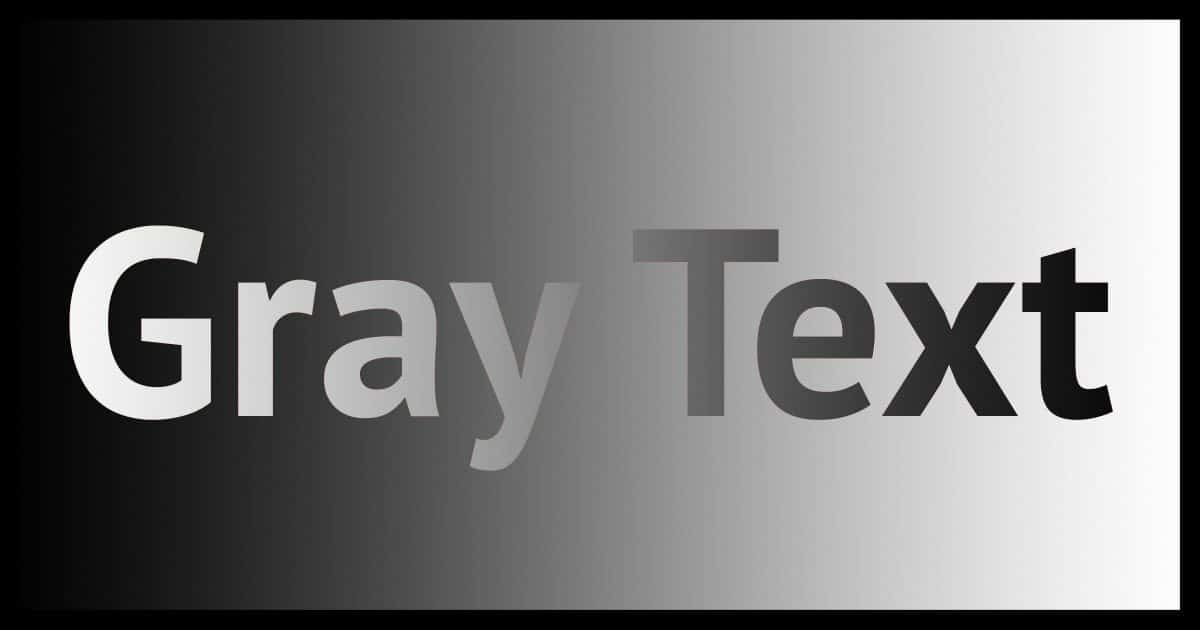 I am desperate and angry over the "trend" in graying fonts for the specious reason that it is more readable than black on white. It isn't. Sometimes it is impossible to fill out a form because the font is so unreadable. Rather than take your time reiterating my lament, may I ask whether there is any recourse. If I thought there was any chance of getting a response, I'd ask Bill Gates himself.
Well, to start with, Bill wouldn't be any help at all. He's not been involved in the workings of Windows for years. Besides, this isn't a Windows problem, it's primarily a website problem.
And it is a problem. It's one I hear frequently.
Unfortunately, the remedies are either extreme or non-existent.
Gray text
Text colors other than pure black are more and more common, with shades of gray being a current design favorite.
Many people have difficulty reading text with currently popular colors.
There's no single suitable solution to work around these poor design choices.
Windows has a "high contrast" mode.
Google Chrome has a "high contrast" extension.
Other browser extensions may help.
Complain to individual website owners about their design decisions.
Too many shades of gray
Black is out. Gray is in. At least when it comes to text in website design, it appears.

And, of course, there's no agreed-upon definition what color "gray" should be. Website and theme designers pick something that appeals to them and run with it (which displays differently depending on monitors anyway). The result is that you might have a light gray, a dark gray, a darker gray, or something that is so dark gray that for most people it's nearly indistinguishable from black.
For most people. And therein lies the problem.
Gray areas aren't always gray
For a wide variety of reasons, ranging from display brightness and contrast settings to the individual characteristics of someone's eyesight, it's possible for what some would consider a darkish gray to appear so light as to be unreadable to others.
For those others, only 100% black will do.
Aside from fiddling with brightness and contrast settings (which may not even be present on some display hardware) there are precious few options.
Options
There is no single approach to fixing this other than convincing website designers to stop using gray or give visitors a way to make a choice. So far, this approach seems unsuccessful. Even Google's been called on the carpet for it, and they've done nothing.
At best, available tools are ugly workarounds that might make the text readable — at a cost.
Select All
This is the solution that I turn to when I run into readability issues. Click anywhere on the page in question and type CTRL+A.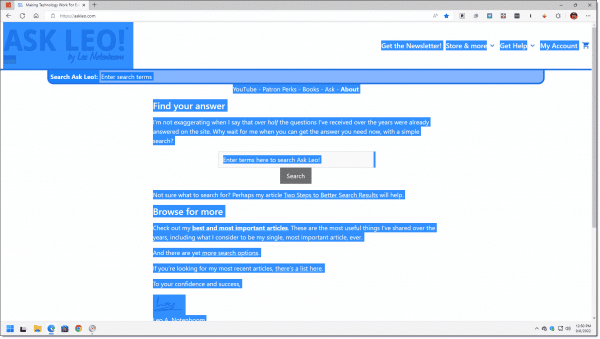 CTRL+A is the keyboard shortcut to "select all" in preparation for copy/paste or other operations. To show what's selected, Windows highlights it in an interesting way. In the example above, the normally black-on-white text is transformed by the selection into white-on-blue. Even some other text on the screen that's intentionally lower contrast, like the "Enter search terms" prompt in the search box, is similarly highlighted.
You don't need to select everything. You can just click and drag the mouse over the text you're having difficulty reading and find that it's easier to read with the highlighting.
Many people find this enough to make the difficult-to-read more obvious.
You can click anywhere outside the highlighted text to return it to normal.
Windows high contrast
An extreme approach is to change Windows display to high contrast.
Click the Start button and type contrast.
In Windows 10, click on Turn high contrast on or off when it appears in the results. That'll open the high-contrast settings. Turn it on, and your entire screen will change.
Yep, that's ugly. Readable, but ugly.
Windows does include some variations on the high contrast settings you can play with (High Contrast #1, High Contrast #2, High Contrast White, and High Contrast Black, shown above). None of them are pretty, but they are readable.
In Windows 11, click on Contrast themes when it appears in the search results. In the resulting settings window, click on the drop-down at the right of the Contrast themes setting.
Select the theme version you want to use and click Apply.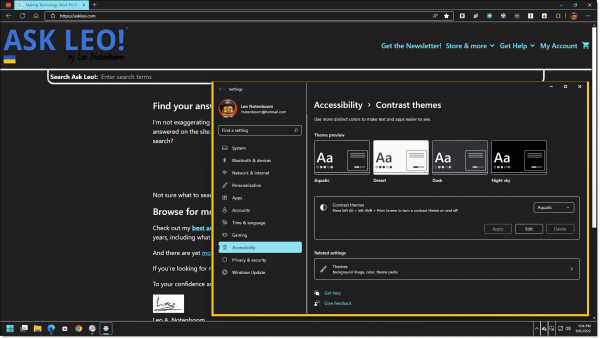 As with Windows 10, there are variations of the high contrast theme to experiment with.
Depending on your circumstance, this may or may not actually help; websites can explicitly specify colors that bypass the Windows settings. Similarly, images may not be altered.
Google Chrome high contrast
If you use Google Chrome, there's a high contrast browser extension.
When installed and enabled, it controls the look of the webpages displayed in your browser.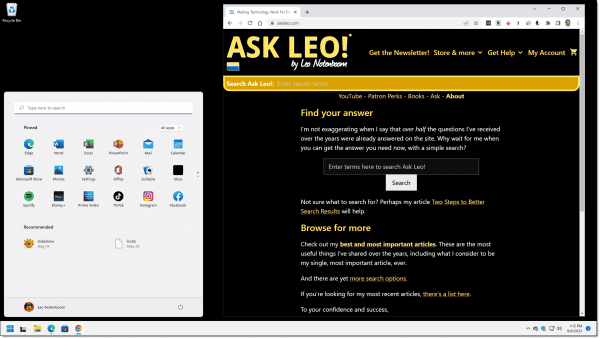 Once again, it might not be pretty, but it works. In this case, of course, it's limited to what's displayed in your browser window — note that the Windows Start menu is unaffected above.
The Google Chrome extension includes additional approaches to play with, including Increased Contrast, Grayscale, Inverted Grayscale, Yellow on Black, and Inverted Color (shown above).
Similar extensions appear to be available for Microsoft Edge.
Dark Reader
Suggested in the comments below, Dark Reader is another browser extension that can also help improve readability. Its intent is to provide a "night mode" reading experience.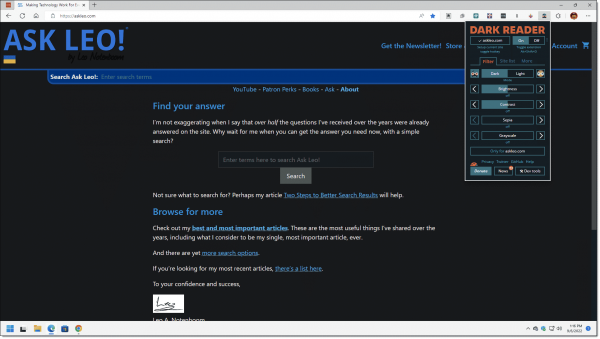 That alone may be enough to make things more readable. Dark Reader includes additional controls to adjust brightness, contrast, and colors that may help further.
Do this
Know that you are not alone. Grey fonts are a problem for many people.
And the problem might not be evident to everyone. One thing you can do is let website owners know about your experience.1 While they might not address it based on a single complaint, if enough people let them know, perhaps, maybe, they'll take heed.
Unless, it appears, they're Google.
I try to keep my newsletter readable: subscribe to Confident Computing! Less frustration and more confidence, solutions, answers, and tips in your inbox every week.
Podcast audio

Download (right-click, Save-As) (Duration: 10:33 — 14.6MB)
Subscribe: RSS
Footnotes & References
1: An early design of Ask Leo! that I commissioned used what I thought was black but was actually a dark gray. It wasn't until a reader pointed out the problem to me that I confirmed and fixed the issue. Everywhere, I hope. The complexity of website design is another reason issues like this are sometimes difficult to correct.