Many years ago, shortly after Ask Leo! began, I received a panic-stricken email from an individual whose account had been hacked. He had lost all access to the account and everything in it. His panic stemmed from the fact that, for whatever reason, the only copy of his master's thesis had been in that account.
It was gone, and there was no hope of recovery.
Hopefully, you're not keeping something as important as a master's thesis only in your online email account. That's wrong on several levels. But I'm guessing there are things in your account that you never want to lose, such as photos, correspondence, or other things that you've exchanged in email.
The problem is, of course, that if it's only in your email account, it's not backed up.
Let's fix that. Let's back up your email.
Our example: Outlook.com and Hotmail
For this article, I'm going to use a Hotmail account – askleoexample@hotmail.com. I'll continue to access that account as I usually do, using the Outlook.com website, but we'll back it up to my PC using Thunderbird.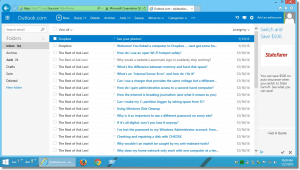 The technique I'll use applies to almost all online accounts, including Gmail, Yahoo! and others. For this technique to work, the account must support a protocol called "IMAP". The good news is that IMAP is a common approach used to access email, and almost all email services support it.
In this example, I'll use Thunderbird as my desktop email program, but any desktop program that supports IMAP can back up your email, including Windows Live Mail, Microsoft Office's Outlook, and more.
Install Thunderbird
The first step is to download and install Thunderbird. Download Thunderbird from the official download site here1.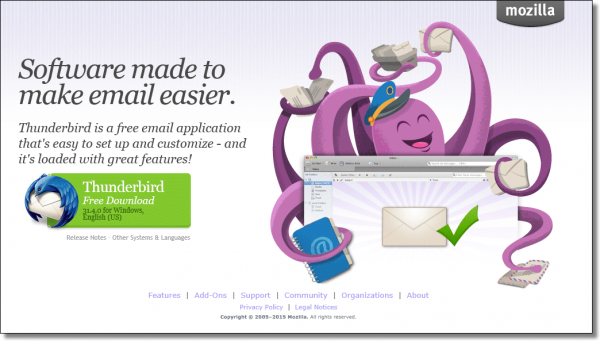 At this writing, the official URL is based on https://www.mozilla.org.
Download and run the Setup Wizard.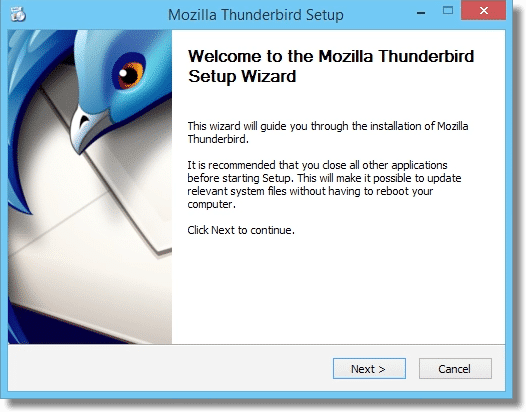 The first choice is whether to accept the default settings or custom: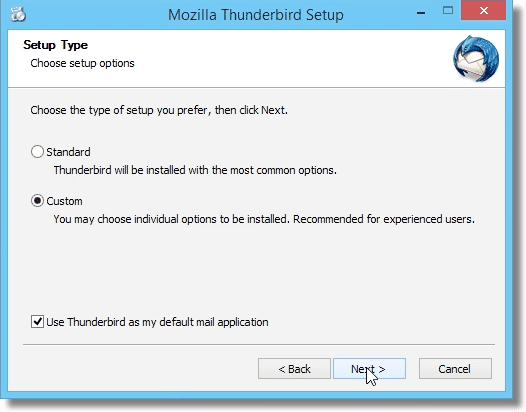 Always choose Custom. Even though we're going to accept all the suggestions made by the installer, choosing Custom is an important habit to get into to avoid malware and PUPs. Click Next through the subsequent settings, and accept:
Create icons on the Desktop, Start Menu and Quick Launch bar.
The installation location for Thunderbird.
If there are additional options, read them carefully to make sure you understand what it is you are agreeing to.
Click Install on the last page of the Wizard to actually install Thunderbird.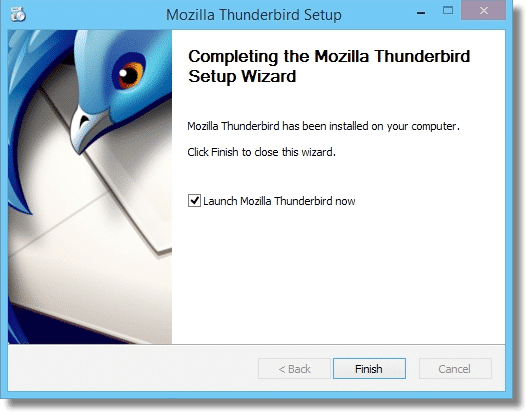 When the installation is complete, leave "Launch Mozilla Thunderbird now" checked, and click on Finish.
When run, Thunderbird may offer to import settings from another mail program if one is installed: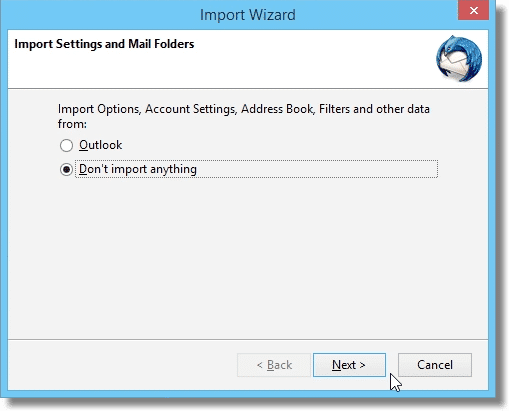 Since our goal here is simply to use Thunderbird for backup and we'll be configuring the account ourselves next, there's no need to import anything.
Thunderbird will then ask if you want it to be the default program for mail and feeds.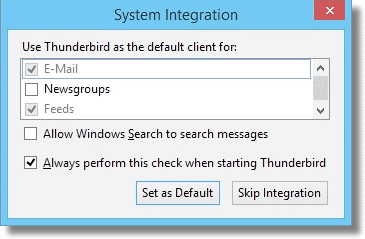 It's up to you. If you're using another email program regularly on this computer, you may want that program to be your default client.
Configuring Thunderbird for a Hotmail account
When you first install Thunderbird, there are no email accounts configured. Thunderbird asks if you'd like to create a new email address with one or more pre-selected providers. Since we already have an account – the Hotmail account we're backing up – we don't need this. Click on Skip this and use my existing email.
Then Thunderbird presents the Mail Account Setup dialog: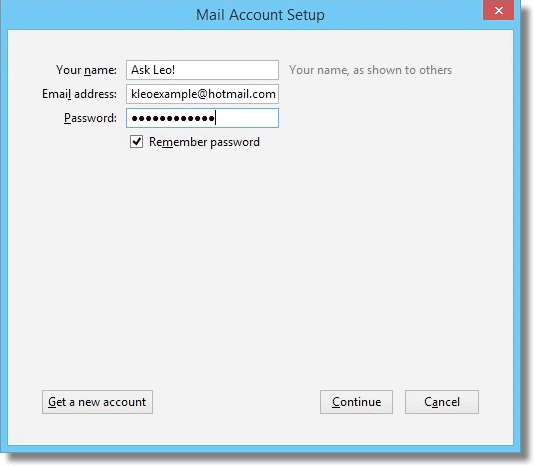 Enter your name, email address, and password. In my case I've entered "Ask Leo!" as my name, "askleoexample@hotmail.com" as my email address, and my password for that account.
Select Remember password if this computer is secure and you don't want to type in your password every time you fire up Thunderbird.
Click on Continue, and Thunderbird will consult its own database of email providers for the correct settings. Hotmail is in that database.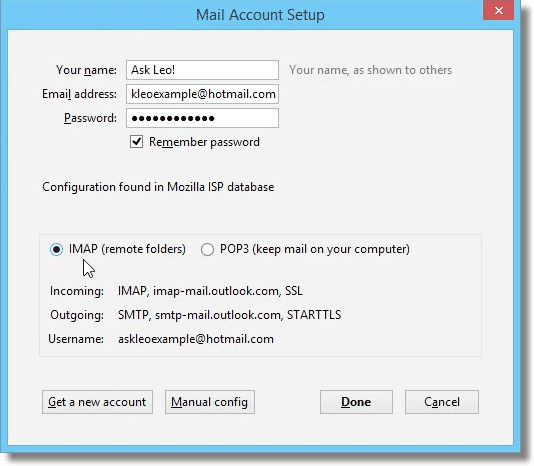 Make sure that IMAP is selected, and click Done.
Thunderbird is now configured to access your Hotmail account and will begin downloading your mail.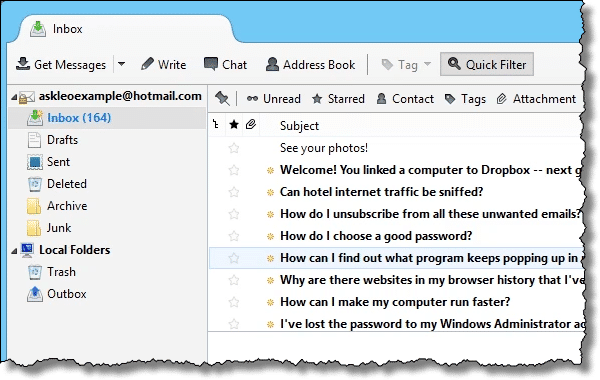 Using Thunderbird
The benefit of using IMAP is that the email program will download a copy to your computer, creating a backup of your email. You can continue to use your email as you normally do – typically via the Outlook.com web interface, your mobile device, or wherever else you've been accessing it.
You can, if you like, use Thunderbird to actually read, compose, and reply to messages. Email you read here will be marked as read elsewhere. In fact, any change you make, such as moving emails to folders, deleting emails, or otherwise managing your email messages, will show up in all the places you access your email.
Since IMAP mirrors the activity on your online account down to your PC, note that it will mirror any deletions as well. Delete a message online, and the next time you connect Thunderbird, the message will be deleted locally as well. Backing up your PC regularly2 may provide you with an additional safety net, since the Thunderbird repository would be included in those backups as well.
Backing up contacts
To back up contacts, you need to manually export them from your email provider. Contacts are not included in the email protocol, and thus are not included in anything we've done so far.
In Outlook.com, contacts are "People". Click on the menu icon to the left of Outlook.com in its header, and then click on the resulting People icon.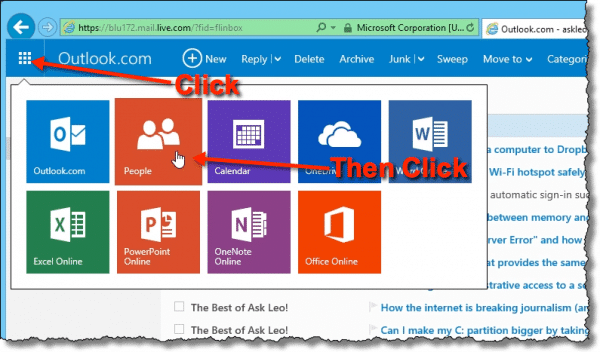 On the People page, click the Manage menu item, and then click on Export for Outlook.com and other services. Since this is a backup, we choose this format in case we ever need to import them back into Outlook.com.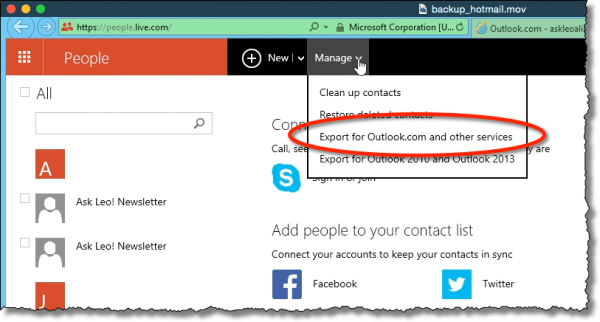 Save the downloaded file somewhere on your computer – ideally in a place that will also be backed up by your regular PC backups.
You can, if you like, import these contacts into Thunderbird, but since our goal here is to back them up, we've achieved that already, simply by downloading the file to our computer.3
Back up your email
If you don't use Thunderbird regularly, it's important to run Thunderbird periodically to perform its backup. Once a day, once a week, or a couple of times a month, depending on how current you want your backup to be, run Thunderbird, and keep it running until it's downloaded a copy of all updates to your mail.
Similarly, since there's no automated download of your contacts, you'll need to do that regularly as well.
The good news here is that your email is backed up! Particularly when used in conjunction with ongoing PC backups, you're well protected against data loss due to account theft or other problems.
But, in all honesty, I still wouldn't keep the only copy of my master's thesis here. That's worth a few more copies in other locations for safekeeping.

Download (right-click, Save-As) (Duration: 7:45 — 7.2MB)
Subscribe: Apple Podcasts | Android | RSS