The built-in back-up utility in Windows is soon to be forsaken. In previous articles, we covered how to use the free version of EaseUS Todo to make a system image backup and emergency disk.
Now it's time to use that emergency disk. Let's restore a backup image to our machine.
What an image restore means
It's important to realize exactly what restoring an image actually means: it replaces everything on the disk with the contents of the image.
This article is excerpted from Backing Up In Windows 10, available now. Top-to-bottom, end-to-end, Backing Up In Windows 10 will walk you through all the steps you need to keep your data safe, using Windows 10's built-in tools, as well as a free alternative.
If you took an image backup on Monday, and it's now Wednesday, restoring Monday's image backup will overwrite everything on the hard disk, and your machine will be as it was at the time of that backup. Everything that happened on Tuesday and Wednesday would be lost.
If "what happened" was a malware infection, then that's conceivably exactly what we want. On the other hand, if you did important work on Tuesday and Wednesday you don't want to lose, you'll want to save that work somehow: you could copy the new files elsewhere, or create a new image backup prior to restoring the old one.
Of course, if "what happened" was a hard drive failure and replacement, you may not have a choice. You'll simply restore the most recent image you have.
I'll call it "Step Zero" — prior to performing the restore, if you can, save any data that hasn't been backed up.
Step one: boot from the emergency disk
Unfortunately, exactly how to boot from an emergency disk varies from machine to machine. Check the instructions for your specific computer to learn how to boot from the emergency disk (CD/DVD or USB) you created earlier.
In some cases, it's a simple choice made at boot time.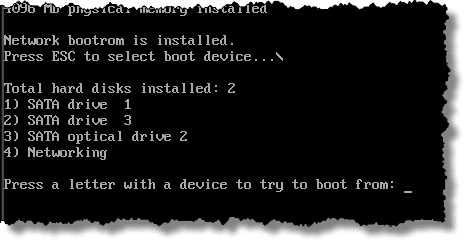 In other cases, most notably newer machines with UEFI and Secure Boot, the process is more complex.
Locate the image
Booting from the emergency disk automatically runs EaseUS Todo. On its opening screen, click on Browse to Recover to begin the restoration process.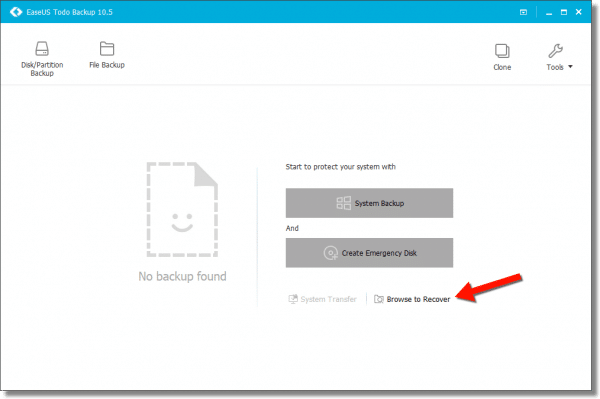 This will open a file-selection dialog box.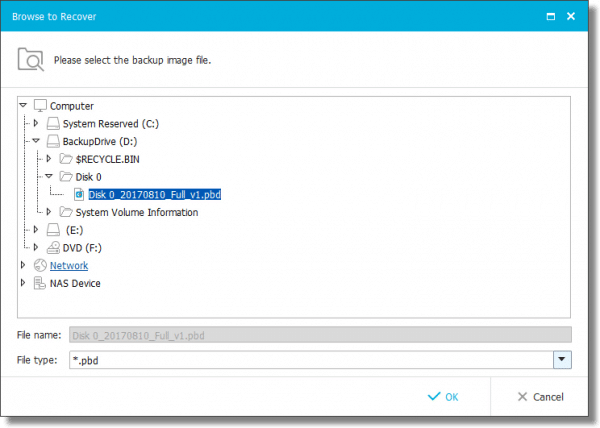 Navigate to the drive and folder which contains your image backup by clicking on the appropriate triangles to the left of each listed item. In the example above, I've navigated through:
Computer – to open the devices available on my computer
BackupDrive (D:) – to open my external drive, which contains the backup image I want
Disk 0 – to open the folder containing that image
The file "Disk_0_20170810_full_v1.pbd" is the image file I want to restore. Yours will be named differently, and there may be multiple files. Unless you know otherwise, you generally want the most recent backup image.
It's worth noting that the drive letters you see may be different than what you normally see in Windows. In my case, my external drive is normally drive "E:", but when booting from the emergency disk, it appears as drive "D:". This is normal. You'll need to look at the drive's name ("BackupDrive", in my case), and its contents to confirm you're looking at the correct drive.
Once you've selected the appropriate image file to restore, click OK.
Next, you'll be shown a dialog displaying the disks and partitions contained within the image you've selected.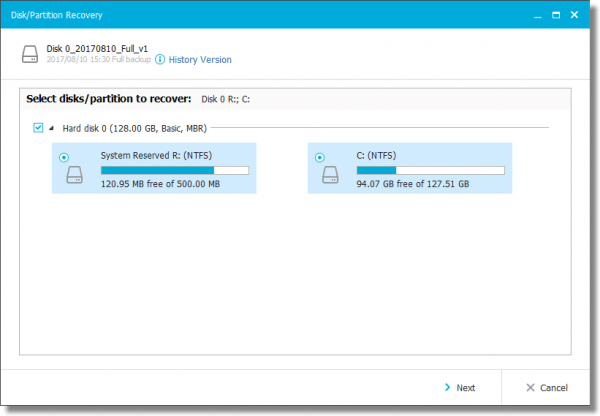 This allows you to choose to restore the entire disk image — by checking the box next to "Hard disk 0", in my example — or unchecking that box and selecting individual partitions within the image instead.
Most commonly, you'll restore the entire hard disk (in the case of a hard disk replacement due to failure, for example), so we'll check the Hard disk box.
Click Next.
Select the destination
You'll then be taken to a dialog which displays the drives and partitions to which you might restore your image.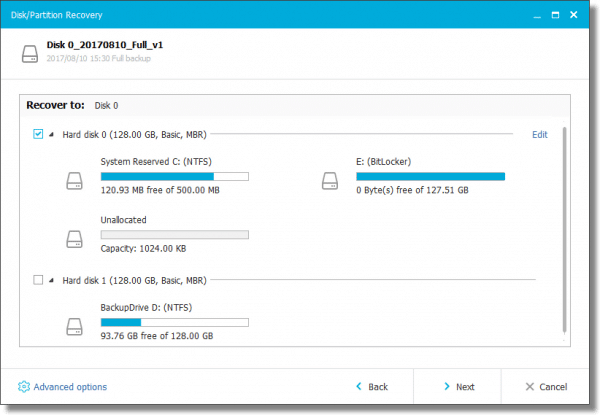 All the hard disks known to your machine will be displayed, possibly including your external drive.
Check the box next to the drive you're restoring to. In our example, that's the first drive listed — Hard disk 0. Once again, note that drive letters may be different than what you normally see when running Windows.
Click Next. You'll be presented with a summary of what's about to happen.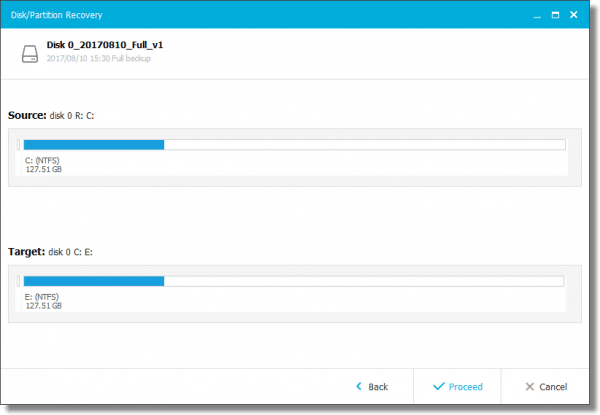 Click Proceed.
Remember I said the restore would overwrite everything currently on your hard drive? EaseUS reminds you before continuing.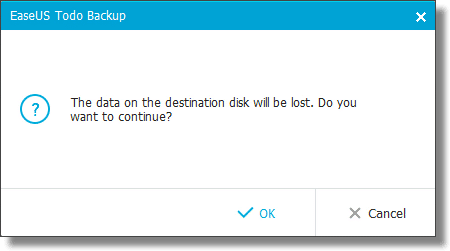 Click OK.
The restore begins.
Restore complete
How long the restore takes depends, like the backup, on how fast your drives are, how fast your computer is, and how much data there is to be restored. Progress will be displayed along the way.
Eventually, it finishes.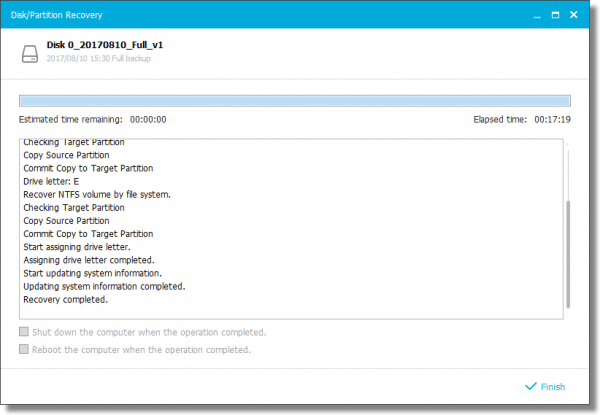 Click on Finish, and close EaseUS Todo by clicking on the "x" in its upper right corner.
Your machine will reboot. Take care to remove the emergency disk, or to select your computer's system disk from which to book. Again, how to do this specifically will depend on your computer.
When the boot completes, you can breathe a sigh of relief as familiar screens appear.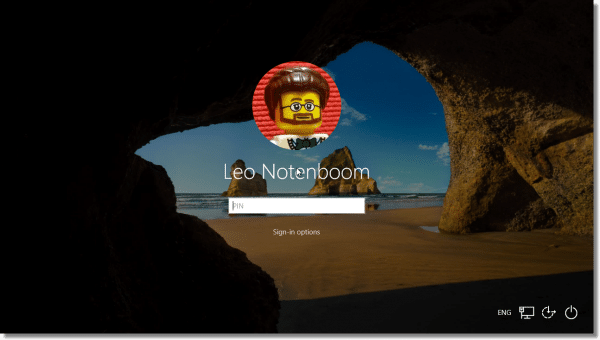 Remember, however: this is Windows as it was when you took the backup image.
You've successfully restored your backup image.
Podcast audio

Download (right-click, Save-As) (Duration: 6:23 — 3.0MB)
Subscribe: RSS
More for Patrons of Ask Leo!
Silver-level patrons have access to this related video from The Ask Leo! Video Library.
  Restoring an Image Using Easeus ToDo Free