In a prior article, we created a system image backup using the free version of EaseUS Todo. That's by far the most important first step.
Now it's time to prepare for the day we might need to restore that image.
It's time to create an "Emergency Disk", as EaseUS calls it.
When and why you need an Emergency Disk
There are two common scenarios that require an emergency disk.
The first is the most obvious: your hard disk fails, and you need to restore your backup to a replacement hard disk. Since that replacement drive is empty, you don't have EaseUS Todo installed to process the recovery. In fact, your machine won't even boot; Windows isn't on that empty hard drive!
This article is excerpted from Backing Up In Windows 10, available now. Top-to-bottom, end-to-end, Backing Up In Windows 10 will walk you through all the steps you need to keep your data safe, using Windows 10's built-in tools, as well as a free alternative.
The second scenario is malware, and you want to restore your system to an image backup taken prior to the malware's arrival. You can't boot into Windows, since you wouldn't be able to restore it to its prior state while it's running; you can't overwrite a file while it's being used, and that especially true if the file is part of the operating system itself.
In both cases, as well as a few others, the solution is to boot from something else.
That "something else" is the EaseUS Todo Emergency disk. When you boot from it, it automatically runs a copy of EaseUS Todo you use to locate your backup image and restore that image to your computer's hard drive.
You can create the emergency disk at the time you need it, but only if you have a separate working system on which to do that. More commonly, you'll want to create the disk prior to needing it, while your system is working normally. I'll expand on this below.
Creating an Emergency Disk
Run EaseUS Todo. Click on Tools in the toolbar, and then Create Emergency Disk in the resulting drop-down menu.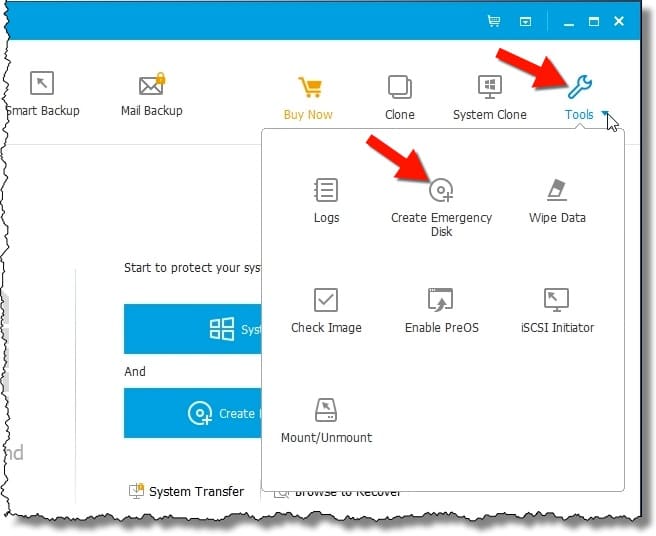 You'll then be shown a dialog box containing several choices.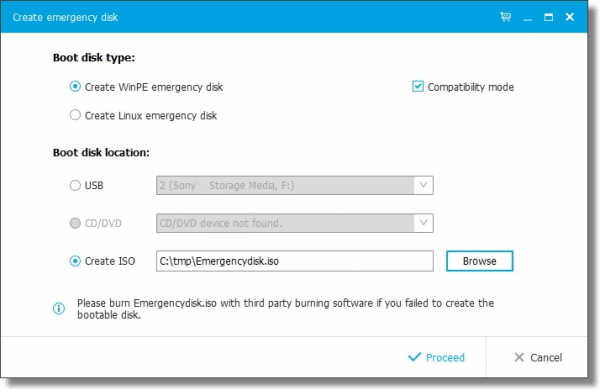 There are two selections to make.
Boot disk type determines whether the Emergency Disk should be based on Windows or Linux. In general, choose Windows (with "Compatibility mode" checked) unless your testing determines that this boot disk doesn't work for some reason, or you've been otherwise instructed by customer support. In general, since your system is already running Windows, the Windows Emergency Disk has the highest probability of just working.
Boot disk location determines what media your disk will be created on.
Choose USB if you have a USB thumb drive you can dedicate to this purpose (it'll be completely erased), and you can configure your machine to boot from USB.
Choose CD/DVD if your machine is capable of burning a CD or DVD, and you can configure your machine to boot from CD.
Choose Create ISO if your machine can boot from CD or DVD, but doesn't have the ability to actually burn a CD or DVD. In this case, you need to specify the location into which an "iso" file will be created. You then take this ISO to another machine that has a CD or DVD burner to actually create the media.
Once you've made selections appropriate to your situation, click on Proceed.
After a short period of time, the process completes and the emergency disk is ready.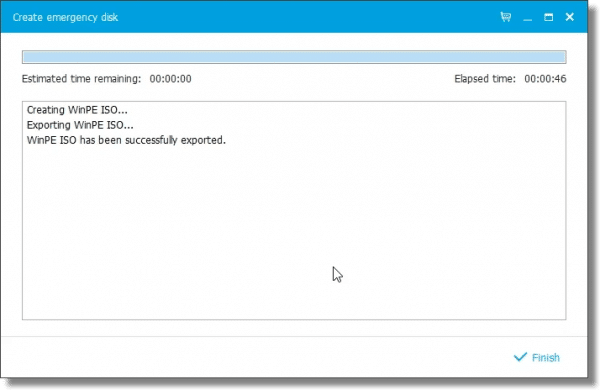 When to create your emergency disk, or …
There are two schools of thought as to when you need to actually create your Emergency disk.
Create it before you need it. This is important if you have no other computer available from which to make the emergency disk in an actual emergency. You'll need to have it ready to go so you can simply boot from it and deal with whatever the crisis happens to be.
Technically, you should only need to create the emergency disk once. However, there are strong arguments for creating a new one each time EaseUS Todo is updated. I recommend doing so at least for major version updates, to ensure compatibility with the backup software, as well as to address any issues that are updated in the emergency disk itself.
Only create it when you need it. This works if you have another working machine from which to create the emergency disk. The emergency disk does not need to be created on the same machine you've been backing up, or on the machine to which you plan to restore — any Windows PC will do.
If you plan to create it when needed, I do recommend that when that time comes, you download the latest version of EaseUS Todo Free, so as to get the latest version of the emergency disk.
My actual recommendation is that you do both: create one now, test it, and then save it in a safe location in case you need it. Then, when the time comes, you have the option of using that, or, if you can, download the latest and burn a new, more up-to-date emergency disk.
Podcast audio

Download (right-click, Save-As) (Duration: 5:43 — 2.7MB)
Subscribe: RSS
More for Patrons of Ask Leo!
Silver-level patrons have access to this related video from The Ask Leo! Video Library.
  Creating Rescue Media Using Easeus To Do Free