In a prior article, we created an image backup of your PC using the free version of EaseUS Todo.
Image backups are one of the most important types of backups, because they backup absolutely everything. Should you need to replace a failed hard drive, for example, an image backup will restore everything and let you continue as if nothing had happened.
But what if you don't want everything? What if you just need a single file you know is somewhere in that image backup?
No problem.
Locate the image
Naturally, you'll need the file or files containing your image backup.
If it's a full backup, then only the single ".pbd" file is necessary. If it's in an incremental backup, you'll need the full image backup that it was based on, plus all the intervening incremental backups as well.
The files will be wherever you instructed EaseUS to place them when you created your image backup. Typically, that's on your external backup drive, but it could be almost anywhere with sufficient storage space for your collection of backups.
Navigate to that location in Windows File Explorer.

In the example, above the image file is located in:
This article is excerpted from Backing Up In Windows 10, available now. Top-to-bottom, end-to-end, Backing Up In Windows 10 will walk you through all the steps you need to keep your data safe, using Windows 10's built-in tools, as well as a free alternative.
E: – my external backup drive. I told EaseUS Todo to place the image files here when I created my backup.
Disk 0 – the name of the folder EaseUS Todo created to represent the disk drive it was backing up.
The name of the image file itself — "Disk 0_20170810_Full_v1.pbd" — includes the disk name, the date of the backup, the type of the backup (Full), and the first version of a backup on that date.
If you have multiple files, or if you have incrementals, locate the most recent file so as to access the most recently backed-up files. (If you need to get a file from "a week ago", for example, locate the image file that corresponds to the backup taken immediately after that time.)
Double-click on that file. EaseUS Todo1 will "mount" the file, making its contents visible within Windows File Explorer.
Navigating the image
Windows File Explorer will open to the top-level contents contained in the image file.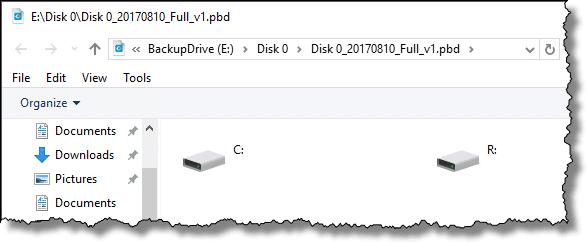 In the example above, the image file contains backups of two drives: "C:" and "R:". Those drive letters were assigned by the system to the two hard drives (or partitions) that were backed up.
Double-click on the drive containing the file(s) you want to restore. In our example, that'll be the original "C:" drive.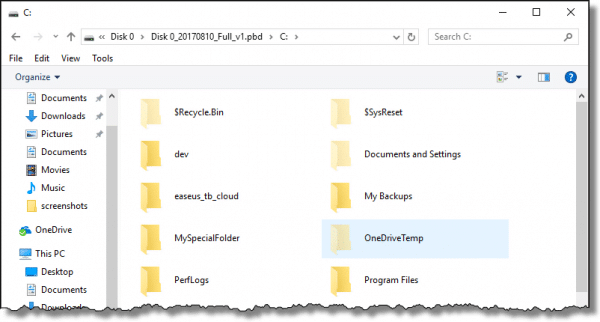 What you'll see is the contents of the root of the C: drive as it was when the backup was taken. You can now navigate through that backup image and examine its contents, using Windows File Explorer just as you would with any other drive.
Restoring your file
Using Windows File Explorer, navigate to your Documents directory within C:. In our example, that's:
C:
users
lnote – (would be replaced with your own login name)
Documents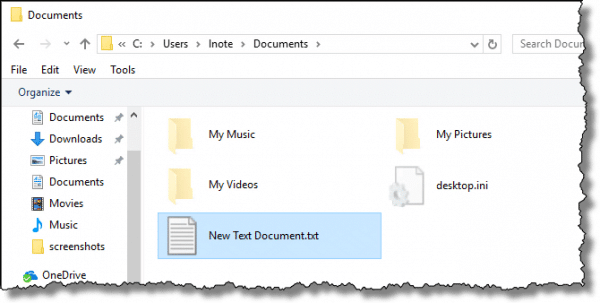 Remember, this isn't the "real" C:; this is all contained within the backup image stored on your external hard drive.
To restore a file — such as the "New Text Document.txt" file in the example above — simply copy it to any folder you like on your actual hard drive — the "real" C: — using any technique you're comfortable with: drag and drop, copy/paste, or something else.
That's all there is to it.
You can repeat this process for as many different files, or even entire folders, as you want to restore from your backup image.
More for Patrons of Ask Leo!
Silver-level patrons have access to this related video from The Ask Leo! Video Library.
  Extracting Individual Files from Easeus ToDo Free Backup Image