What is the best method to increase speed and avoid "XXX not responding" from anything I try to open on my older computer, a Lenovo laptop which has 4 GB with 3.6 used (my newer one with 8 is blazing fast). It can be very slow. This happens usually when I first start it up or after it has been on awhile. Are there file or programs I could safely delete or move to an external drive to increase efficiency? Thanks!
You're not alone. Many people with older computers face this struggle. The machine they've been carefully using for years seems to get slower and slower over time, with each subsequent update of operating system and/or applications.
The good news is, we have options.
Trying to speed up an older computer? Reinstall Windows from scratch to remove accumulated cruft. Upgrade your hard disk to an SSD. Maximize the RAM installed. Uninstall and get rid of all software you're not using. Run the disk cleanup tool. If after all that the machine is beyond hope, it may be time to abandon ship and replace it with a faster one.
Option 1: Go nuclear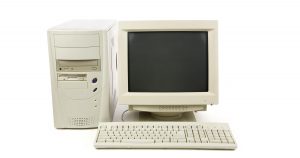 Honestly, if this were my older computer, and with only the information you've provided, I'd probably bypass all the other options I'll talk about in a second and go nuclear: I'd back up, and then reinstall Windows from scratch (downloading a Windows install disc, if I didn't have one of my own).
Perhaps most importantly, I'd only re-install applications after carefully considering whether I actually need and use them on this machine.
This, more than anything, will tell you about the hardware limitations of your machine with respect to whatever version of Windows you're running. If it's still slow after a reinstall of only what you need, then pursuing further software solutions is probably not going to be particularly cost effective.
Option 2: Hardware upgrades for an older computer
One of the most effective upgrades you can perform on an older computer is to replace its hard drive with a solid state disk (SSD). SSDs are significantly faster than old spinning disk hard drives, and can really perk up a pokey machine.
The process is conceptually simple:
The other traditional hardware upgrade to make an older computer faster is to add RAM. I suspect your machine is maxed out at 4GB, mostly because you have only 3.6GB available (here's why, by the way). If that's the case, you won't be able to add RAM. But if I'm wrong, and your computer is capable of more, then by all means, add more RAM. This, too, can often result in significant speedup.
Again, if this were my computer and I was planning on keeping it for some time, I'd do both of the options so far: upgrade the hardware to the extent possible, and reinstall Windows from scratch. That's likely to get you the best possible result.
Option 3: Purge
Let's say you don't want to reinstall from scratch, and you've maximized your hardware's capacity (or that of your wallet). The next step is to get serious about getting rid of everything you possibly can that's installed on your older computer.
Visit Add/Remove programs in Control Panel (or Apps and Features in Settings), and review the list of installed applications. Consider carefully whether you really need every item.
You might think that having an application installed but not running doesn't impact performance. In theory, that's true. In practice, however, many applications install helper apps that run all the time, from the time you boot up to the time you shut down. Those little helpers add up, and can place a surprising burden on your system.
If you don't really need the applications they're helping in the first place, then an uninstall should get rid of the bloat.
Option 4: Clean up
It's not quite as impactful as most people think, but simple disk maintenance can help speed up older machines. That falls into two categories: clean up and defragment.
Start with the Windows built-in disk cleanup tool. Make sure to delete temporary files, and consider cleaning browser caches, files left over from Windows Update, and more. Particularly if your disk space was tight to begin with, freeing space can speed up your machine somewhat.
Then run the Windows disk defragmenting tool. With Windows 7 and later, you don't need to worry much, since it happens automatically. However, particularly after a cleanup such as we just performed, immediately running a defrag can help improve things right away.
Option 5: Abandon ship
Sometimes, machines are simply too old and underpowered to run current versions of Windows. It's sad, in a way, that what was a trusty machine might no longer make the cut, but it's also inevitable.
One final alternative before disposing of the machine entirely is to consider installing a different operating system — specifically Linux.
There are many flavors (or "distributions" or "distros") of Linux specifically tailored to older computers that aren't as powerful as current models. Linux can work wonderfully on these machines.1
An older computer can make a perfect test bed for evaluating Linux, or it can be a useful way to extend the life of that older machine.
As one example, one of my oldest machines — my 11-year-old previous-previous desktop machine2 — lives in my basement happily running Ubuntu.3 It acts as a file backup, and media server for my home network, and has many good years ahead of it.
Regardless of which option you choose, from a complete reset to a re-purpose, there are several options to lengthen the life of that older computer.
Podcast audio

Download (right-click, Save-As) (Duration: 6:17 — 6.7MB)
Subscribe: RSS
Footnotes & References
1: Linux can run wonderfully on new machines also, of course. :-)
2: At the time, quite the machine: "Core 2 Quad" 266 Ghz processor with 8GB of RAM.
3: It's run Mint for awhile, until I switched recently for what I can only describe as obscure reasons :-).