Including what to clean up.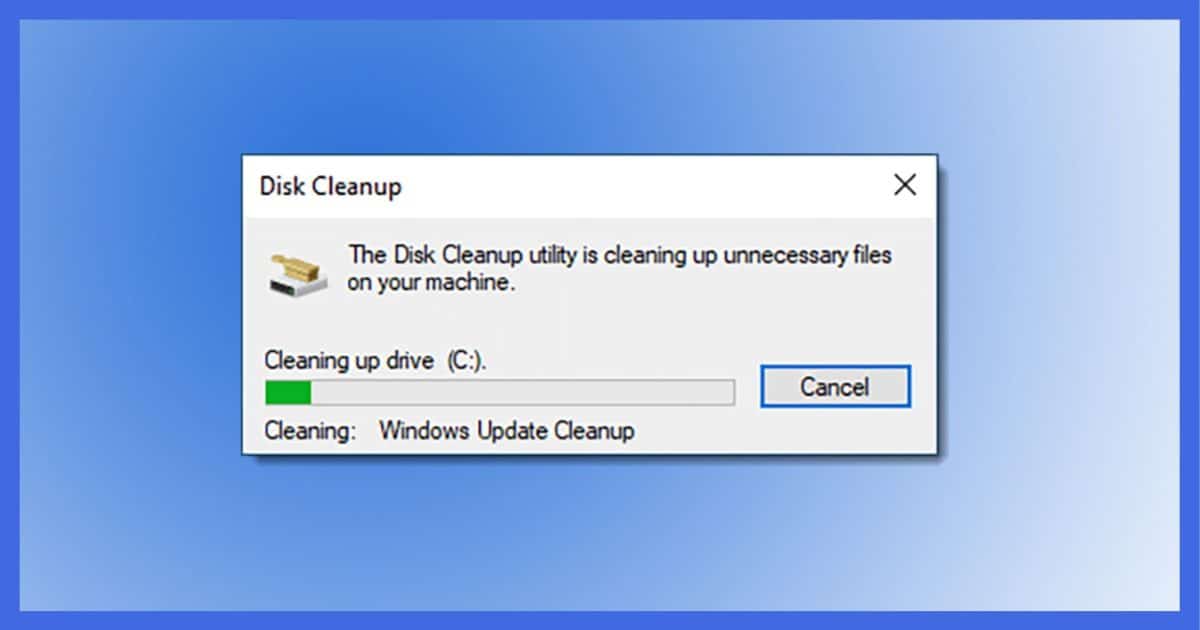 Disk Cleanup in Windows 10 is a handy tool for freeing up space on your hard drive. I'll show you how it's done and what to clean up. It's one of the first places I recommend people turn when they're running low on disk space.
Applies to Windows:
10
Over time, it's not uncommon for files to accumulate on your system — unused files, old files, or files you no longer need. There are many reasons for this buildup if you dig into to the details.
Fortunately, you don't need to dig into details to clean things up, because Windows includes a helpful disk clean-up tool for just this kind of thing.
Let's walk through using Windows Disk Cleanup.
Using Disk Cleanup
Disk Cleanup in Windows 10 is best found using Windows search. The most common and effective clean-up targets include user temporary files and the system's Windows Update files. In most cases, it's OK to clean up all items offered. CCleaner from Piriform is an additional disk-cleaning utility worth evaluating, as it doesn't limit itself to Windows components.
Launching Disk Cleanup in Windows 10
In Windows 10, click the Start button and start typing "disk cleanup".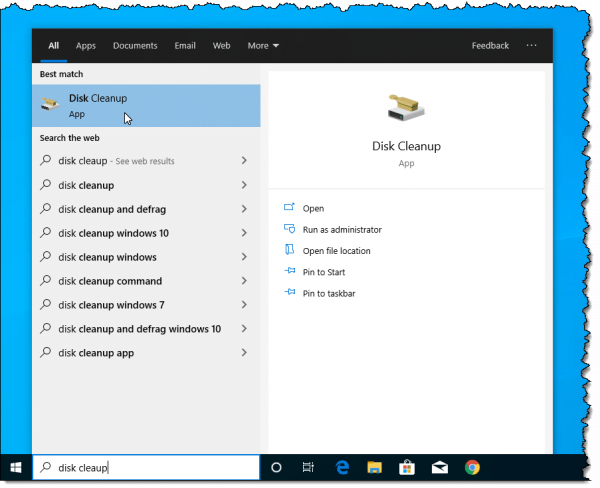 Click on "Disk Cleanup" when it appears.
In earlier version of Windows, you'll find Disk Cleanup on the Start menu, in All Programs, Accessories, System Tools.
Disk Cleanup begins by calculating what can be removed to save space on the disk.
Cleaning up user files
The default action is for disk cleanup to clean up files associated with or accessible by your currently logged-in account.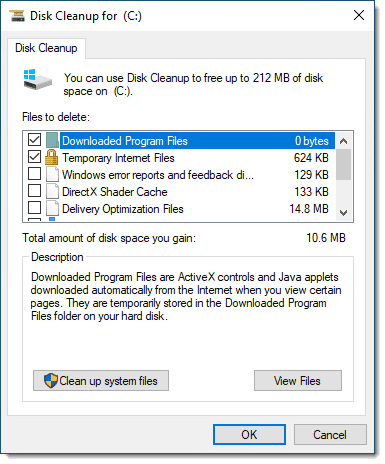 There's a list of different items that can be deleted (or "cleaned up") to save space. Click on each, and a description is displayed below.
In my experience, the most useful item to select is:
Temporary files. These are files created by applications and the system itself that, as the name implies, are temporary. For various reasons, they often aren't deleted by the processes that created them. As a result, they accumulate over time. This can take up a large amount of space if Disk Cleanup has never been run.
My approach, however, is to select everything.1
Click OK, and after a confirmation message, Disk Cleanup goes to work.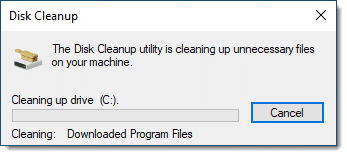 Cleaning system files
You may have noticed a button in the user interface:

Click that, and (perhaps after asking for administrative confirmation), the Disk Cleanup utility will re-launch, this time to operate on system-wide cleaning opportunities.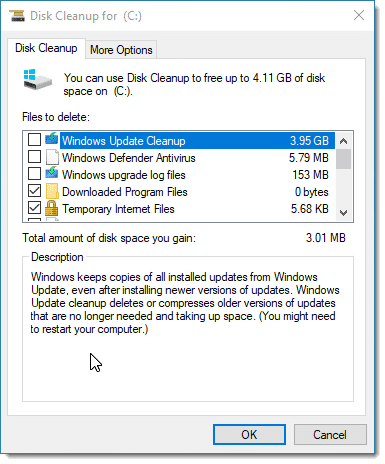 While this list looks similar, several items are new and some are slightly different.
The most interesting and common item to clean is:
Windows Update Cleanup. This can free up a lot of space, but it comes at a cost. Once you've deleted these backup files, Windows update items on your machine cannot be uninstalled. Fortunately, the need for this rare; typically, cleaning these files is a fine idea.
And once again, it's just fine to select everything in the list to be cleaned up.2
Click OK, and Disk Cleanup goes to work once again.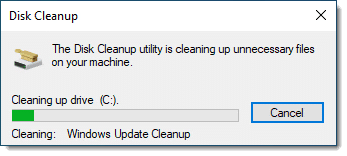 The net result after running Disk Cleanup should be more free disk space — perhaps a lot more space if this is the first time Disk Cleanup has been run.
Comparing CCleaner to Disk Cleanup in Windows 10
There are differences between Disk Cleanup and Piriform's CCleaner disk-cleaning app. CCleaner is not a 100% replacement for Disk Cleanup. For example, I don't believe CCleaner removes service pack backup files.
Perhaps the biggest difference is that CCleaner does not limit itself to Windows.
By its very nature, Windows Disk Cleanup deals only with Windows and perhaps Microsoft-provided software like Internet Explorer or Edge. On the other hand, CCleaner cleans up many of the same items plus assorted items relating to other browsers and applications not supplied by Microsoft.
My short recommendation:
If you use only one, run CCleaner.
If you don't want to download yet another third-party application, run Windows Disk Cleanup.
Otherwise, why not run both?
If you found this article helpful, and especially if finding out about Disk Cleanup in Windows 10 helped clean up your machine, you'll love Confident Computing! My weekly email newsletter is full of articles that help you solve problems, stay safe, and increase your confidence with technology.
Podcast audio

Download (right-click, Save-As) (Duration: 3:55 — 4.2MB)
Subscribe: RSS
More for Patrons of Ask Leo!
Silver-level patrons have access to this related video from The Ask Leo! Video Library.
  Using Windows Disk Cleanup
Footnotes & References
1: Of course, make sure you have a complete system backup just in case.
2: See previous footnote about having a backup just in case.
See also: Disk cleanup in Windows 10 – Microsoft Support