To reformat and reinstall is the computer equivalent of erasing the chalkboard and starting over with a completely blank slate.
To a computer, that means erasing the hard disk and starting over with nothing.
That phrase "erasing the hard disk" is exceptionally important, and important to understand fully.
This article applies mostly to Windows 10, though Windows 8 is similar. I have an older article covering Windows XP and Vista, which can be used to extrapolate what needs to be done for Windows 7. In all cases, the concepts are very similar.
Reformat and reinstall
Reformatting a machine and reinstalling everything to start over is typically a five-step process.
Back Up

Take an image of the existing machine, if possible. This saves all current content in case you want it later.

Reformat the hard disk

While "reformatting" refers to a specific operation, in this situation, it refers to any technique used to erase or overwrite everything on the hard disk.

Reinstall Windows from scratch

This typically means booting from a Windows setup disk and letting the setup program do its thing.

Reinstall applications

Windows on its own isn't enough; you'll want to reinstall additional software. We won't cover that step here, since it varies dramatically depending on what applications you use.

Recover your data

You can do this either from the backup image we started with in Step 1, or from other sources, depending on how you organize your data.
I can't stress the importance of Step 1: backing up enough. We're about to erase everything on your hard disk. Unless you know for certain there's nothing there you need, an image backup is the right way to be prepared when you remember some weeks from now that you forgot to save a specific file.
Formatting isn't always formatting
The term "formatting" goes back to days when hard disks had to be physically prepared before data could be written on them. Formatting set up the underlying magnetic information so the disk could be used. The term also referred to the next step: setting up the initial data that would organize the files and folders to be added later.
Coincidentally, just that last step — setting up the initial data on the disk — has the side effect of making anything that might have been on the disk inaccessible. As a result, "reformatting" has come to mean exactly that: erasing the disk by setting up those initial data structures.
For the purposes of reinstalling Windows from scratch, all we really care about is that the disk be erased before we start. There are two approaches.
Use a utility like DBAN to erase the disk before running Windows Setup. This is only useful if you want to erase all traces of data on the disk completely and securely.
Let Windows Setup erase the disk for you. This is appropriate for most situations.
The "trick", if you want to call it that, is that it's not always obvious what to do in Windows Setup.
So I'll show you.
Reformat
The first step is to boot from your installation media.

Exactly how you do that1 will vary dramatically depending on your specific computer. If your computer has the UEFI BIOS, which includes things like "secure boot", this article applies. If your computer is older and has a traditional BIOS, check out this article.
Once you boot, you'll be asked to choose your language and keyboard; then click Next.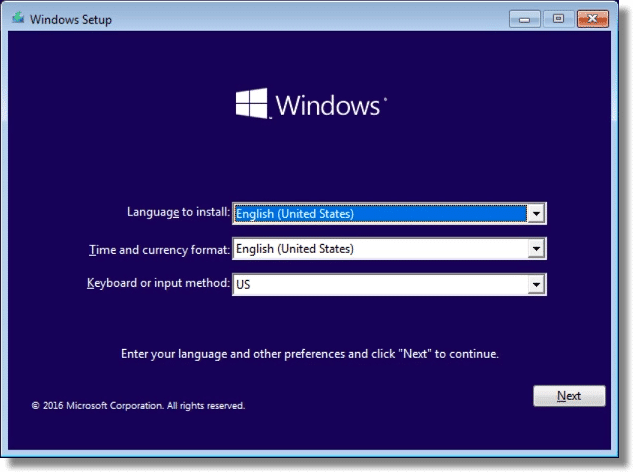 Click on Install Now to begin the setup process.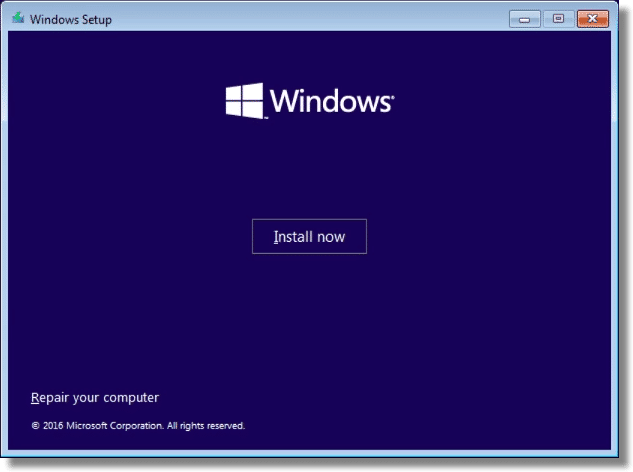 If you have a product key, you can enter it at this time, or click on I don't have a product key to do so later. Click on Next.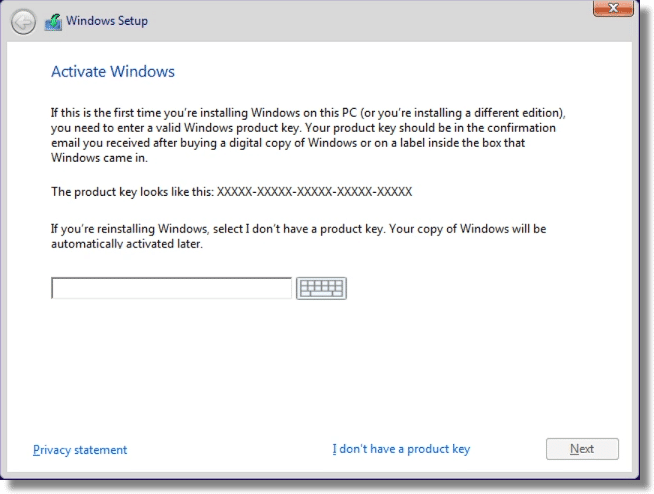 This particular set-up disk applies to Windows 10 Home and Pro both; yours may not. If it does, make your selection here, and click Next.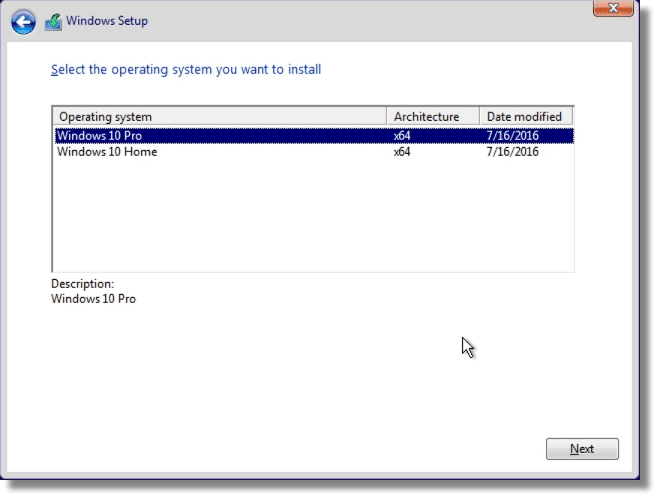 Naturally, you'll need to accept the product license. Click the "I accept the license terms" checkbox, and click on Next.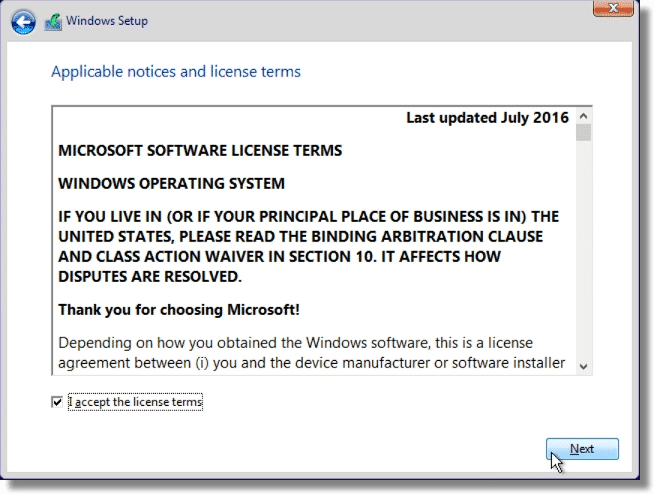 When asked to choose the type of installation to perform, click on Custom.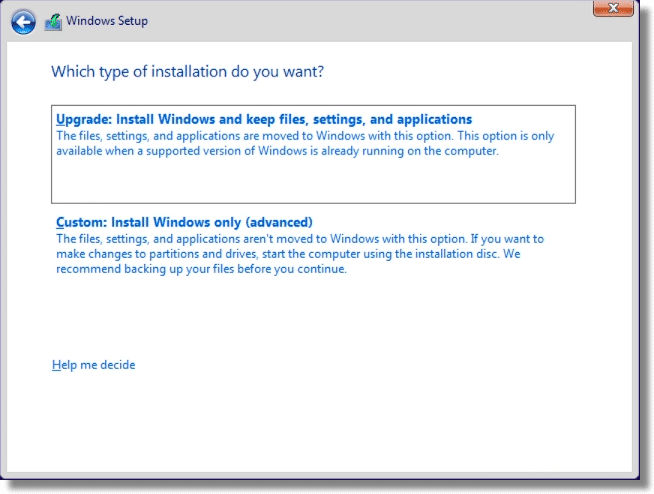 Windows Setup asks where you want to put your new installation. This is where the reformatting magic happens. In order to "reformat" the disk, you will delete the existing partition(s) on the disk and let Windows Setup create new ones.
The dialog box lists all existing partitions on the hard disk. In this example, you can see that there are two: System Reserved, and a primary partition.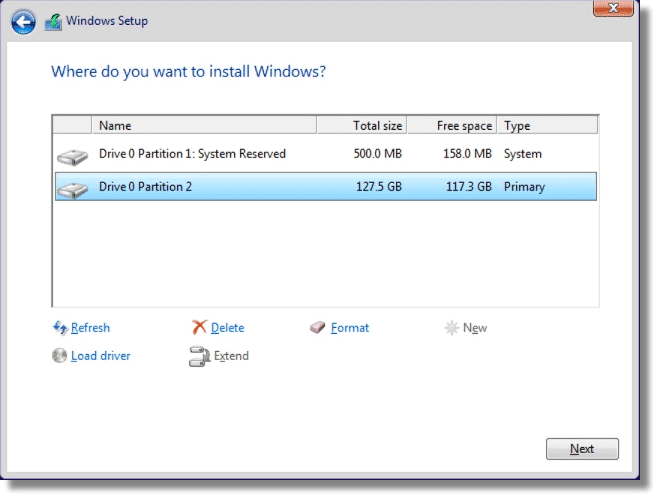 There are two approaches you can take.
Delete only the partition you know contained the previous installation. Typically, this is the largest partition on the hard drive, and is marked "Primary". If you're not certain, this is likely your best option, so as not to delete important UEFI or manufacturer's recovery partitions.
Delete all the partitions on the hard drive. This will allow Windows Setup to make maximum use of the hard drive, and is typically safe in older, pre-UEFI machines.
To delete a partition, simply click on the partition in the list and click on Delete. The partition should either become "unallocated space" or be merged with any adjacent unallocated space.

Once you're done deleting partitions, click on the unallocated space item into which you want Windows installed. (Typically the largest, if there's more than one.)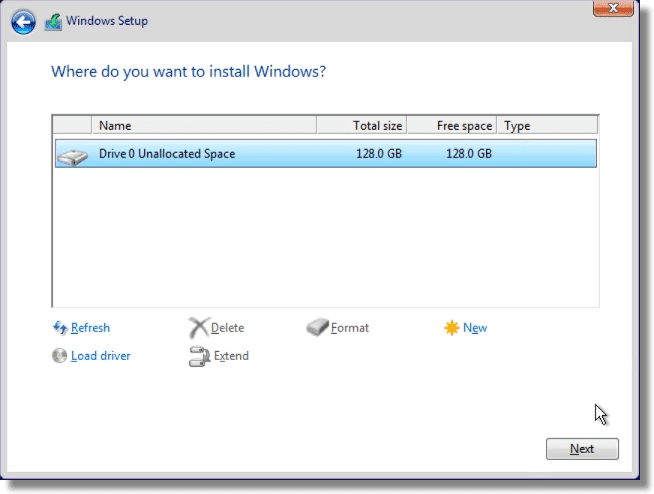 Ironically, you do not need to format the space into a partition, even though the option is there. Windows Setup will take care of the rest. Click Next.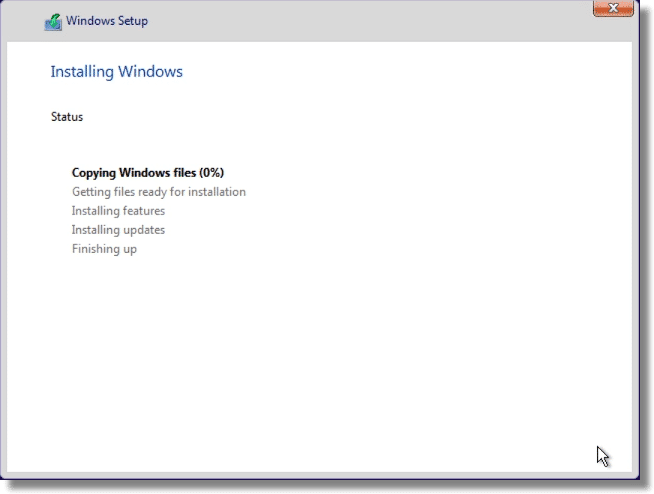 At this point, Windows Setup proceeds to install Windows normally.
Podcast audio

Download (right-click, Save-As) (Duration: 6:12 — 5.7MB)
Subscribe: RSS