It's not at all uncommon for a computer to accumulate quite a collection of software over time. Applications, utilities, Windows features, and who knows what else all accumulate over time to take up space and resources from our machines.
It's also not uncommon for much of the software installed on our machine to go unused and unneeded. Perhaps we stopped using a specific application. Perhaps a trial version of some software remains. Perhaps some software was installed as part of some other installation.
The bottom line is that there are things we can uninstall.
There are two places we need to look.
Before we start: back up
I know, I know, I'm a broken record on this, but it's for your own good. :-)
Before you start uninstalling programs, particularly if you're not certain about some of the things you're about to remove, please seriously consider starting with an image backup of your system.
That way, if you find you uninstalled something you shouldn't have, you'll always be able to restore that backup image and continue as if nothing ever happened.
If nothing else, it allows you to be slightly more aggressive, knowing you can always turn back the clock should something go wrong.
Uninstalling applications
The most common scenario that people think of when we say "uninstall" is to reverse the effects of a set-up program that was run on their computer at some point in time. Most of the time, that's as simple as re-running the set-up program and instructing it to remove whatever software it had previously installed.
On the Start menu, click Control Panel, and in Control Panel, click Uninstall a Program.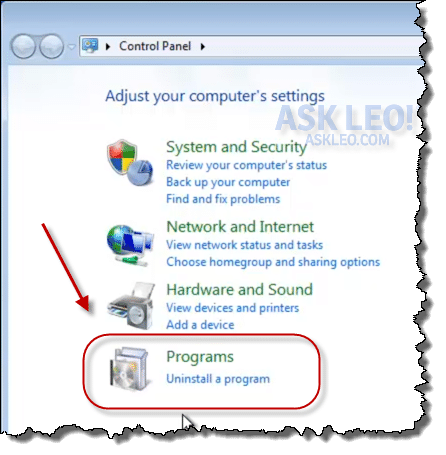 Control Panel will present a list of the assorted software installed on your machine that can be uninstalled. Right-click the one you want to remove and click Uninstall.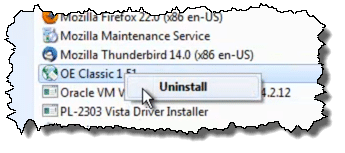 What happens next depends on the application. In most cases, a specific uninstallation program will run and remove the application after confirming that with you. Some applications will give you the option of leaving any customizations behind so that if you reinstall the program later, those will be preserved.
In other cases, the original setup program will run, and display the uninstall option as an option to modify or change the installation. This allows you to add or remove features or components.
In most cases, these types of uninstalls are actually quite sufficient and achieve the intended goal: freeing up disk space, and removing any auto-start utilities associated with the application.
If the uninstall fails, or if, after the uninstall, there remain obvious traces of the application that cause some sort of problem, it might be appropriate to try a utility such as Revo Uninstaller, which can sometimes perform a more thorough removal of a program.
But there's another aspect to removing installed software that many people overlook.
What about Windows itself?
Managing Windows features
With the list of installed software displayed in Control Panel you'll see a link to the left: Turn Windows features on or off.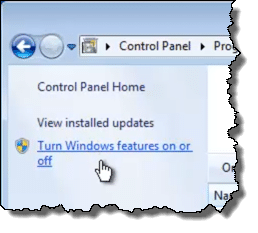 Click that to be taken to a long list of assorted features and components in Windows itself that can be controlled or removed.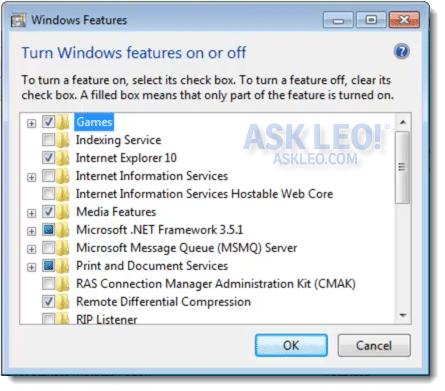 Many of the items are fairly clear and obvious. For example, unchecking "Games" will cause all of the pre-installed games that come with Windows to be removed. You can also expand that list (click the little plus sign in front of the checkbox) and pick and choose which games to keep or remove.
Other items seem straightforward, but might not be. For example, if you don't use Internet Explorer, it would be tempting to uninstall it. The problem is that because large portions of IE are used by Windows itself. as well as other applications, uninstalling it will either have little effect (perhaps removing only the icons) or will cause other programs to fail.
My suggestion here is to simply proceed with caution. Uninstall or disable only the things you're certain of. or consider leaving it alone until you do a little more research to understand the ramifications of turning it off.
Which brings us to the biggest question of all.
What can I safely uninstall?
Sadly, this is an unanswerable question.
It all depends on you, your computer, and how you use it.
What can be removed differs from one person and one computer to the next. Applications you depend on and could (or should) never remove are so much space wasted to someone else. Components you have installed that you may not even recognize could be used by applications you depend on every day – or they could be completely pointless.
The same is true for the list of Windows options you can control. One person's critical feature is another person's waste of space.
As a result, my recommendations are:
Back up first, just in case you remove something you quickly decide you'd rather have kept.
Keep your original installation media for everything, always,  just in case you remove something you later decide you'd rather have kept.
Research things when you're uncertain.
Leave things alone if you're still uncertain.
If you're fighting specific issues, like disk space or computer speed, prioritize the applications at fault using disk space tools or CPU usage tools to identify what those applications are. Leave everything else alone.
When in doubt, leave it alone. :-)