Question: I have a laptop that somebody partitioned so that the small section is C: and the large (and mostly empty) section is D:. No matter how I try to get programs loaded into D: instead, everything goes to C: and therefore C: is full, while most of the hard drive, namely D:, is empty. Is there any way other than starting fresh that I can change to size of C? I tried renaming C: to D: and vice versa, but of course that didn't work.
Yes, I wouldn't expect that rename to work. There are simply too many places, such as within the system registry, that have recorded the fact that things are on "C:". If you rename C: to D:, the system wouldn't be able to find them.
What you're looking for is partitioning software.
And there's a good chance you already have what you need.
Combining C: and D:
I've actually heard lots of arguments one way or the other on how to best partition a hard disk. My general feeling is that the pros and cons of one over the other are typically small, and thus I opt for simplicity: I create only one partition per hard disk.
Let's start by showing you how to take all of the space allocated to your D: drive, and add it to your C: drive making your C: partition bigger and removing D: completely.
Pre-requisites:
C: and D: are two different partitions on the same hard disk. If C: and D: are on different physical drives, what I'm about to describe won't work.
C: and D: are adjacent to one another on the hard disk. This will become apparent when we look at the Disk Management tool.
You have backed up. In particular, if there's anything you want to save on the D: drive, back it up now. What we're going to do will erase what's there now, completely. It's always a good idea to back up prior to playing with disk partitions, since when something goes wrong it can go very, very wrong.
Fire up "Computer Management". Right click on the icon for "My Computer", "Computer" or "This PC", depending on your version of Windows;
or right click on the Windows 8.1 desktop start menu and click on "Computer Management" (or run "compmgmt.msc" via the command line or Start-Run).
Click on Disk Management in the left hand pane: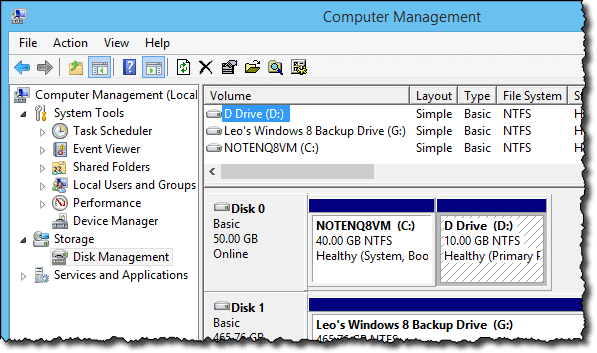 Right click on the D: drive to get a menu of possible actions: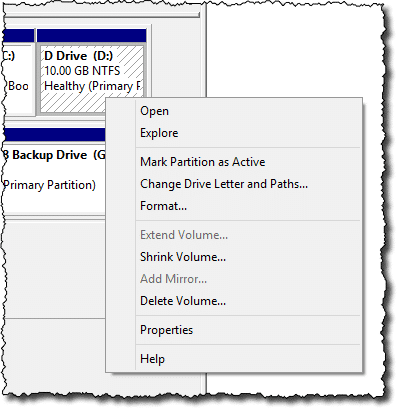 Be absolutely sure that you have all the data you want currently on D: backed up somewhere, and then click on Delete Volume…

Confirm that, indeed, you have backed up the data and click on Yes.
The partition is deleted, and marked as "Unallocated space":

The next step is to allocate that space to the C: drive.
This time, right click on C: to get that menu of actions: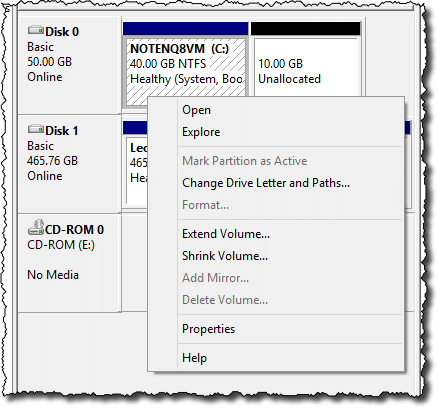 And click on Extend Volume…. This will begin the "Extend Volume Wizard". The first page of the wizard is a simple explanation, so you can click Next.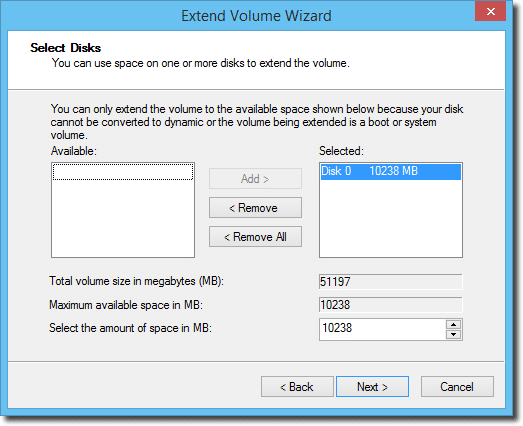 You can, if you like, adjust the amount of free space to be added to the C: drive, but the default is to add all of it. Since that's what we want to do, click Next, and Next again on the subsequent confirmation dialog.
The result is a single drive C: that has expanded to encompass the space formerly occupied by D:.

You can now copy any of the data that you had saved from the former D: drive onto new locations in C:.
Using some, but not all, of D:
The instructions above apply to the simple scenario where C: and D: are adjacent and we want to add all of D:'s space to C:. That's probably the most common layout, and a common desired result, not to mention my recommendation.
But if you want to preserve the D: drive and just make it smaller, things get more complex quickly, and Windows' Disk Management tool isn't the easiest way to accomplish it. You can do it, but I believe it takes a scenario like this (once again, assuming C: and D: are adjacent, as pictured above):
Determine how big you want the resulting D: drive to be.
Resize the existing D: so that the free space left after it is the size you want the final D: drive to be.
Format that free space as another drive E: (or F:, or whatever drive letter is available).
If D: isn't empty, copy its contents to that new E: drive.
Delete the D: partition, which should leave "Unallocated space" between C: and E:.
Expand the C: drive to absorb the unallocated space.
Remove the assignment of E: as the drive letter of that new partition and assign it the letter D:.
Doable, but complex.
It's a tad easier using partition- management tools like Paragon Partition Manager or EaseUS Partition Master. (EaseUS has a free version.) These tools will let you perform the operation in a couple of somewhat easier steps.
Make the D: partition smaller
Move D: to the end of the drive so that the resulting free space is adjacent to C:
Make the C: partition bigger
Two final caveats
The mechanics of combining partitions is at least conceptually simple on the surface, and relatively easy to do.
However,
If you already have software installed on that second D: partition and you remove it, as in my first example, you'll need to reinstall it after the change, or it'll be looking for things on a drive that no longer exists. Similarly, software that was configured to access data on that other partition will also need to be reconfigured as needed.
And I must stress the importance of backing up.
You must back up before playing with partitions. The cost of failure when re-partitioning a hard disk is very high, and includes losing everything. I'm not saying that it's likely: most tools have good reputations and for the most part work well. But in the off chance that something goes wrong, you'll most definitely want to have a comprehensive image backup to recover from.