My desktop email program of choice.
Thunderbird is a robust and powerful email program that can meet the needs of both light and power users. I use it all day every day.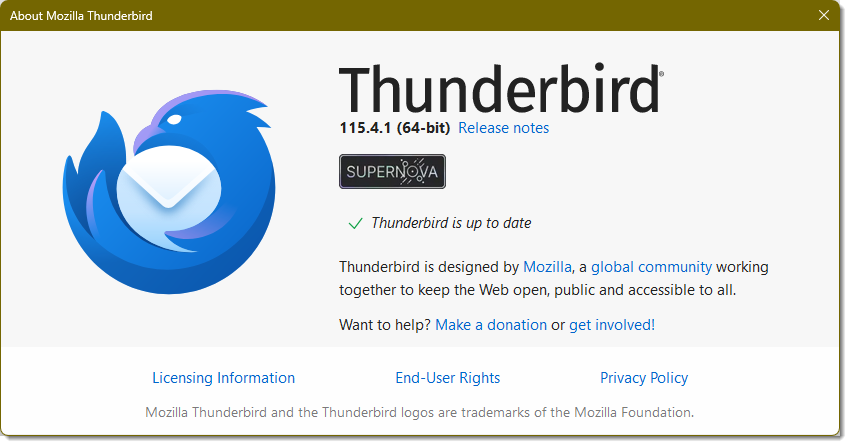 Mozilla's Thunderbird is my choice for a desktop email program. I use it all day every day, and I can heartily recommend it as an often more powerful and capable replacement for many email programs, including those that come with Windows.
The feature list is long, but I want to call out some of my favorites. These are what draw me to Thunderbird and cause me to recommend it to almost anyone using a desktop email program.
Thunderbird
I recommend Thunderbird as a powerful, free desktop email client with a comfortable user interface, cross-platform support, and easy data transfer due to its standard file format. It's also extensible with add-ons, features robust mail filtering, and is ideal for backing up your email.
Desktop email program?
Before I sing Thunderbird's praises, I want to be clear about what it is and is not.
A desktop email program is something you install on your PC. It's like Windows Mail, which comes with Windows, or Microsoft Office's Outlook program. These programs download your email to your PC for you to read and otherwise interact with.
This is different from web-based email interfaces, which are email services you visit in your web browser (like Edge, Chrome, or Firefox). They're webpages — like gmail.com, outlook.com, or others — that allow you to read and interact with your email online. There's nothing installed on or downloaded to your PC other than the web browser you're already using every day.
Even if you do most of your email online, as I do at gmail.com, having a desktop email program installed and running is a great way to keep backups of your email locally. I do that, too.
Thunderbird's features
These are some of the things that repeatedly draw me back to Thunderbird, even after trying some of the alternatives.
Free:  Thunderbird is completely free1. That makes it risk-free to try before deciding.
Comfort: Most users of other common desktop email programs will feel very comfortable in Thunderbird. Basic operations are very similar.
File format: This might be one of Thunderbird's most compelling features for me. It uses a standard plain-text file format to store your email (mbox format, for the geeks among us). Many email programs use proprietary database formats that seem prone to breaking and make it difficult to move from machine to machine or to change email programs. Moving Thunderbird email from machine to machine is as simple as copying a folder tree.
Cross-platform support: I've successfully moved my email not only between Windows PCs but also to Mac and Linux machines. Transferring was a simple copy and paste of all the folders and support information. Not only did my email get transferred, but all the account settings, filters, and even supported extensions were moved as well.
Extensions: like its cousin, FireFox, Thunderbird has a number of powerful add-ons available.
Filters: Thunderbird supports a set of very powerful filters you can create so it takes action automatically as mail arrives. For example, you can have multiple filters sort incoming email into various folders based on various criteria. Your needs may not be that complex, but simply being able to say things like "if this is from someone in my address book, move it into this folder" is a powerful way to prioritize your approach to email.2
Naturally, there are many more features that may appeal to you. I encourage you to have a look.
About backing up & more
Thunderbird remains my recommended alternative to almost every other desktop email program. (The sole exception would be Microsoft Outlook for the corporate and power user, but even then, I'm a power user, and I've come to prefer Thunderbird anyway.)
That being said, I no longer use Thunderbird as my primary email interface. I spend my days in Gmail. However, I continue to run Thunderbird in two different places.
I run Thunderbird on the computers I use daily as the email interface for some secondary email addresses. For example, I have one address devoted to newsletter subscriptions, which I download and read in Thunderbird.
I run Thunderbird on my older Mac Pro to back up all of my email accounts. It's configured to continuously fetch the email I'm reading in Gmail as well as those secondary accounts. The purpose is to have local backups. This is also one of the reasons I love that Thunderbird uses a standard file format. I don't even need Thunderbird for those backups to be of value in the future.
Do this
If you don't already have a favorite desktop email program (and I acknowledge that email programs are often a personal and even passionate decision), or you're struggling with the drawbacks of whatever program you're currently using, Thunderbird is worth a look.
I recommend it.
I also recommend subscribing to Confident Computing! Less frustration and more confidence, solutions, answers, and tips in your inbox every week.