Jumping to the wrong conclusion rarely helps.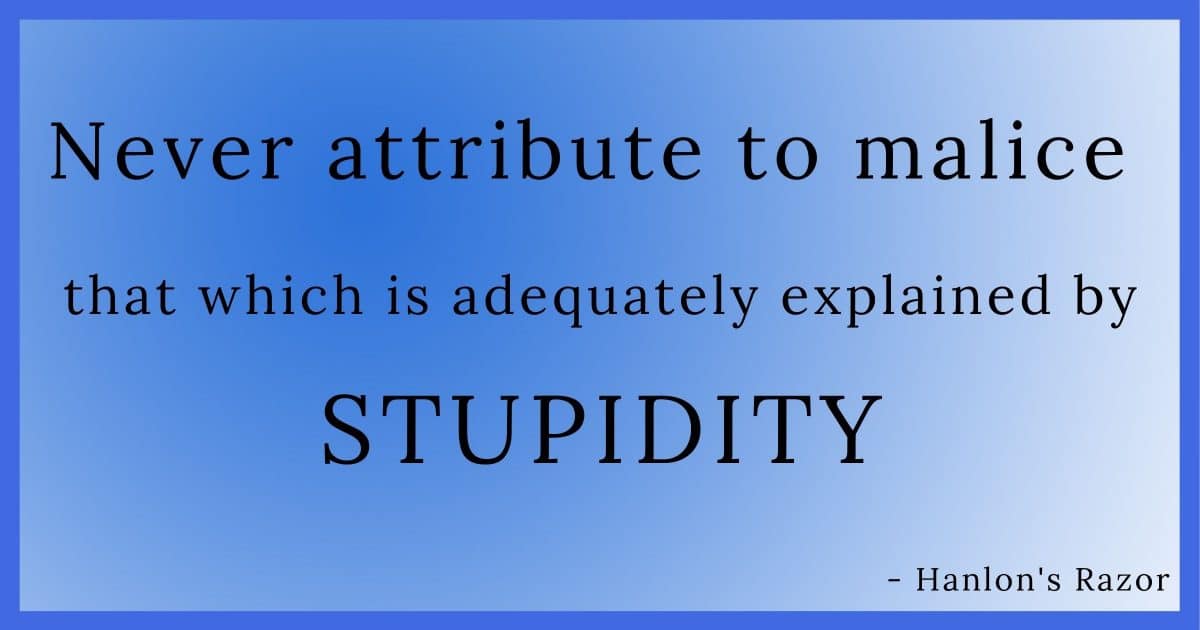 Malicious intent is commonly understood to be the cause of technological trials and tribulations. It's usually the wrong assumption to make.
The pithy statement above is referred to as Hanlon's Razor.
It keeps coming to mind as I hear from people who are absolutely convinced that malice is at play in whatever they're experiencing.
It's rarely the case.
Never attribute to malice . . .
Many people jump to malicious intent to explain a problem with their computer or technology. That's rarely the case. More common are simple missteps, mistakes, failures, and errors. Looking for a malicious actor when there isn't one is time better spent focusing on the likely causes of odd behavior.
Hanlon's Razor, extended
When it comes to computers and technology, I extend Hanlon's opinion a little further.
Never attribute to malice that which is adequately explained by stupidity, error, or failure.
Just as it's rarely malice at play, it's not always stupidity either. All people, smart and stupid, make mistakes. Failures —  particularly hardware failures — happen.
Any or all of those can be used to more than adequately explain the various and sundry problems we experience with technology.
My ISP is blocking a website…
This topic came to mind recently when I received a question about an individual's inability to access a specific website. He knew other customers of his ISP also could not access the site, whereas customers of other ISPs could.
Clearly, to him, his ISP was blocking the site.
That could be.
It's just not likely.
There are other more plausible explanations.
Most likely, his ISP's DNS had a problem and couldn't resolve the IP address for the website in question. It's also possible the website in question experienced something it mistakenly interpreted as an attack1 and blocked the ISP. It's possible the website's DNS was misconfigured, and due to DNS caching, his ISP was the first to see a problem that would eventually affect everyone.
Or it could be something else.
Malice is possible, as might be stupidity somewhere along the line; but errors and failures are much more likely.
My computer is behaving oddly…
Whenever someone's computer behaves in an unexpected way, many people's first response is, "Oh my God, I've been hacked!"
No. Just … no.
Seriously.
Hacking as the cause for odd computer behavior is
so rare
, I'm very comfortable just saying it's not the cause of the problem you're experiencing.
Software bugs, hardware failures, failed updates, flaky internet connections, worn-out batteries, exceeded disk capacities, and many more things are much more likely. All of these manifest in obvious ways that make it clear what's going on, or in ways that appear completely random as if the machine is "possessed" — just not by hackers.
And that doesn't even begin to touch on what we lovingly refer to as "operator malfunction": mistakes made by the person using the computer.
Ads are stalking me…
I have to include this class of behavior here, though it may be the most difficult to accept.
Without a doubt, there are privacy issues on the internet. But ads following you around is not one of them. Showing ads for something you've seemed to express an interest in isn't malicious; it's marketing. It's nothing more than salesmanship using today's technology.
Creepy? Maybe, if you don't understand what's happening. But malicious? No. Not in my book.
Speaking of marketing…
Things change just to piss us off…
I hear this one after any major change to an operating system, application, or web service. Things looked one way yesterday, and look different today. Companies must be doing this just to annoy us, right?
If you think about it, that doesn't even make sense. Change intended to annoy your customers is business suicide, as is change for the sake of change. No company wants or does that.
If your favorite OS, app, or website never changed, it would be just as bad for business. Never changing means not keeping up with current trends, not taking advantage of new technologies, and failure to adapt to new ways of doing things. You may be happy with an operating system that works the same way as it did 20 years ago, but the company that made it would be out of business if that's what they offered.
Businesses that don't change, adapt, and grow die. It's a simple as that.
Growth is not malicious. Bad decisions about how to grow are not malicious — they're just bad decisions. To refer back to my extension of Hanlon's Razor, they're errors or failures.
That you're pissed off is certainly not intentional.
So, is there malice?
Of course, there is malice out there. Hackers hack, scammers scam, and spammers spam. Businesses knowingly leverage your information in malicious and often illegal2 ways.
My point here is that when you experience something unexpected with your computer, technology, online experience, or data, unless you have evidence that says otherwise, malicious intent isn't the place to start looking.
The actual causes are usually significantly more mundane.
And, honestly, that's a good thing. More mundane causes are easier to deal with.
Podcast audio

Download (right-click, Save-As) (Duration: 9:13 — 10.1MB)
Subscribe: RSS
Footnotes & References
1: Every website, server, and device connected directly to the internet is under some form of nearly constant attack. Really. Any server operator can find the evidence in their server logs. This is something you can attribute to malice.
2: Interestingly, the two are not synonymous in either direction.