Estimating life expectancy.
We keep hearing that SSDs and other flash-based drives wear out. Particularly when it comes to SSDs, there are ways you can see how close to wearing out your drive might be.
SSDs are awesome. They're fast, they have no moving parts, and they use less energy than traditional spinning-platter hard drives.
The problem, of course, is that they wear out.
Actually, that's only part of the problem. What we'd really like to know is when.
Unlike traditional hard drives, there are a couple of approaches to making an educated guess.
SSD longevity
The specifications for an SSD model may include a TBW, or "terabytes written" measure of the minimum life expectancy. You can then use a tool to examine the amount of data written to your drive to determine how close to the TBW it is. The drive may last longer or fail earlier, but this lets you judge your risk against the manufacturer's expectations based on your current usage.
SSD guarantees
The more you write to them, the more SSDs wear out. Most SSD manufacturers specify how many bytes can be written to the drive within the device's guarantee.
For example, the machine I'm using has two SSDs.
Samsung SSD 970 EVO Plus 1TB: The manufacturer's specifications, available on their website, indicate a warranty covering 600 terabytes written.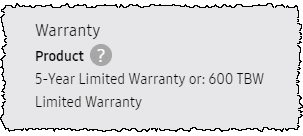 Crucial CT2000P5SSD8 2TB: I had to go hunting for the product datasheet (searching for "CT2000P5SSD8 datasheet" did the trick), where a similar warranty is included:

You can see that the warrantied life is proportionate to size: 600TBW per terabyte of device storage, which makes sense. A device twice as big should be able to handle twice as much data in its life.
So, now that we know what the warranty covers, how do we figure out where we are?
Your SSD's odometer
We need to download and run a tool for the next step, as Windows' own tools don't make this information available (or, at least, easy to find).
CrystalDiskInfo has been around for a long time and is just the tool we need. Download and install it (as always, being careful to avoid misleading ads on the site that try to trick you into downloading something else).
Once you run it, just click on the drive you're interested in examining.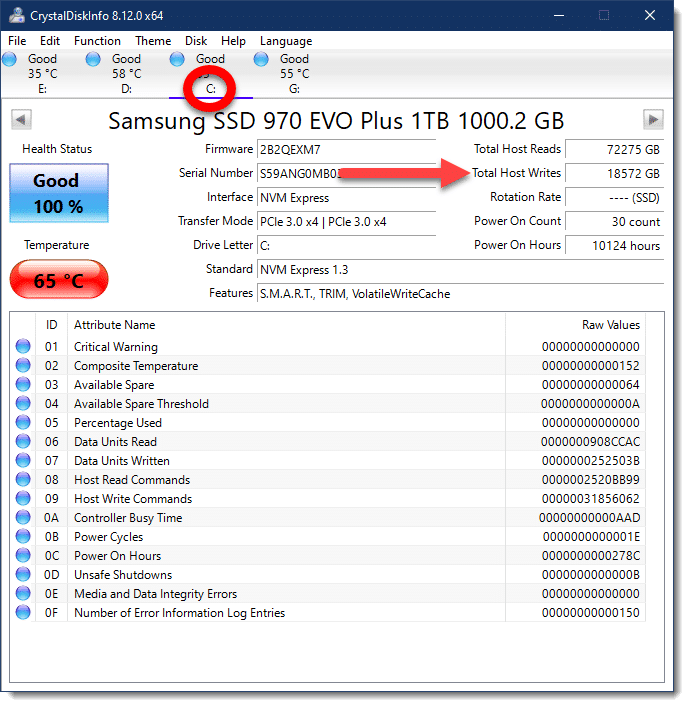 A couple of things of note:
All drives connected to your system should be shown, not just SSDs.
They won't necessarily be shown in order. I had to click on the "C:" drive, circled above, to get information on that drive.
The information we're looking for is Total Host Writes. In the case of my C: drive, I've written 18.5TB to the drive in the roughly two years I've owned the machine. That bodes well for the life expectancy of this drive if my usage pattern doesn't change. A TBW of 600 with a usage rate of 9.25TB/year (half of the 18.5 I used in two years) would indicate 64 years of life left. Well beyond the calendar warranty of five years, and certainly longer than my machine — and I — are likely to be around.
My other SSD, the D: drive, is in even better shape.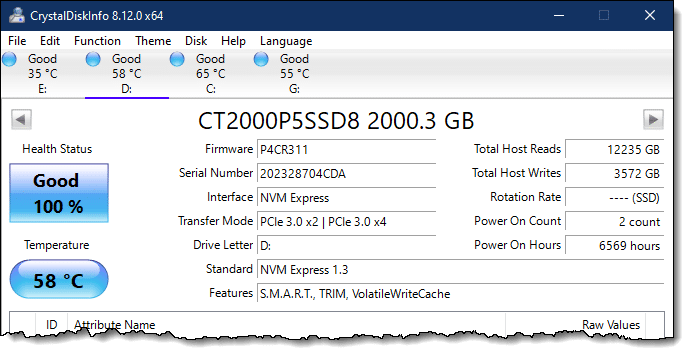 There, the Total Host Writes equal 3.5TB. With a TBW of 1200, it has hundreds of years of life left in it. Once again, well beyond the official five-year warranty period.
A warranty is not a guarantee

1
I need to point out something important. Just because something is warranted for a certain amount of time, or a certain number of writes, doesn't mean it can't fail sooner
— perhaps even much sooner.
A rating like TBW is a statistical game played by the manufacturer. They're confident enough in the technology that the vast majority of their devices will last well beyond this point. They're so confident that they'll refund your money and/or provide a replacement device if yours doesn't.
It also doesn't mean that once the TBW is reached, the device will suddenly fail. In reality, it'll probably last much longer. It's simply that the risk of failure increases beyond a point that the manufacturer is willing to commit to.
Your SSD could fail at any time. Or it could outlast you.
A warranty won't recover your data
Being well ahead of a drive's TBW, as I am for both of my drives, doesn't mean you can stop backing up.
As I just said, there are no guarantees — my SSDs could still fail at any time. That they're "young" in terms of TBW would indicate that the risk is low of that particular kind of failure, but the risk is never zero. Besides, there are so many other ways that things could fail beyond the SSDs wearing out or having wear or internal problems.
If your SSD fails, and you get a replacement via warranty service, that replacement won't have your data.
Back up. Always. Anyway.
Podcast audio

Download (right-click, Save-As) (Duration: 7:35 — 8.4MB)
Subscribe: RSS
Footnotes & References
1: I realize that in certain scenarios, they can be considered synonymous. A little slack, please, I'm trying to make an important point.