These are not always the results you're looking for.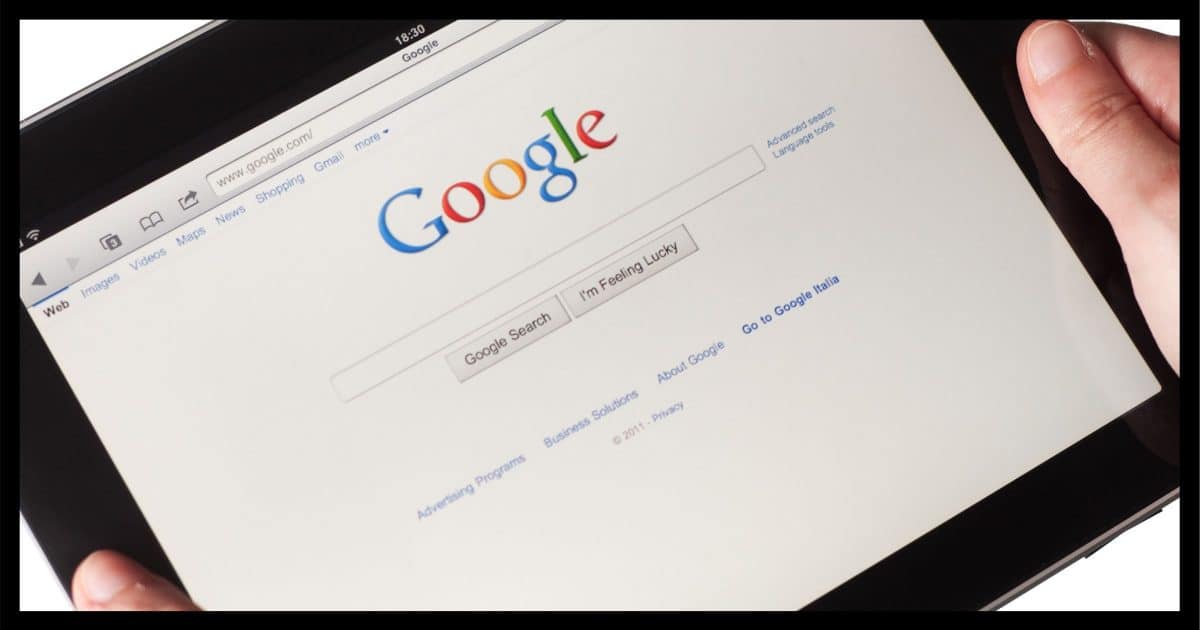 It's absolutely critical you learn to recognize the difference between advertisements and actual search results.
I was listening to a podcast1 where the hosts discussed search results offering "help" with various government programs.
The results look legitimate. Some of them may be. But they're displayed not because they're a search result, but because they are paid advertisements appearing above or around the "real" search results.
The problem? Many of them are scams.
And this issue isn't limited to government programs.
Beware of ads
You must understand that search results may contain advertisements. Advertisements are not the actual results, but are placed by companies who pay for the privilege of appearing above or alongside search results. Learn to never mistake an ad for an actual search result. The ads may have value, but they can also mislead. Be skeptical, but above all, learn to recognize ads in search results.
There are ads in search results
It's critical to understand that many of the items appearing on search results pages are paid advertisements. They are completely separate — and possibly unrelated to — the actual search results elsewhere on the page.
Here's a frustrating example: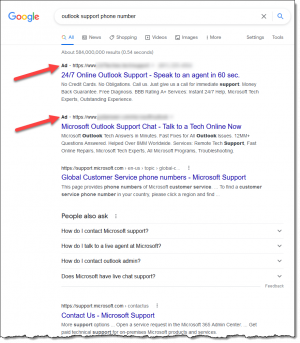 This is a simple Google search for "Outlook support phone number". The first two items look like search results, but they are not. Someone paid money for them to appear in that position for this search. The actual search results begin with the third entry, which links to Microsoft support.
Even though the two entries are labeled "Ad", many people — many, many people in my experience — seem to ignore this, not see it, or not realize what it means. In this case, they're looking for a phone number to call for help with Outlook (usually meaning Outlook.com), and they see phone numbers to call. (I've blurred out the actual numbers and names for reasons I'll discuss in a moment.)
So they call, not realizing they're not talking to Microsoft at all.
Ads are ads and nothing more
Remember that ads may or may not have relevance to your search, or answers to whatever you're looking for.
Some are good and on target. One of the items I blurred above has been around for a while, and might even help, even though they fail to mention they are not free.
Other advertisements, however, are out-and-out scams. (This is the real reason I blurred the items in the image above. I don't want to give them any publicity at all.) Many are nothing more than the tech support scam, except they've managed to get you to call them. Once you're hooked, scammers will take your money, gain remote access to your machine to install malware on your system, or worse.
Looking for technical support isn't my point, however.
Understanding that there are ads in search results is.
As I said, not everyone seems to understand this.
It's more than tech
It's not just technology-related searches that have ads: it's everything. Here's a search for "garden hose".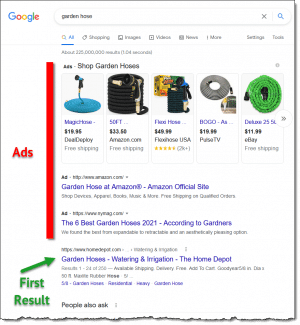 The first part of the page — often the only part you see without scrolling down — is entirely advertisement. The first search result shows up after the ads.
Even I have ads
Advertisements are an important component of what keeps many websites free to use, and Ask Leo! is no different. Without ads, this site would not exist.
When you search for a topic on Ask Leo!, you are using Google search. I use Google because they've consistently done a better job understanding what you mean and relating it to the results in my content than any alternative I've tried. The 'price' to use their service, so to speak, is advertising.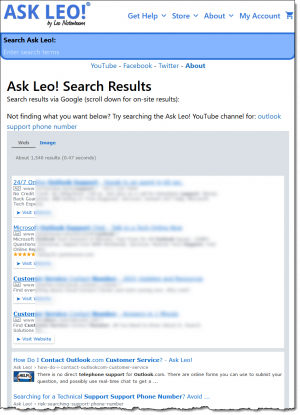 Once again, the ads are above the actual site search results. They're labeled as ads, and hopefully called out more so by being in their own box on the page.
I am not alone. The vast majority of free online resources you use every day are supported by advertising.
For better or worse.
It's not that ads are necessarily bad
I'm not saying all advertisements are bad. Technology these days allows advertisements to do an interesting job of targeting what we're looking for. Sometimes the ads really are, or lead to, the answer we're looking for. And as I said, they support the massive amount of free information online.
But it's important you know they are ads.
That way, you can make a knowledgeable decision about what to click on — or not.
So next time you search for something, pay careful attention to the results. Learn to distinguish between advertisements and actual search results.
Podcast audio

Download (right-click, Save-As) (Duration: 7:14 — 8.2MB)
Subscribe: RSS
Footnotes & References
1: Smashing Security 226: Cryptocrazies and NFTs includes a segment on this. Highly recommended podcast, very entertaining, but beware: language at times.