The process to a working machine.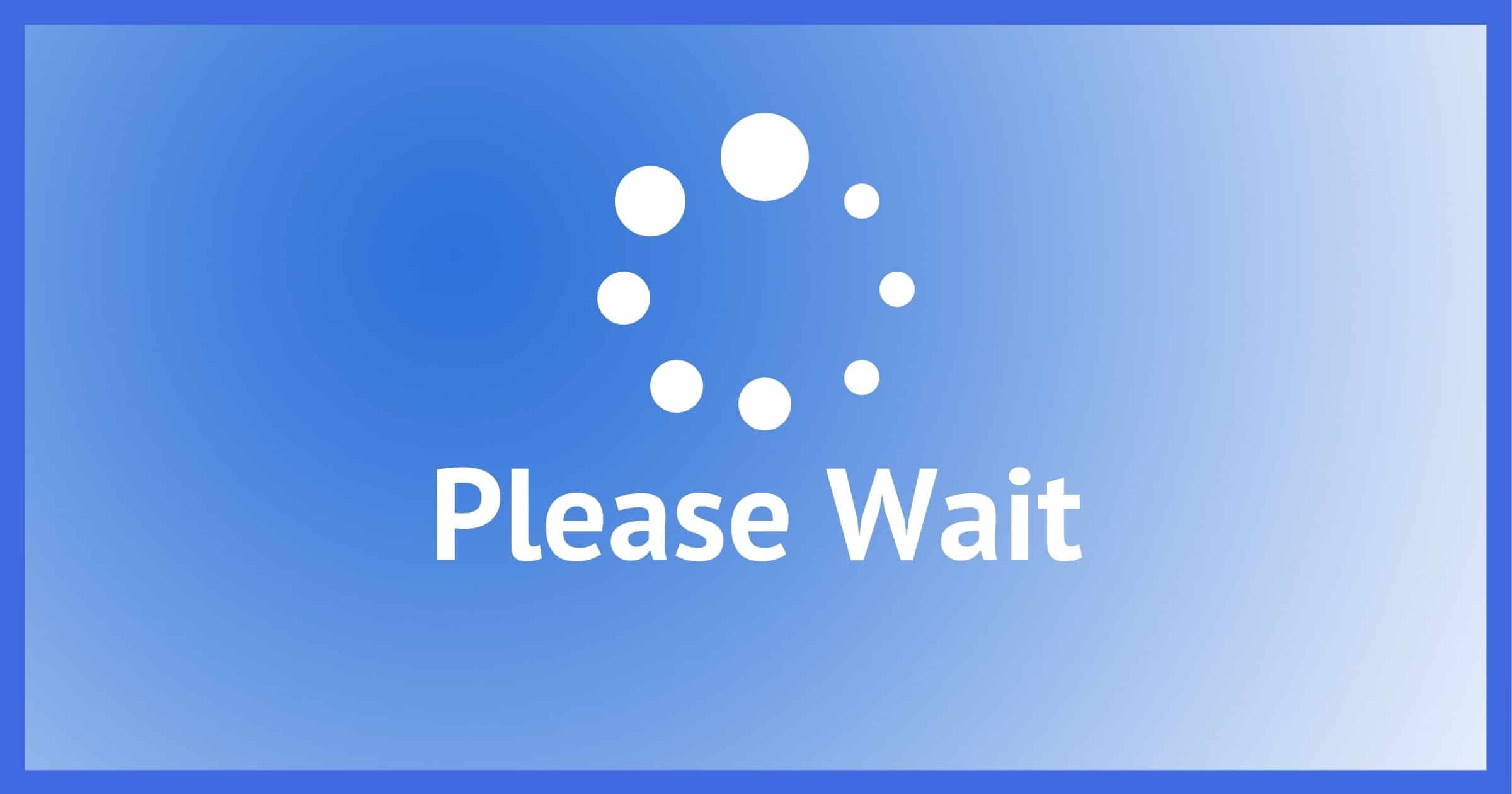 Windows Update generally works. Here's the successful approach I took when it didn't.
My friend's machine was in the process of taking a Windows Update and was spinning on reboot.
For hours.

Re-rebooting had no effect. Back to the spinner it returned.
Here are the steps I took that got me back to a usable machine, at least for a while.
Repairing the unbootable
You can force Windows to enter a recovery mode by interrupting the boot process twice in a row. There you'll find available tools such as System Restore, Safe Mode, Startup Repair, Image Backup Restore, and Resetting the PC (by reinstalling Windows). I ran into a machine in this scenario and walked through the options until I reached one that worked.
Forcing recovery
Windows 10 includes an interesting recovery mechanism you may not be aware of.
Interrupt the boot process twice in a row. By that I mean:
Power on the machine.
Wait for the Windows logo and spinner to appear.
Shut down the machine forcefully by holding down the power button.
Power the machine back on.
Wait for the Windows logo and spinner to appear.
Shut down the machine forcefully again by holding down the power button.
It feels wrong to force power-down while the system is booting, but that's the technique. On the next reboot, you'll enter Automatic Repair instead.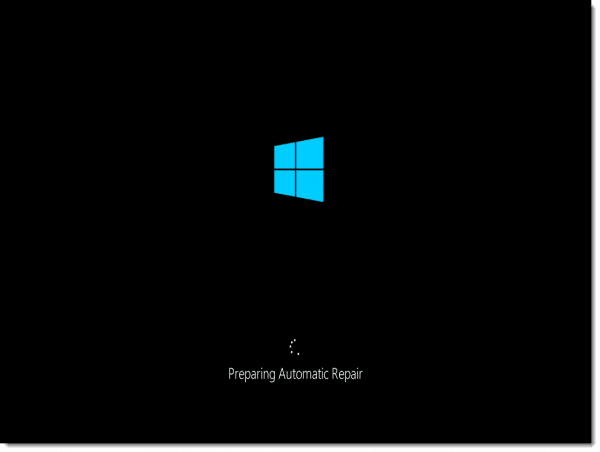 Automatic Repair will then transition into "Diagnosing your PC".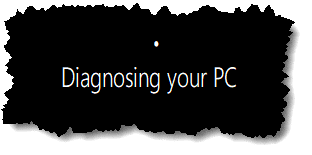 This is a great first step and may catch a few things, though not typically Windows Update-related failures. Indeed, for me it found nothing to repair, offering instead the single most common piece of tech-support advice ever: "Restart your PC."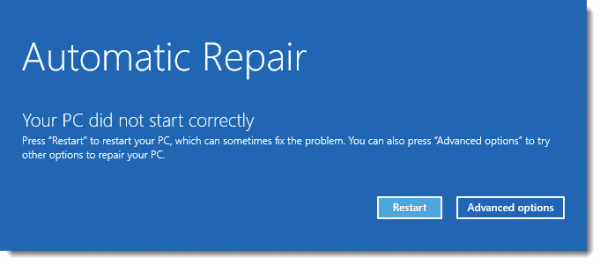 I elected not to reboot. (I'd done so repeatedly already.) I was here for Advanced options, so clicked on that.
Troubleshooting
The next screen gives limited options.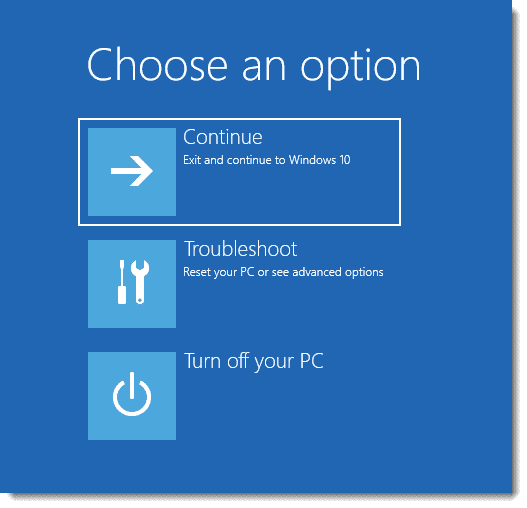 Clicking Continue seemed pointless, and likely to just return me to the infinitely spinning spinner. Turning off was a nice option, but I wasn't ready to give up yet. I was here to Troubleshoot, so I clicked on that.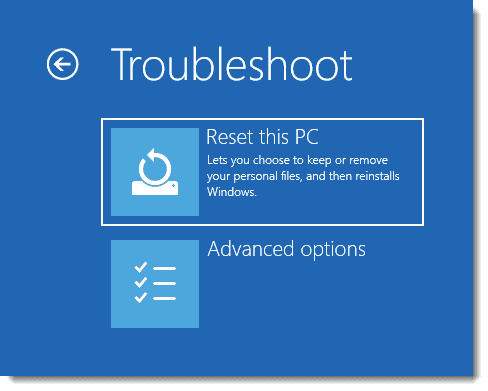 Clearly, Microsoft expects that Resetting your PC and reinstalling Windows would be the most likely thing to do. While it's on my list, it's not where I wanted to start — it would have too many side effects, such as resetting preferences and perhaps forcing me to reinstall the applications I use. I wanted something less destructive, at least to start.
Advanced options was next.
Advanced troubleshooting options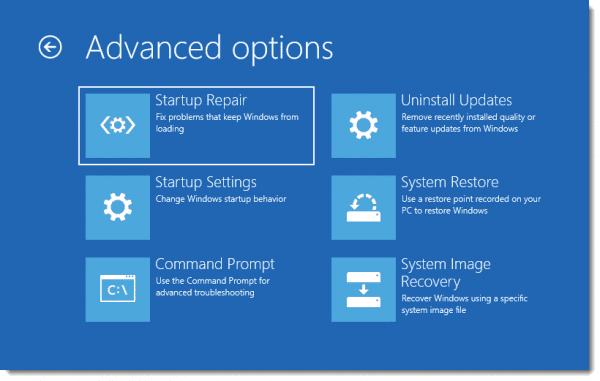 Startup Repair
This fixes things like the master boot record and other components involved in Windows' initial startup. Not only did this not feel like a startup issue, but startup issues are also unlikely to result from Windows Update problems, as Windows Update rarely impacts the initial startup sequence.
Startup Settings
This feels like a horribly misnamed option, as it's actually a gateway to a number of valuable tools. Select this and you'll be presented with a list of things you can control.
Enable low-resolution video mode
Enable debugging mode
Enable boot logging
Enable Safe Mode
Disable driver signature enforcement
Disable early-launch anti-malware protection
Disable automatic restart on system failure
The "catch" is that it'll be a reboot to get to them, so perhaps that's why it's referred to as "Startup Settings".
I didn't go down this path, but it's one I'd return to should other options not work.
Command Prompt
This opens up a Windows Command prompt, with all of the command-line diagnostic and repair tools built into Windows available.
I elected not to use Command Prompt in this case. If further investigation were to give me more specific clues as to what might be wrong, and command line tools might help resolve it, this is where I'd return.
System Image Recovery
This machine was not using Windows Backup, so there were no System images to recover.
System Restore
I tried System Restore. There were two restore points available, and I selected the one immediately prior to the Windows Update having occurred.
It spent a fair amount of time working, only to fail with an "unable to restore" message at the end.
It was worth a shot, but it really only served to confirm my opinion of System Restore.
Uninstall Updates
After trying System Restore, this was my next stop. This is where I made some progress.
Uninstalling updates
I was given an option of what to uninstall.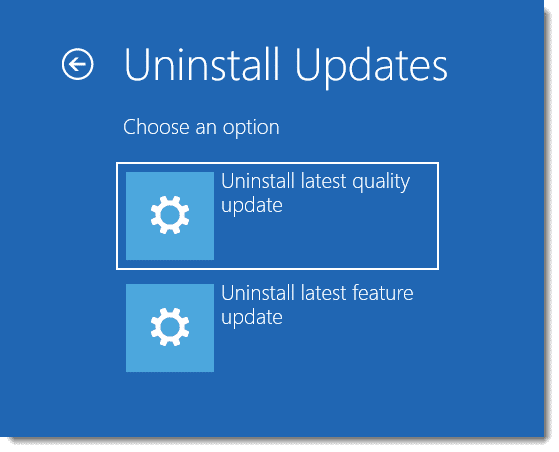 A feature update would be the more-or-less major half-yearly update that includes new features and updates the Windows version number — for example, from 20H2 to 21H1 (or previously, 1909 to 2004). This wasn't that kind of update. This was (ironically) a quality update.
I chose Uninstall latest quality update and crossed my fingers.
After some work, the machine rebooted, the spinner spun, and the Windows sign-in screen appeared.
Success!
But I wasn't done.
Delaying updates
I kind of hope that Windows 10, after noticing that I elected to uninstall the latest quality update, might not turn around and immediately try to install it again.
But I didn't want to rely on hope.
Instead, I went to Settings, Updates & Security, and selected Pause updates for 7 days.
The evidence indicated that this was indeed a problem related to something delivered via Windows Update. My hope was that Microsoft would fix it, and do so quickly since the problem was "in the field" and impacting at least a few machines. I was willing to give it seven days before trying again.1 I could have chosen a longer time — up to a month.
I still wasn't done, though.
Confirming the backup
On the list of things I might have tried next, restoring to the most recent image backup taken prior to the problem was on the list. That presumes, of course, that such a backup exists.
On examination, it didn't.2 It's possible that the backup drive had run out of space. For a variety of reasons, the most expeditious solution was to replace that drive with a larger one.
I took a complete system image backup right then and there. I had a working system, and wanted to capture that state.
The next step would be to reconfigure automated backups to happen automatically.
Other solutions
As I mentioned above, there were several other options — paths not taken — on my way to getting this machine working.
Restoring a backup image. I didn't have one, and that's since been corrected, but if I did, there's actually an argument to be made that restoring to, say, the previous day's backup image could have taken less time overall.
Safe mode. Honestly, I expected to land in Safe Mode when I forced the auto-repair at the beginning of this process. Had the update uninstall not worked, it's likely I would have at least tried Safe Mode to see if it worked. If it had, that would have narrowed the scope of possible problems to likely be driver-related and/or hardware-specific causes.
Command line. Being a command-line kinda guy, I probably would have poked around here next. This isn't for everyone, but there are utilities that could perhaps have given more information on the problem, or even resolved it. This would have involved a lot of trial and error and online research.
Reset this PC. Reinstalling Windows and preserving the data on the machine was always on the table. As I mentioned earlier, it's not a great solution for unexpected interruptions because much more changes than you might like to have to deal with. But it's most definitely an option when all other approaches to repair don't pan out.
Confession: I didn't really fix it
If you look at the steps taken above, you'll realize something: I didn't really fix the problem. I got the machine working again, but the underlying problem remains.
At best, I bought Microsoft time to fix the problem with another update.
But if nothing changes, it's quite possible that when updates resume, the problem will return. If that happens, I'll have three options:
Repeat the process above — or just jump to the "uninstall updates" solution that worked, in order to buy more time.
or
Continue my investigation using Safe Mode, the Command line, Google searches, or whatever else I can come up with.
or
Reset this PC. Sometimes starting over really is the most pragmatic.
At this point, clearly, my hope and money is on Microsoft fixing it before the updates kick in again. If not, I'm likely to cut my losses and reinstall Windows.
Windows Update usually works
Windows Update gets a bad rap.
Honestly, most of the time, for most people, Windows Update just works. Honest. When I say "most people" I mean millions and millions of machines around the planet — well over 99.9% of all users.
It just kinda sucks when you find you're in that 0.1% and it doesn't.
Hopefully, my experience above will help you recover and move forward.
Podcast audio

Download (right-click, Save-As) (Duration: 14:10 — 16.0MB)
Subscribe: RSS