Using the magic of the keyboard.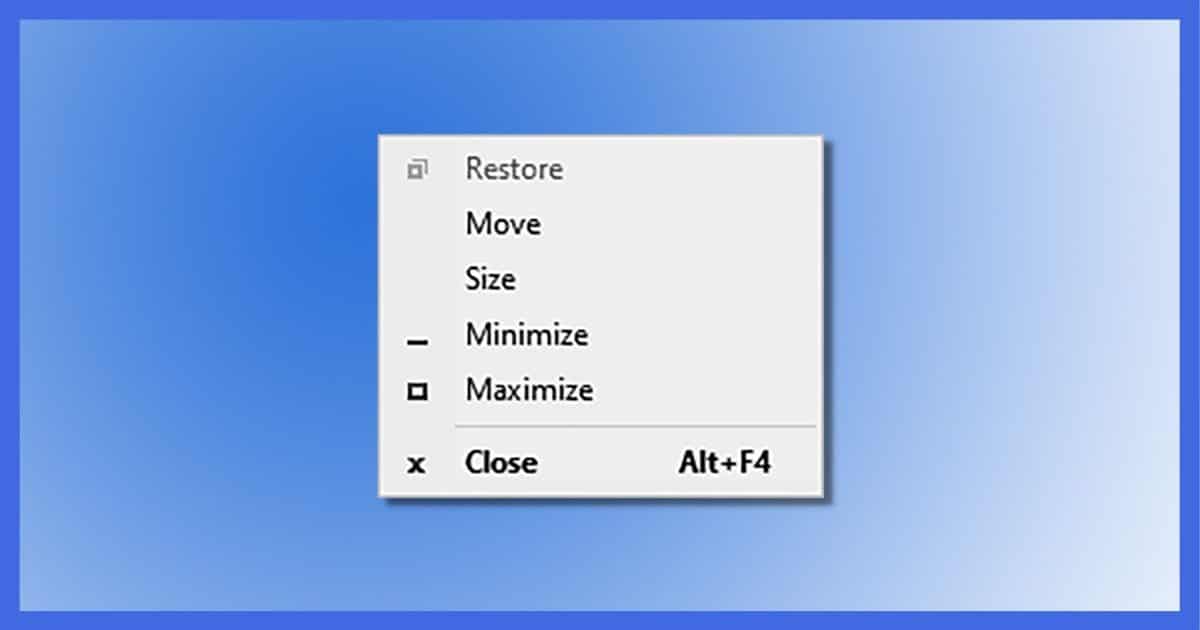 One of the ways to handle an off-screen window has changed slightly.
My program window suddenly popped up too high, so I can't get to controls to pull it down to close/max/minimize the screen. Your answer about alt+space, m doesn't seem to work. How do I get it back under control!
This seems to have changed a lot in Windows 10 (and probably 8 before it).
What's called the "System Menu" is available from the task bar; it's just not obvious.
Viewing the System Menu
The System Menu can let you control the position and size of a window, even when initially not visible. ALT+Space will make the menu appear in some applications; CTRL+Click in the very upper left of some windows will make it appear in others. If the window is not visible, typing SHIFT+Right-click on the running application's taskbar icon can also make it appear. Then click on "Move" to bring it back into view.
The System Menu
Almost every window has what's called a "System Menu". You've probably seen it at some point. It looks similar to this: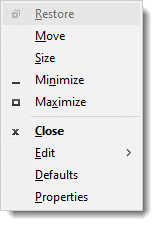 That's the menu that pops up in the upper left of a window when you type ALT+Space in many applications.
You can click on Move and then use your keyboard arrows to move the program's window around the screen. Give it a try sometime. I don't know if it's really useful (unless you have no mouse), but it is kinda cool.
In some applications — mostly older ones — you can click on an icon in the upper left to cause the System Menu to appear, or, if you're very careful, in some apps you can right click on the (usually very small) space immediately to the left of whatever is in the application's title bar.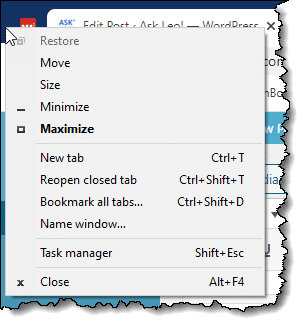 In this example, I've right-clicked in the space immediately to the left of my left-most tab in the Chrome browser to reveal its System Menu.
A) this doesn't always work, and B) it assumes you can see the top of the window.
Hidden window, special keystroke
If the window is off-screen — meaning that you can't click in any magical corner — and ALT-Space isn't working either, then another approach is called for.
SHIFT+Right-click on the program's icon in the taskbar to reveal the System Menu.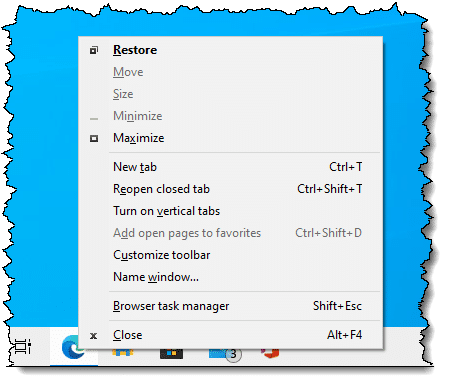 In the example above, I SHIFT+Right-clicked on the Edge icon in the taskbar. The System Menu for Edge appears.
Once again, you can click on Move and use the keyboard arrow keys to move the window around — whether it's off-screen or on.
Podcast audio

Download (right-click, Save-As) (Duration: 3:38 — 4.2MB)
Subscribe: RSS