Question: It seems like every time I call the tech support line for my software, operating system, or even my broadband connection, the first thing out of the technician's mouth is "reboot". Or worse yet, "Power down for a while." What does that have to do anything? And why does it work?
It does seem like magic, doesn't it? The computer's acting up, you reboot it, and poof, things are better again. At least for a while.
It gets even weirder when you achieve the same effect just by powering it all down and pulling the cord for a while.
A friend of mine once provided a nice explanation for the power scenario, and I can speak a little bit to the magical mess that is software.
Turning it off and then on again is perhaps the most effective hardware troubleshooting technique known. Rebooting is similar with software. Both hardware and software can sometimes get into odd, unexpected states that only a complete restart from a known good state can resolve.
Turn it off and back on again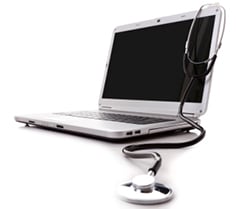 Jerrold Foutz is a friend who's an expert in the design of power supplies. Some years ago, he provided an interesting write up on unplugging the power as perhaps the single most effective electronics-troubleshooting technique.1
The topic came up in a discussion when I recommended power-cycling a router — unplugging it, waiting 30 seconds, and then plugging back in — as a way to resolve a connectivity problem.
The fact is, electronic components can get into odd states, and as Jerry points out, power-cycling the equipment forces the equipment to reset and restart from a known good state.
The same is true for software.
When in doubt, reboot
Complicated software (and what software isn't complicated these days?) involves lots of things on your computer. The longer it runs, the more it impacts.
Memory is used, released, and fragmented. Same for the disk, as programs open, read, and write local and temporary files. And then there's the hardware — video cards, networking adapters, mice, keyboards, other peripherals — all accessed continuously.
As a result, any of those (and perhaps all of them) can end up in states that can cause problems.
It shouldn't be that way, of course, and the inherent quality of the software and/or hardware plays a huge role, but the bottom line is, it happens. Software can get confused over time.
And those technicians who ask you to reboot your device? They do so because it works more often than you imagine.
Starting over
A reboot restores all the software to a known state.
Power-cycling restores all the hardware to a known state.
Well, a mostly known state. Temporary files, installed files, registry changes, and more will remain. That's why in extreme cases, a reformat and reinstall is a recommended solution for some computers: it returns even those things to a known state.
The router problem that started this discussion? Like many devices these days, routers are small single-purpose computers. Their internal memory tracks a variety of information relating to the network connections they manage.
The longer they run, the more likely it is something will create a problem. It could be hardware related, as explained in Jerry's article, or something in its software, as I've outlined above.
In any case, I typically reboot my own router every few months.
Podcast audio

Download (right-click, Save-As) (Duration: 5:34 — 5.9MB)
Subscribe: RSS
Footnotes & References
1: Literally unplugging the device. Leaving it physically plugged and just flipping a power switch instead often does not remove power from absolutely everything.