I lost a huge amount of research and work when my computer crashed this summer.
That's a quote from an email I received from someone who, honestly, I expected better of. He's a prominent figure in my industry, and someone who has a large team of people supporting him.
To have a simple computer crash cause "huge" data loss … well, as I said, this doesn't need to happen. Ever. Not to him, and not to you or me.
Sadly, he's not the only one running the risk.
What would happen if your computer disappeared?
I often hear heartbreaking stories of data loss.
It happens more often than you think.
It doesn't have to happen.
Start backing up. Now.
Spread the word.
Look at your computer, right now
I was traveling recently when a colleague mentioned that should her laptop fail or be lost, it would be a serious problem. Apparently, significant work would be lost.
Again, this doesn't need to happen. Ever.
Look at your computer. Right now. The one you use most, perhaps the one you're traveling with, the one that has your work on it.
Now, imagine it gone. Without warning, without recovery, just … gone.
If that would result in serious data loss for you, that's a problem.
And again, it doesn't need to happen. Ever.
And yet it does, over and over again. I hear stories.
Tales of data loss
In the early years of Ask Leo!, I received a plea from an overseas graduate student working on his master's thesis. Something had happened to his online account, and he could no longer access it. He'd been hacked, and all the recovery methods were failing. And of course, this was a free account (Hotmail, if memory serves), so there was no hope of help.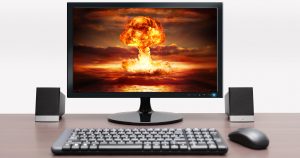 Calling it a "problem" doesn't do the situation justice. It was a disaster. That account held his only copy of his thesis. Without access, it was gone.
He had to start over from scratch.
A good friend of mine contacted me a few years ago and told me that all of a sudden, pictures wouldn't open properly on his computer. After a lengthy investigation, we determined that the machine had been infected with one of the early instances of ransomware. The malware hadn't completed, so he hadn't been presented with the ransom demand. The process had been interrupted, presumably by security software detecting and neutralizing it as it encrypted his files.
Unfortunately, it was too late for a vast majority of his pictures — pictures kept only on that PC. Pictures that remained encrypted without hope of recovery.1
Pictures of his late granddaughter.