Apparently, Microsoft has decided to pull the plug on image backups (known as the "Windows 7 Backup" tool in Windows 10). My current understanding is that it is at least "deprecated", and will likely actually be removed from a future Windows 10 update. This will leave Windows 10 with no built-in image backup capability of its own.
The official word from Microsoft is that third party utilities should be used instead. This doesn't break my heart, as I was never a fan of the tool. I had hoped, however, that they would improve, rather than remove, the facility.
EaseUS Todo is a backup program whose free edition is superior to Windows' built-in tool. I'll show you how to create an image backup using it. The bonus is, this is not limited to Windows 10 at all; as of this writing, the free edition works with Windows XP, Vista, and all versions of 7, 8, and 10.
EaseUS Todo
EaseUS Todo can be downloaded from their website. (As always, I strongly recommend avoiding "download sites" and getting software directly from the manufacturer whenever possible.)
There are three things to note about the download and install.
This article is excerpted from Backing Up In Windows 10, available now. Top-to-bottom, end-to-end, Backing Up In Windows 10 will walk you through all the steps you need to keep your data safe, using Windows 10's built-in tools, as well as a free alternative.
First, you will be repeatedly offered the opportunity to choose their retail product, or a trial version of their retail product. These products are not free. They're also not needed for what I'm about to show you. Sometime later, you can return and upgrade to one of their paid offerings if you like. Be very careful, and make sure you always and only choose the truly FREE version of EaseUS Todo.
Second, you will be asked for an email address. In a sense, this is the "cost" of the free edition. I have no complaints with EaseUS email, and you can always unsubscribe later. They do frequently offer discount codes for their retail product, so if you think you might be purchasing at some point in the future, it's worth getting on their list.
Finally, like most free software, be on the watch for PUPs. EaseUS does not hide the additional software offered with Todo, but it is selected by default. Be sure to deselect it during the install process.
Creating an image
Run EaseUS Todo, and on its main screen, click on Disk/Partition Backup.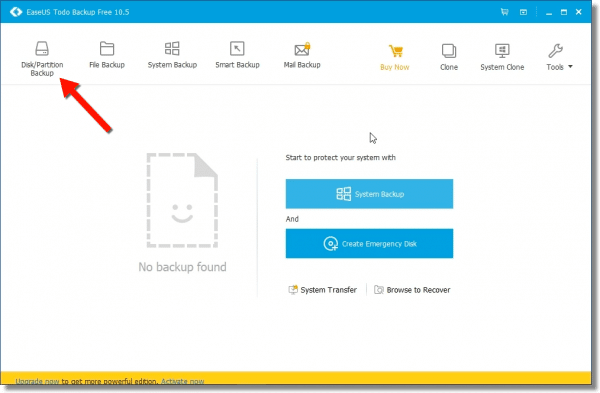 I choose this over "System Backup" or "Smart Backup" because it provides explicit control over the disks and partitions included in the backup image.
On the resulting screen, check the box to the left of the disk that contains your system or C: partition. This will ensure that the entire hard disk that contains your system, including any additional partitions (such as recovery partitions), will be included in your backup.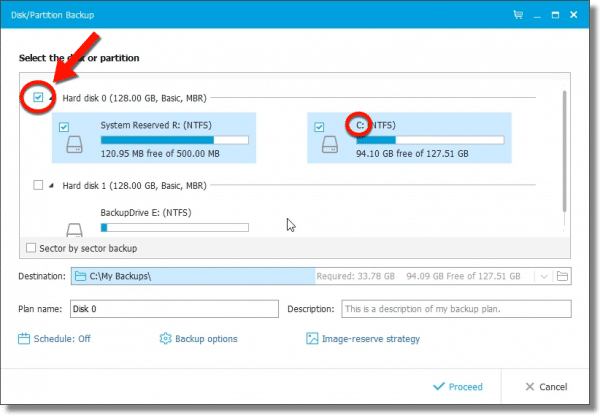 Next, click on the small folder icon to the far right on the "Destination:" line.

This will open a folder selection dialog box. Use that box to select the destination: the folder, typically on your external hard drive, into which the image backup is to be placed.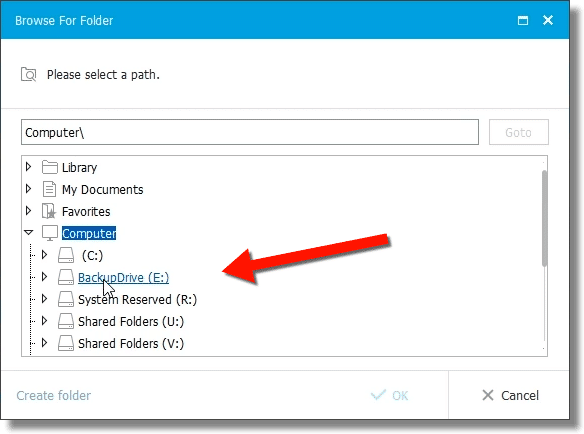 Click OK to accept your selected destination folder.
Click Proceed to begin the backup.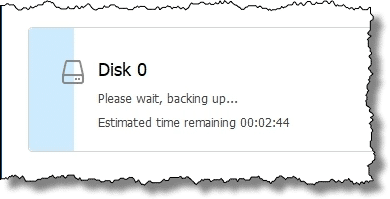 Naturally, this will take some time. Exactly how long will depend on the speed of your system, the speed of your hard disks, the amount of data to be backed up, and more. I will point out that EaseUS Todo's "Estimated time remaining" indicator is notoriously inaccurate.
Your backup image
Eventually, the backup completes.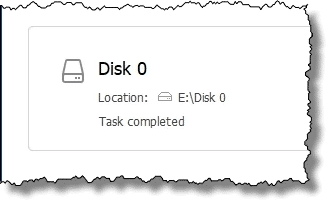 Open Windows File Explorer and navigate to your previously selected destination, and you should find a ".pbd" file.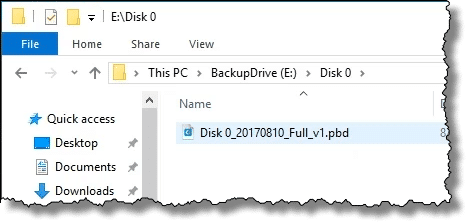 That file contains the image backup of your system.
Podcast audio

Download (right-click, Save-As) (Duration: 4:58 — 2.3MB)
Subscribe: Apple Podcasts | RSS
More for Patrons of Ask Leo!
Silver-level patrons have access to this related video from The Ask Leo! Video Library.
  Downloading and Installing Easeus ToDo Backup Free
  Creating a Backup Image Using Easeus ToDo Free