A free tool that's easy to use.
Microsoft is removing image-backup capability from Windows. We'll make an image backup using a free third-party alternative.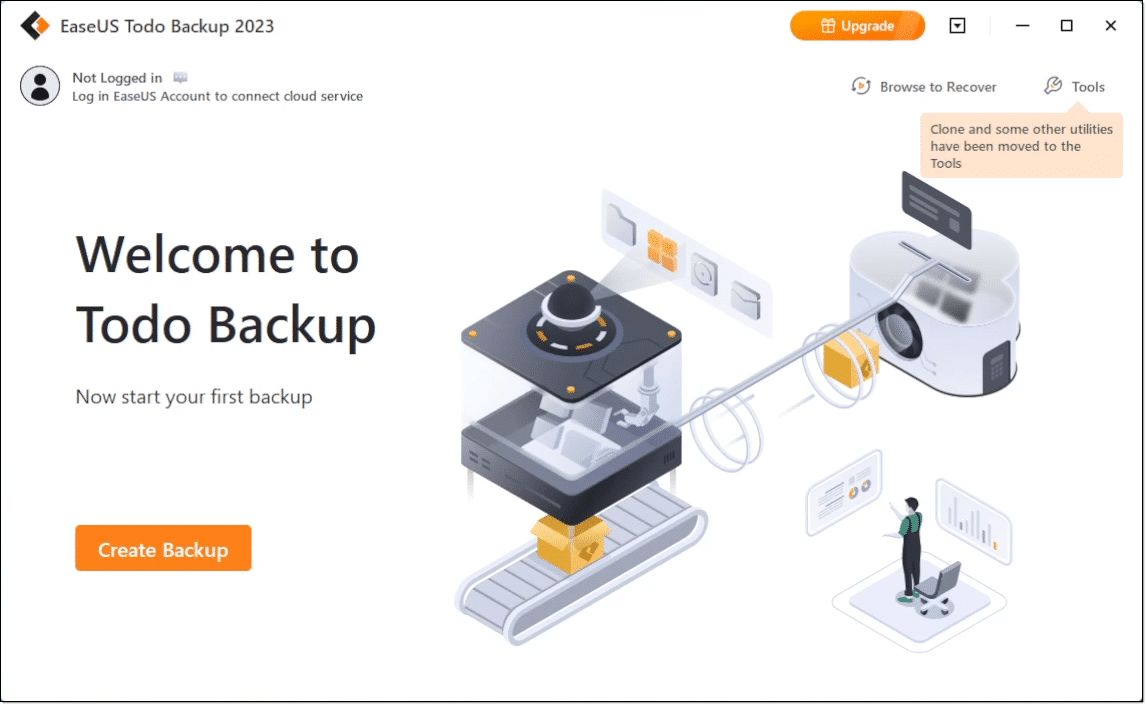 Microsoft is pulling the plug on the built-in image backup tool (known as the "Windows 7 Backup" tool in Windows 10 & 11) and recommends you use third-party tools instead.1
This doesn't break my heart, as I was never a fan of the tool. However, I had long hoped that they would improve rather than remove the feature.
EaseUS Todo is a backup program whose free edition is superior to Windows' built-in tool. I'll show you how to use it to create an image backup.
Using EaseUS Todo to create a backup image
After installing the free version of EaseUS Todo, creating a backup image is as easy as clicking on Create Backup, selecting to perform a disk backup, choosing your external drive as a destination, and clicking on Backup Now. The result is easy to examine and can be used to restore individual files or the entire hard disk.
EaseUS Todo
Download EaseUS Todo from their website. (As always, I strongly recommend avoiding "download sites" and getting software directly from the manufacturer whenever possible.)
There are three things to note about the download and install.
First, you will repeatedly be offered the opportunity to choose their retail product or a trial version of their retail product. These products are not free. They're also not needed for what I'm about to show you. You can upgrade to one of their paid offerings later if you like.
Be very careful to make sure you choose the truly free version of EaseUS Todo.
Second, you will be asked for an email address. It's possible to download without entering one, but I have no complaints with EaseUS email, and you can always unsubscribe later. They do frequently offer discount codes for their retail product, so if you think you might be purchasing at some point in the future, it's worth getting on their list.
Finally, like most free software, be on the watch for PUPs. EaseUS does not hide the additional software offered with Todo, but it is selected by default. Be sure to deselect it during the installation process.
Creating an image
Run EaseUS Todo, and on its main screen (shown above), click on Create Backup.
The next screen asks what you want to back up. Click on Disk.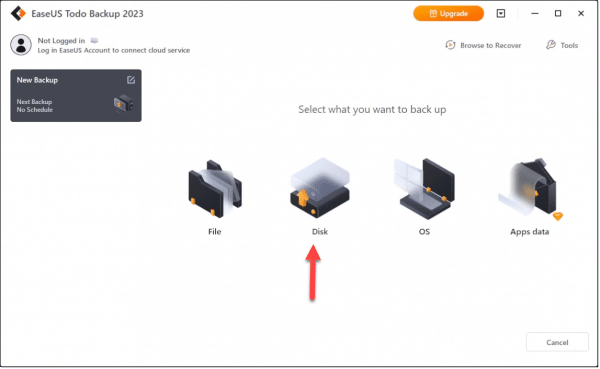 What they refer to as a "disk backup" is an image backup, which will back up everything on the disk we select. The other options — File, OS, and Apps data — all back up subsets of what's on the disk.
The next screen is where we choose which disk to back up.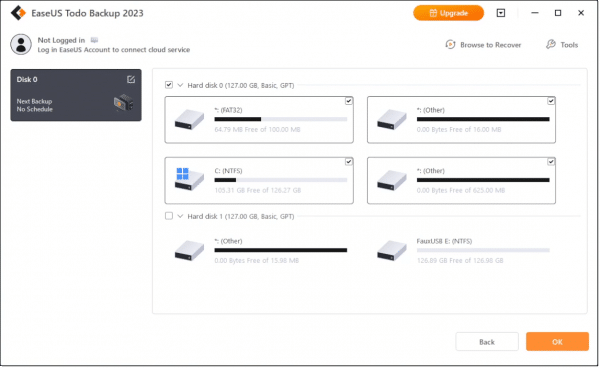 In the example above, there are two disks on this machine:
Hard disk 0: This disk has four partitions, one of which is "C: (NTFS)". This partition is the system partition. The disk containing the system partition, plus all the other partitions on that disk, are what we want to back up.
Hard disk 1: This disk has two partitions. It's simply another disk, and not the disk we plan to back up. It's the external disk to which we will back up.
Make sure that the checkbox in front of the disk containing your system partition is checked — "Hard disk 0" in the example above — and that all other disks — "Hard disk 1" for example — are not selected. All the partitions within the disk you select will be automatically selected as well.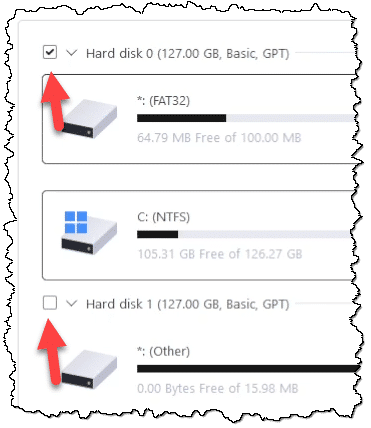 Click OK. The next screen asks us to select the backup destination.
In the example above, EaseUS Todo has pre-selected the correct destination for my example machine: "E:\My Backups", an external drive onto which EaseUS Todo will place the backup.
If EaseUS guesses correctly for you, you can click on Backup Now, if you like, to begin the backup. To choose a different destination, click on the "Select the destination" image.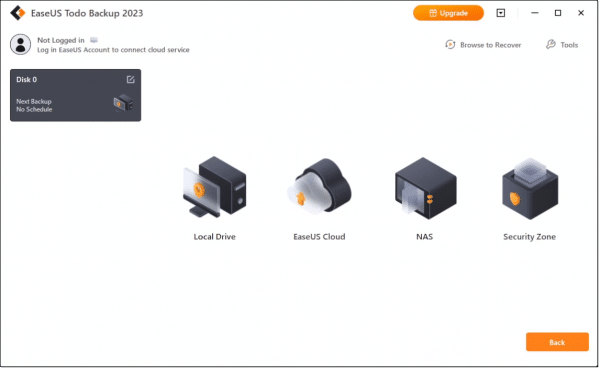 There are several options. Click on Local Drive to back up to an external hard drive.
This will open a location selection page.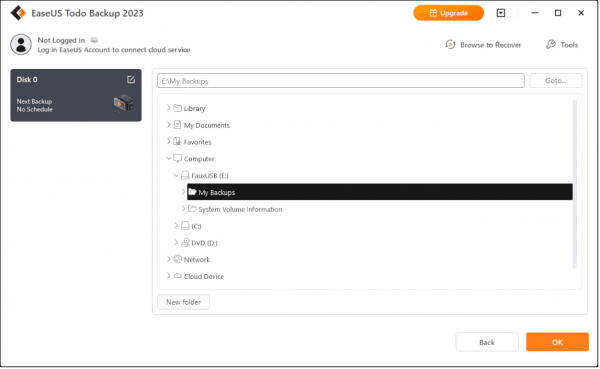 Use this to select the external hard drive on which you want your backup placed. (Using the folder "My Backups" is optional, but is the default for EaseUS Todo.)
In the example above, I've navigated to the location I want the backups placed: "E:\My Backups".
Click OK, and you'll return to the prior screen.
If you like, you can click on Options to examine a few additional settings, but it's not required.
Once you're ready, click Backup Now, and the backup will begin.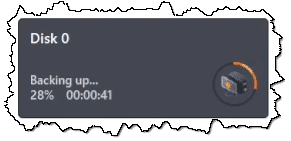 Naturally, this takes some time. Exactly how long depends on the speed of your system, the speed of your hard disks, the amount of data to be backed up, and more. I will point out that EaseUS Todo's "Estimated time remaining" indicator is notoriously inaccurate.
Your backup image
Eventually, the backup completes. Open Windows File Explorer and navigate to your previously selected destination, and you should find a "Disk 0"2 folder:
Double-click on Disk 0 to open the list of backups.

Note that the backup is listed as being a "Folder" by Windows File Explorer. This means you can navigate the contents of the backup image in order to either confirm what you expect has been backed up or to copy and restore specific files from within the backup.
Do this
Stop using the Windows built-in image backup. It's going away, and it's no longer supported by Microsoft.
Instead, use a free tool like EaseUS Todo to create image backups to protect your data as well as prepare to recover from hardware and other types of failure.
I discuss backing up often in my weekly newsletter. Subscribe to Confident Computing! Less frustration and more confidence, solutions, answers, and tips in your inbox every week.
Podcast audio

Download (right-click, Save-As) (Duration: 9:57 — 7.0MB)
Subscribe: RSS
Footnotes & References
2: Or Disk 1, Disk 2, or whichever disk you selected to back up.