You might feel overwhelmed. You aren't alone.
Backing up your computer is critical to avoiding data loss but can seem complicated. I'll give a suggestion for typical users.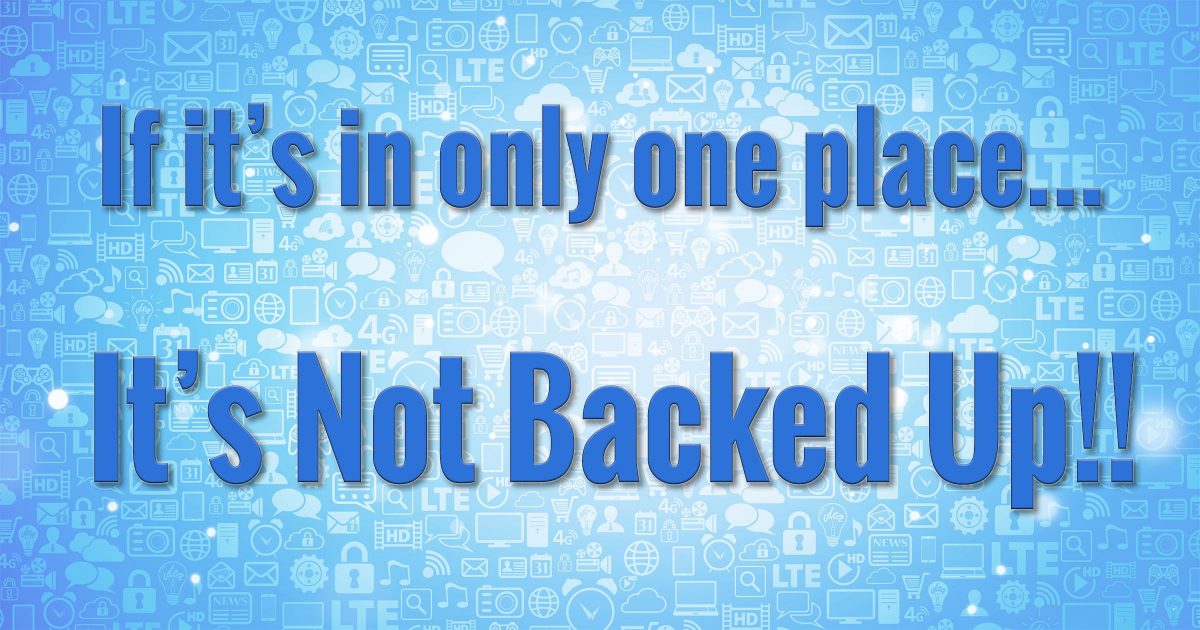 Question: How do I back up my computer? I am sure my question is ridiculous to you, but I honestly have no clue what I should be doing.
Your question isn't ridiculous at all. In fact, I'm certain it's one reason so many people don't back up: they don't know how, and the options can feel overwhelming.
For something as critically important as backing up, that's more than a little scary. I hear from people who lose important, valuable information all the time. Whether it's from malware, hardware failure, account hacks, or other disasters, a backup can easily prevent such loss.
First, let's look at what it means to back up a computer and what your options are. Then, I'll share some guidelines and tell you what I recommend for typical users.
How to back up
Backing up means making additional copies of your data or system, and keeping those copies in other locations. You can copy data files or use imaging software to back up entire hard disks. You can keep your backups on external drives or back up a subset of your data to the cloud. What's most important is that you set up a backup system that works for you, and works with little effort, so that when, not if, something happens, you'll be prepared.
Backing up
To back something up is to make a copy of it and then keep that copy in a safe place. That's it. 
The key word is copy, as in duplicating the information. After you back up, you have that same information in two (or more) places.
That leads to my most important rule:
If it's only in one place, it's not backed up.
If you remember only one thing from this, let it be that.
Folks occasionally misunderstand. After copying their information to their "backup" drive, they delete the original. But that means there's still only one copy: the copy on that backup drive. Regardless of what you call the drive it's on, if it's only in one place, it's not backed up.
The purpose of a backup is simple: if something happens and you can't get your information from your computer or online account (which happens much more often than people realize), then you recover the data from the backed-up copies. You haven't lost it forever.
So the concept is simple. Where backing up starts to seem complicated is when you look at all the options on how much to back up, how often, and what tools to use to make sure it happens regularly. Let's break it down.
Types of backups
Backing up generally takes one of two forms.
Copying your data. If you copy pictures from your digital camera to your computer without deleting them from the camera, that's a backup. If you then burn those pictures to a DVD for safekeeping, you've backed them up again. Similarly, if you take the contents of your "My Documents" folder tree and copy it to another machine or burn it to DVD, you've backed those files up.
Imaging your system. Rather than backing up this and that, hoping you're including everything that might be important, a full-image backup is a copy of absolutely everything on your computer: your data, your programs, your settings, and even the computer's operating system.
Both types of backups share two important characteristics:
The backup creates a copy of the data.
That copy is placed somewhere else.
If your data is in only one place, meaning that there are no copies of that data, then you're not backed up.
Backup locations
So where should this "somewhere else" be?
Well, the ideal answer is "as far away from your computer as practical."
The further away your backup lives from the original, the more types of disasters you'll be protected from.
If the backup is on the same hard disk and that hard disk dies, you could lose your data and your backup.
If the backup is on a different hard disk inside the same computer, and something happens to the computer that damages both hard disks (like a power supply failure), you could lose your data and your backup.
If the backup is on an external hard disk but connected to the same computer, and there's a software glitch or malware on that computer that starts destroying files on all connected devices, you could lose your data and your backup.
If the backup is on a different computer on the same network, a network problem or malware on your local network could start deleting files, including your data and your backup.
If the backup is copied to a DVD, USB stick, or external drive and kept in the same physical location, and that location suffers a physical catastrophe such as a fire or flood, you could lose your data and your backup.
The closer your backup is to the original, the greater the possibility that you could lose both at once.
It doesn't happen often, but it can.
Backing up in 3, 2, 1…
A great overall strategy for backing up is what many refer to as the 3-2-1 approach.
3 copies
2 different formats
1 copy kept offsite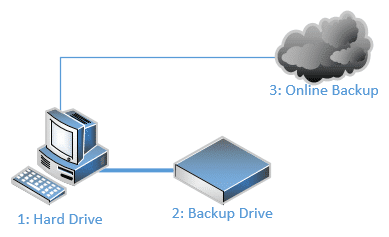 Three copies
If a backup is "a" copy, why are we suddenly talking about three copies?
Because stuff happens. Backups fail, and if you believe in fate (or Finagle's law), they fail when you need them most.
Consider this scenario:
You have a (single) copy of your data as a backup. Good for you. 
Your hard disk dies and all data on it is lost. But you have your backup!
But now you have only your backup: a single copy of your data.
Without your original hard disk, your data is in only one place. Until you make another copy, it's not backed up…
…unless you had your data in three places. Then you could lose any single copy and still be backed up.
Two formats
Every possible backup approach carries some risk of failure. Nothing is ever perfect.
For example, CDs and DVDs, USB sticks, external drives, and online backups are all subject to different types of risks of failure.
Using more than one type of backup reduces the risk of not having a backup when you need it.
One offsite
As we saw earlier, the further your backup copy is from the original, the more you're protected. In particular, many people overlook the risk of theft or physical disasters (such as fire) to the data they have in their home or business.
Storing critical data somewhere else — somewhere else physically — means that no matter what happens to your computer or the backups you're creating onsite, you'll always be able to recover the information kept elsewhere.
But how do I do all that?
Even with these guidelines, the original question remains: just how should you back up?
The questions that drive your answer are:
How likely is it that something will happen to your data?
How important is your data?
From my experience, I will say that the answers tend to be:
More likely than you think.
More important than you think.
By far, the most common data-loss scenarios I see people go through are:
Malware
Hard-drive failure
Accidental deletion
Account hacks
Without fail, they were surprised it happened to them. What happened next depended on how well they were prepared.
Protecting yourself against at least those four scenarios is a great place to start.
A suggested 1-2-3
 

backup plan

There are many approaches to backing up. Rather than trying to cover them all, I'll make a suggestion that will work well for most people.
1: Get an external USB hard disk
The first question that probably comes to mind is how big a drive you need. There's no blanket answer, but I'll throw out a guideline.
Examine your computer's hard drive using Windows Explorer, and determine how much data is on the drive.

If your 64-gigabyte hard drive has 35 gigabytes free, that means that you have 29 gigabytes of data stored on that drive.
Get a hard disk that has at least four times that in capacity. Using my example, I'd get (29 x 4) at least 116GB.
As I write this, it would be difficult to get a drive that small, given that drives are now more commonly measured in terabytes (1000 gigabytes). Your numbers will vary, of course, but when in doubt, go big; there's not really such a thing as a drive that's too big.
2: Get backup software
I strongly recommend using a dedicated, automated backup program like Macrium Reflect, EaseUS Todo, or an equivalent to create image backups on your external drive automatically on a daily or weekly schedule. (You can use the backup software included in Windows, but to be honest, I find these third-party tools to be more reliable, flexible, and most importantly, more transparent in their operations.)
3: Backup data online
Use a service like Microsoft OneDrive, Dropbox, or others to automatically back up your most important data, including the files and folders you're working on day-to-day.
These tools are primarily data-sharing tools, meaning that the basic primary purpose is to replicate your data across multiple machines as well as on their web-based interfaces. Because they make your files available online, these services copy your data to their servers.
In other words, it's an easy and often nearly-instant "somewhere else" to back up your data.
Do this
This 1-2-3 recommendation won't protect you from absolutely everything, but it will protect you from a lot. It'll save you from what I see almost every day as the most common causes of data loss.
If your hard disk dies, you can restore files (and perhaps the entire system) from your backup. If you happen to — oops! — delete a file by accident, then as long as it was there when the most recent backup was taken, you can restore it quickly and easily. If malware strikes, you can restore your system from a backup taken prior to the infection.
Most programs come with relatively simple instructions to set up the most common types of backups for typical users.
My article How to Back Up Windows 10 (& 11) walks you through many of the steps and includes basic instructions for backing up your computer using EaseUS Todo.
If you're using Macrium Reflect, then I'd like to suggest my full online course, Saved! – Backing Up with Macrium Reflect, which details how to back up your machine using Macrium Reflect.
Starting with the 1-2-3 approach provides you a good base. If you determine that the importance of your data requires stronger measures, you can build from there.
Podcast audio

Download (right-click, Save-As) (Duration: 6:28 — 9.0MB)
Subscribe: RSS