Is there a limit to the # of hardware units I can attach to my PC? Windows seems not to recognize all the "drives". How can I troubleshoot this problem? Windows tells me the drive I want to attach using "Add Hardware" is "functioning properly", but when I "explore", the hardware is not listed as attached and therefore is not accessible. What gives?
I'm certain there's a limit, but I have no idea what it is. I'm also certain it's not the problem here.
You attach a drive, either internal or external — perhaps even get the "new drive attached" sound — and then … nothing. Nothing corresponding to the drive appears in Windows File Explorer.
There are a variety of reasons this might happen. I'll show you how to deal with the most common scenario.
A disk can sometimes be connected and not have a drive letter assigned to it. When this happens, the hard drive will not show in Windows File Explorer, even though it's otherwise working. Use  Windows Disk Management to assign a drive letter manually by right-clicking on the drive, selecting "Change Drive Letter and Paths…", and clicking on "Add…".
Disk Management
We'll start with your problematic disk disconnected. Physically unplug it from your computer. (If this is an internal disk, it'll have to stay connected. We'll deal with that below.)
In Windows 10, right-click on the Start button and click on Disk Management. (In prior versions of Windows, right-click on "Computer" or "My Computer" on your desktop or in the Start menu, click on Manage, and in the resulting Computer Management window, click on Disk Management.)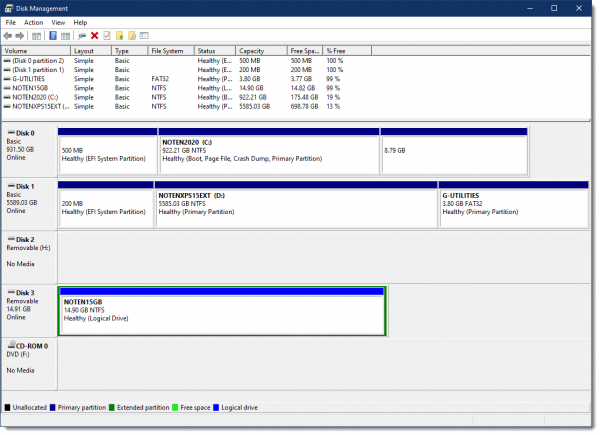 The Disk Management utility shows you all connected disks, memory card readers (which may or may not have cards inserted), and optical drives (which may or may not have discs inserted). The top pane lists all partitions on all disks, and the lower pane lists all disks with the partitions they contain displayed in boxes alongside.
Now plug in the disk you want to access.
If a new entry appears in Disk Management's lower pane, that's very good news. That implies the hardware is working and the drive is being recognized by Windows.
Internal and already-connected drives
For internal disks (or disks that for whatever reason can't be unplugged and plugged in again), we have to hunt a little.
In Disk Management, see if there is a disk listed that matches what you know about the disk you're trying to access. That could be the name of a partition on it, or more commonly, the size of the disk as compared to the other disks on your system. For example, if you know you have a 1TB disk that's working and a 16GB disk that's not, if you find a 16GB disk listed, you can be fairly certain that this is the disk we want.
If the disk does not appear at all when you plug it in, or if you cannot find it listed based on its characteristics, then you're likely looking at a hardware problem. Check the cables and connections. If this is an external disk, see if it'll work on a different computer.
The more common case, though, is that the disk appears in Disk Management but still doesn't appear in Windows File Explorer.
Disks that appear, and yet don't
Let's widen the first column of information in the upper pane listing the drives in my example, and look closely. Notice something interesting?

While my primary disk's single partition is listed with drive letter "C:", and one of my external disk's partition is listed with drive letter "D:", there are a couple of drives there that have no letter at all.
"G-UTILITIES" is a partition on my (working) external drive.

This is extremely common, and not related to our problem at all. Many disks come with multiple partitions; some contain utility or recovery tools. In this case, the clue is that my external hard disk is a G-Drive branded disk, and the "G-UTILITIES" partition is likely to be utilities that came with the drive. It's a small partition, and I didn't bother to take the time to remove it.1
The more problematic disk is the one named "NOTEN15GB".

The name comes from the label of the single partition on the disk that is 15GB in size. That's my 16GB thumb drive (and yes, drives labelled 16GB may show as 15GB because of the way disk space numbers can be (mis)used. I talk about why that is here.)
Yet it has no drive letter, and as a result, does not appear in Windows File Explorer.
While I don't have a specific reason2, I believe this to be the common cause for a large number of "functioning properly" but still inaccessible disks. It's been successfully attached to the system, but for one reason or another, a letter hasn't been assigned.
It's an easy fix.
Assign a drive letter manually
Right-click on the drive in question in either the top or lower pane (lower pane shown).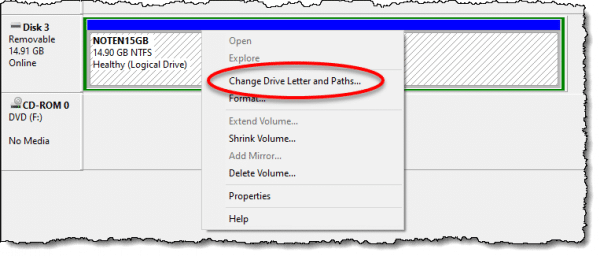 Click on Change Drive Letter and Paths…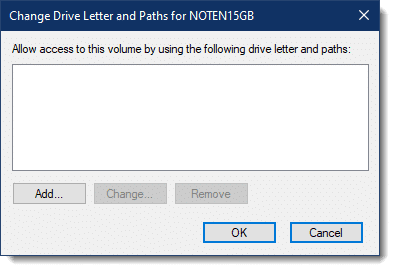 As you can see, the drive can't be accessed because the list of the ways to access it is empty.
Click on Add….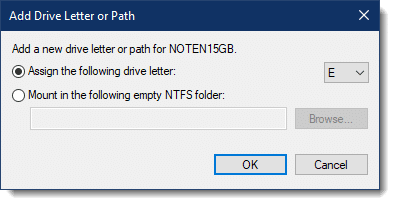 Ignore the "Mount" option; we're just going to assign a drive letter. As you can see, Windows defaults to the first available drive letter, which on my system is "E:". There's a dropdown list, though, and if you'd like the drive letter to be something else, you can select a different letter.
Click OK.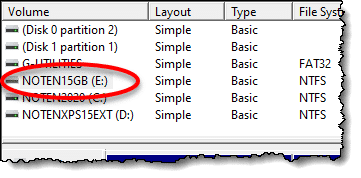 Disk management updates its display to reflect the letter assigned to the disk.
And in Windows Explorer, we can now see the drive.

While this doesn't cover every case of a connected drive not appearing, in my experience this is a common enough occurrence that it may well cover your situation.
Podcast audio

Download (right-click, Save-As) (Duration: 4:16 — 4.6MB)
Subscribe: RSS