I burned DBAN to a CD and then rebooted my Windows machine with the CD inserted in the drive. To my surprise, it just booted right back into Windows. What gives? How do I get the computer to boot up from the CD?
This is a common problem for which the answer has become complex.
Your computer's BIOS needs to be instructed to check for a bootable CD or DVD before it tries to load whatever is on the hard drive. Right now, your computer is configured to either ignore the CD/DVD, or check the hard disk first, at boot time.
The problem is that newer machines don't have a BIOS; they have something called UEFI.
And UEFI makes things more complex.
UEFI and Secure Boot
UEFI, an acronym for Unified Extensible Firmware Interface, is a new type of BIOS that includes several enhancements. You'll often see it referred to as "UEFI BIOS", or even incorrectly as "BIOS", because that's what we've become used to.
One of those enhancements is something called "secure boot".
Secure boot matters because there's a glaring security hole that's been present in almost every PC since day one. It's very simple and very powerful.
If you have physical access to the machine,
and if you can reboot that machine,
and you can boot that machine from a CD/DVD or USB device,
then you can gain total access to that machine.
In fact, I often leverage this fact when people have lost their system administrator password. I've Lost the Password to My Windows Administrator Account. How Do I Get It Back? walks you through the steps to reset the administrator password by booting from a CD-ROM with the appropriate tools.
Secure Boot, when enabled, prevents this. It prevents changes in the boot order and can restrict booting to only "official" boot images.
Windows 8 and Windows 10 take advantage of UEFI and Secure Boot. That means that if your system has UEFI and Secure Boot turned on, then in order to boot from something other than the hard disk, you may need to turn Secure Boot off first.
Turning Secure Boot Off
Right-click on the Start menu and hold the Shift key down while clicking on Restart.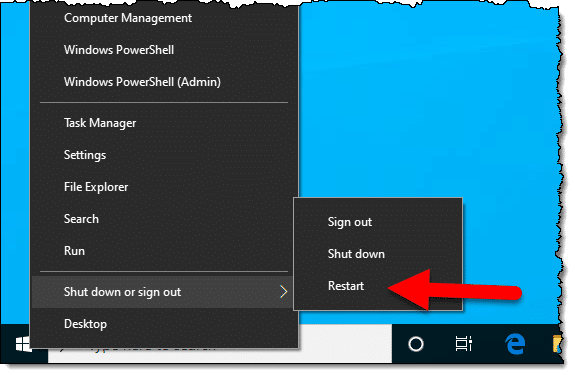 This will reboot into a "Choose an option" screen: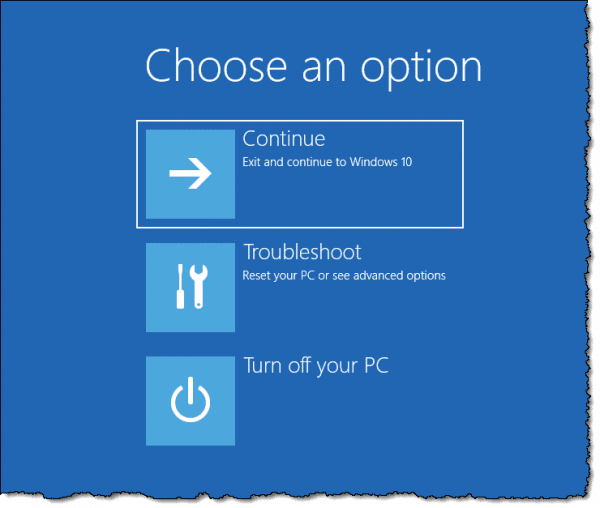 Click on Troubleshoot and then on Advanced options.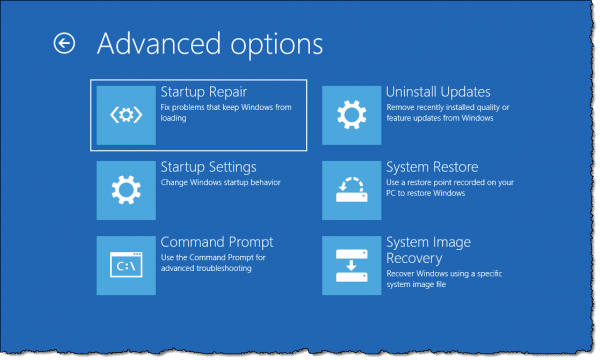 I can't tell you what comes next, because it's different from machine to machine.
You may be able to modify the settings we care about by clicking on Startup Settings, if it's present as shown in the image above.
If your machine uses UEFI, there may be an additional option: UEFI Firmware Settings. Click on that to go to the UEFI interface for your computer. The option to disable Secure Boot should be in that interface. You may need to check your computer's documentation for its specific location.
Changing the boot order
Like BIOS before it, UEFI controls the boot order: which devices the computer tries to boot from and in what order.
Look for the settings to ensure that the USB or CD/DVD drive is earlier in the sequence than the hard disk, so the system will boot from your recovery drive before booting from the internal hard drive.
No CD/DVD drive?
What if you need to boot from optical media like a CD or DVD on a machine that has no CD/DVD drive?
The most common solution is to get a USB version of what you want to boot from. Many installers, recovery media, and emergency boot disks are now available in USB thumbdrive versions.
If all you have is optical media, however, you can get an inexpensive external USB CD/DVD/Blu-ray drive and configure your computer to boot from USB when needed. You'll be able to use that drive for other things, and on any machine with a USB port.
Podcast audio

Download (right-click, Save-As) (Duration: 4:32 — 2.1MB)
Subscribe: Apple Podcasts | RSS