I burned DBAN to a CD and then rebooted the machine with the CD inserted in the drive. To my surprise, it just booted right back into Windows. What gives? How do I get the computer to boot up from the CD?
This is actually a pretty common problem with a relatively simple solution.
Your computer's BIOS needs to be instructed to check for a bootable CD or DVD before it tries to load whatever is on the hard drive. Right now, your computer is configured to either ignore the CD/DVD at boot time or check the hard disk first.
And because there's something bootable on the hard disk – namely Windows – that's what it boots into.
As I said, a simple solution conceptually.
The devil, as they say, is in the details.
But first, a word about UEFI and Windows 8
UEFI, which stands for Unified Extensible Firmware Interface, is a new type of BIOS that includes something called "Secure Boot", which can make this process more difficult. See How do I boot from CD/DVD/USB in Windows 8? for more details.
A BIOS is a BIOS is a …
In this case, the "devil" is that there's no such thing as a "standard" BIOS. Different computers can have BIOSes that differ dramatically; not really in what they do (although that does also vary to some degree), but more importantly in how you interact with the BIOS to make changes.
Heck, even how you get into the BIOS to make changes differs from computer to computer.
I'm going to walk through the steps to change what's called the boot order on a computer. However, I can only show you at a conceptual level. The steps to do so on your computer will almost certainly be somewhat different – perhaps even dramatically so.
Hopefully, armed with the concepts that you'll see here and your own computer's documentation, you'll be able to make the necessary changes to boot from CD or DVD.
Entering BIOS setup
Your computer's BIOS is nothing more than software built into the hardware that begins running the moment that you turn the machine on. When you reboot your machine, Windows (or whatever operating system you run) exits, and control also returns to the BIOS, which then operates as if the machine had just been turned on.
When the BIOS starts up, it typically displays some technical information on the screen. While it does so, somewhere on the screen there should be a message to the effect of "Press [key] to enter setup." The exact wording may be different and the key listed may be just about anything; often, it's a function key (F1 through F12) or the DEL key.
When that message appears, press the indicated key once. It's very likely that the computer will not immediately enter setup, but it should do so after it completes what it's doing.
BIOS setup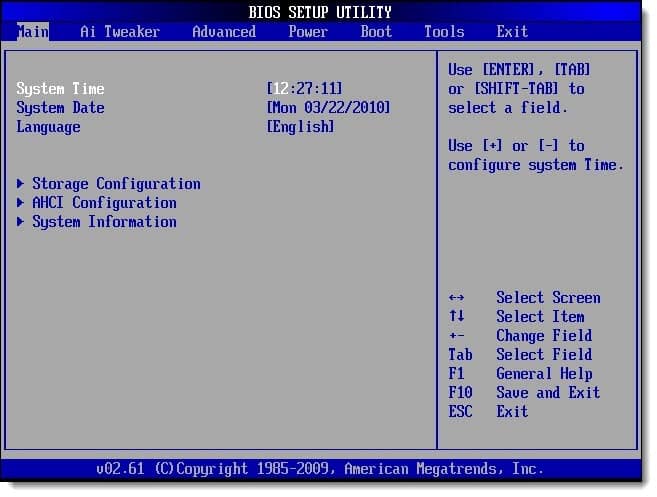 This is an example of a BIOS setup screen. It's similar to the first screen displayed by many BIOSes. Unless your computer happens to have the exact same BIOS, yours will likely look different, but the concepts here are fairly typical.
If your BIOS provides them (and many do), pay particular attention to the on-screen navigation instructions. Here, you can see that these instructions are in a column on the right.
Across the top of our example BIOS, you can see a menu: "Main", "Ai Tweaker", "Advanced" and so on. In this BIOS, we press the right-arrow key until the Boot menu item is highlighted. On some BIOSes, the screen contents will change as you move; on others, you might need then to press Enter to get the boot page to display.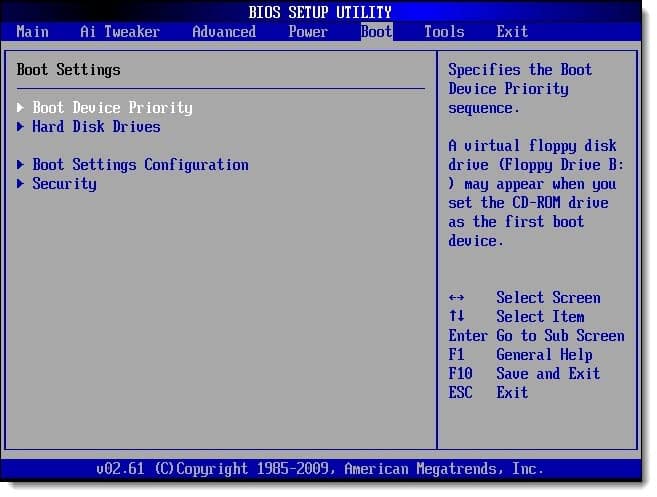 On the page of BIOS Boot options, you'll probably find several settings. The one we're looking for is Boot Device Priority, but it may be called Boot Order, Devices, or something else that means essentially the same thing.
In our example, Boot Device Priority is selected by default and all that we need to do is press Enter to go to what this BIOS calls the Sub Screen. In other BIOS, you may need to use the up and down arrow to move to the appropriate selection and perhaps the left-arrow key to expand the
item.
This is the screen with the setting we want control.
In the example above, the computer is configured to look to the CD-ROM device first, then the internal hard disk. This is what we want.
There are different mechanisms to change the order in this list. You might need to use the arrow keys to move items up and down. You might need to press Enter with the appropriate item selected and then move it up or down. Or you might be presented with a menu of possible boot devices after selecting the boot device.
What's important here is:
To enable booting from CD/DVD, the CD or DVD drive must appear earlier in the order than the hard drive.
To make sure that you can still boot from your hard disk, it must appear in the list somewhere.
If you'd also like to enable booting from a USB device, make sure that that appears on the list if available, also above the internal hard disk. Note that some BIOSes, particularly older ones, do not support booting from a USB device.
Interestingly, even if you don't have one, many BIOS still display Floppy Disk in the boot order or as an option. You can safely ignore it.
Once you've updated what you want, it's time to Save the changed settings and Exit the BIOS setup utility. In this BIOS, that's done by pressing F10. (To exit without saving any changes that you've made – a fine thing to do if you're unsure – this BIOS allows you to press ESC.)
Your computer should now reboot, and if you've made changes to the boot order, those changes should now take effect.
Unfortunately, it's all vague
It's unfortunate, but as I said, all I can really offer here is a conceptual example that is ultimately pretty vague about the exact steps that you need to take to make these changes on your machine.
Hopefully, seeing examples of the concepts above combined with the documentation for your own computer will help you to recognize what you need to look for, and successfully make the changes on your own machine so that you can boot from CD, DVD, or perhaps even USB.