Question: Can you show me how to burn ISO files? I downloaded this game and it arrived as an .ISO file. Windows keeps saying that it doesn't know how to open it. Someone told me that I need to burn it to a disc. How do I do that?
The ISO format is a popular way to distribute large packages of files that would normally appear on a CD or DVD. The reason is simple: an ISO file is typically a bit-for-bit image of a CD or DVD.
There are several ways to get at the contents of an ISO file. The most common way is to burn the ISO's content to an actual disc.

ISO Files
ISO files are typically exact copies of the data that would otherwise be placed onto a CD or DVD. There's no compression performed, so an ISO file that contains the contents of a 640-megabyte CD would itself be 640 megabytes in size.
Normally, when we write data discs (CD, DVD, or Blu-ray), we might take a few files and drag and drop them into some burning software, or even use Windows itself. The software then creates the file system and lays out the files on the disk.
That doesn't work when burning an ISO file. An ISO file can be thought of as containing a data disc, with files and file system already laid out.
You need to use a different technique to burn an ISO file to disc.
Use ImgBurn
While your computer may have come with software you might use to burn ISO files (or perhaps trial versions of burning software), I delete or ignore all of those and use ImgBurn instead.
ImgBurn is free software that handles all of the features you need to burn data, ISO, and even audio disks, easily and efficiently.
Download ImgBurn and install it, but be aware of two important thing as you do so.
ImgBurn gripe #1
The ImgBurn web site is full of advertisements, many of which boldly proclaim "Download", as well as so-called "recommended" links that are also nothing more than advertisements for products that, in my opinion, you don't need and are unrelated to the task at hand.
Click on the download link (currently in the upper left of the ImgBurn home page) to download ImgBurn.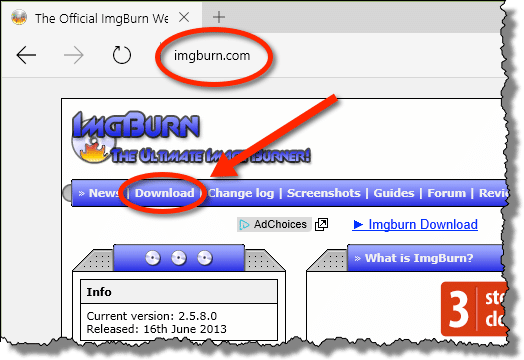 On the resulting page, ignore the ads and click on one of the mirror download links.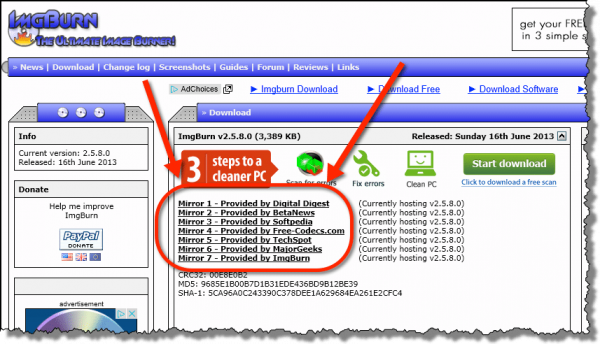 I typically use the "Provided by ImgBurn" link to download directly from the source.
Once downloaded, run the installer.
ImgBurn gripe #2
The bad news is that ImgBurn setup has foistware.
The good news is that it's open and honest about it, and you can opt out.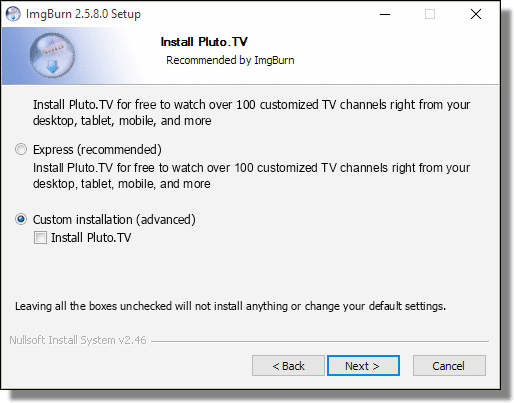 As you run ImgBurn setup, pay attention, and never accept the "Express" installation option. Instead, select "Custom installation", and de-select whatever additional software is offered. You do not need this software as part of ImgBurn. You may see multiple offers, so you may need to do this more than once.
Burn ISO files using ImgBurn
Run ImgBurn.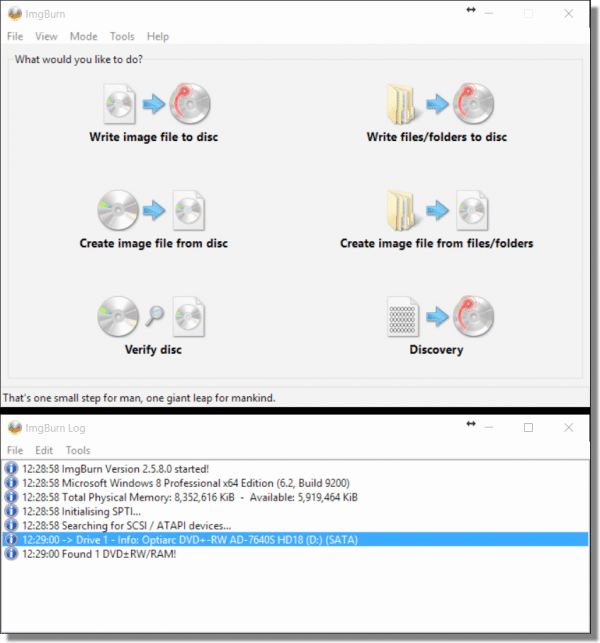 You may also see a second window that displays ImgBurns's technical activity log. It's safe to leave this open, but otherwise ignore it. unless something goes wrong. If that happens, the log will likely have clues as to what might be happening.
Click on Write image file to disc. This is the option that allows you to burn ISO files – image files – to a blank CD, DVD, or Blu-Ray disk.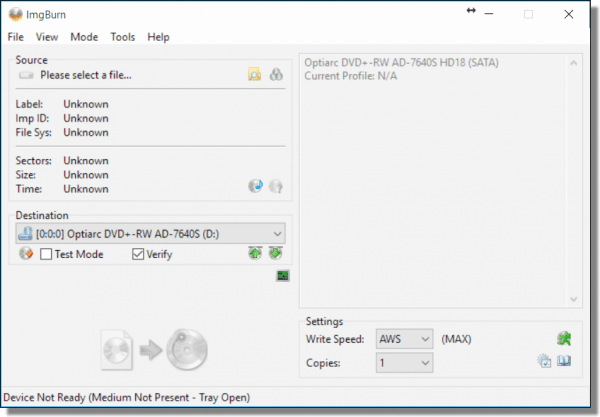 Click on the Select File button.
This opens a standard file selection dialog box. Select the ISO file that you wish to burn to disc. Once you've made your selection, you'll return to ImgBurn with the file listed.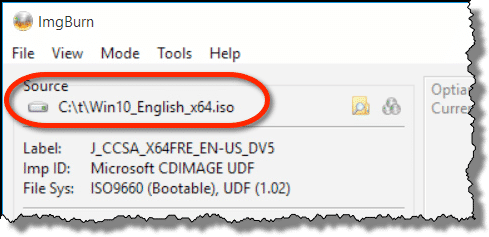 You can see that the status line at the bottom indicates that ImgBurn has determined that there is no blank disc in the CDR drive.

Insert a blank, writable disc to proceed. It'll typically take a few seconds to recognize that the media is there. At this point, the status changes to "Ready", and the action button is enabled. Click the action button.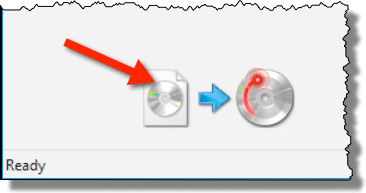 At this point, ImgBurn begins its work.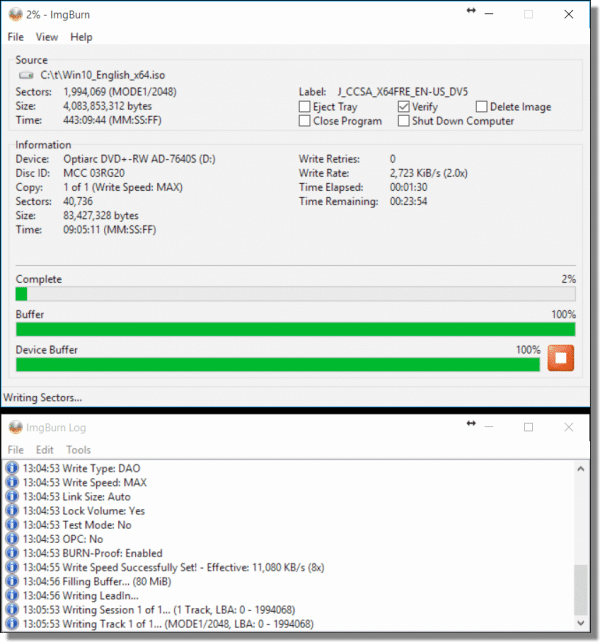 Once ImgBurn completes, you have your disc.
What happens next depends on what you have copied to the disc.
You can open Windows Explorer and examine the contents of the disk, or copy individual files off, if you like.
If it's a product disk, perhaps there'll be a Setup.exe or similar program in the root. You might run that to install the product.
If it's an operating system distribution, you might close Windows and reboot from the disc you've just created, to install or try out the operating system on it.
As I said, what happens next depends entirely on exactly what it is you've just burned to a disc.
Podcast audio

Download (right-click, Save-As) (Duration: 5:34 — 5.2MB)
Subscribe: RSS