You're told to run CHKDSK after a restart, and do so. The results are well hidden.
CHKDSK must sometimes be run at boot time. I'll show you where to find those CHKDSK results.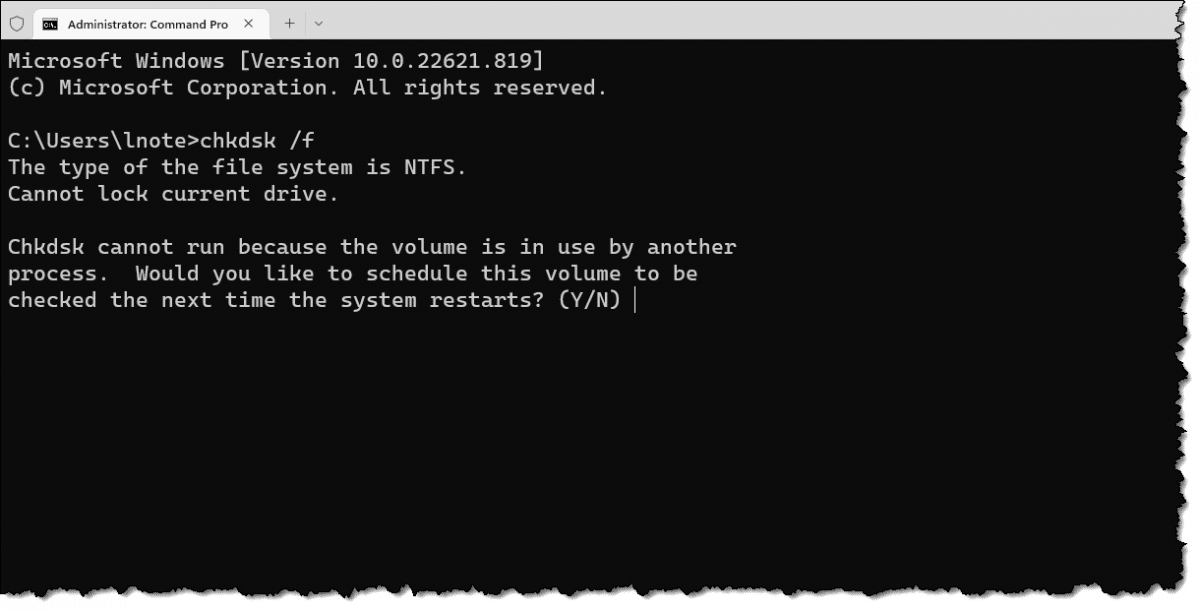 OK, so CHKDSK ran when my machine rebooted, and displayed some stuff. Problem is I have no idea what it displayed, since it then proceeded to reboot the machine when it was done. How do I get it to stop, pause, or otherwise let me see what it did?
It's not obvious, I can tell you that.
For a recent article on CHKDSK, I carefully timed taking a few screenshots of CHKDSK as it was running so I could capture the results. It turns out that was overkill. You don't need to go to those lengths to get CHKDSK's output. In fact, you can almost ignore what it displays on boot.
You can get the results later much more easily.
CHKDSK results after reboot
CHKDSK progress may be hidden when it runs on boot. After Windows comes back up, you'll find the results in a WinInit entry of the Event Viewer's Applications log.
CHKDSK on boot
As I mention in What Does "CHKDSK Cannot Run Because the Volume Is In Use by Another Process" Mean?, if CHKDSK has been instructed to attempt fixes or repairs, it needs exclusive access to the disk it's checking. If that disk is your Windows drive (C:), CHKDSK can't have exclusive access because Windows is using that drive to run your system.
The solution is to indicate that CHKDSK should run automatically before Windows runs the next time you reboot your machine.

When you restart, CHKDSK is performed before Windows is loaded.

Prior to Windows 8, CHKDSK displays information as it progresses. In Windows 8 and later, the details are hidden behind a progress indicator.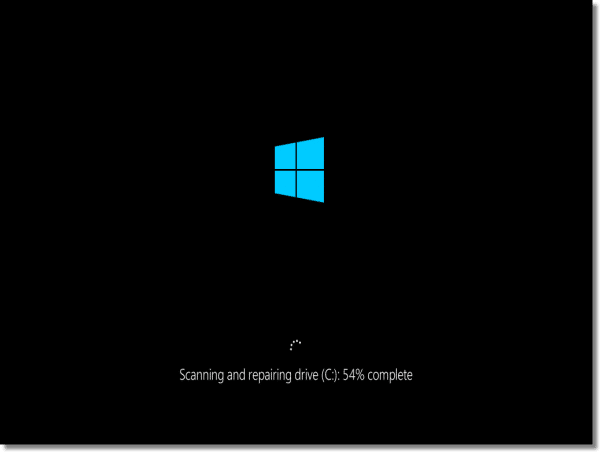 CHKDSK runs as it normally does, and when it completes, it reboots the system — which, of course, causes any progress or results that might have been displayed on-screen to disappear.
The Event Log
CHKDSK saves its results to the Event Log.
Now, as I've also mentioned before, the event log is a mess. It's full of random and exceptionally geeky entries that barely have meaning to the people that put them there.
That's not to say it's a waste; it's not. Sometimes that obscure and geeky information can be valuable, as we're about to see. But most of the time, it's so much noise.
Using event viewer to find CHKDSK results
After CHKDSK has run and your machine has rebooted, run the event viewer. Hold down the Windows key and press "R", and type eventvwr into the resulting Run dialog.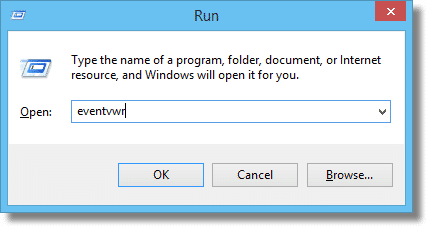 Click on OK and Event Viewer will run.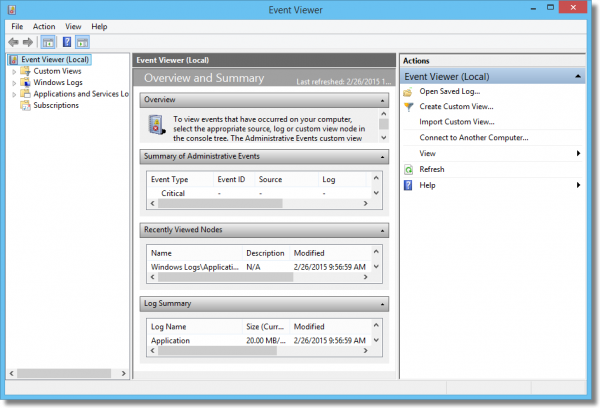 This is the Windows 8, 10 and 11 Event Viewer; Windows 7's and Vista's are similar, while Windows XP's is much simpler. While the screenshots may be different, the general idea applies to all of them.
If the right-hand pane bothers you, as it does me, click on the "Show/Hide Action Pane" toolbar button to make it go away.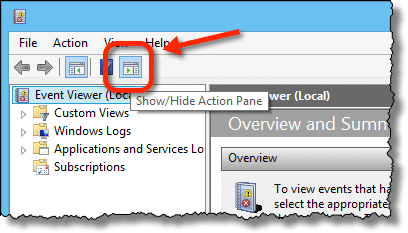 Expand the "Windows Logs" on the left (by clicking on the triangle to its left), and click on "Application" below it.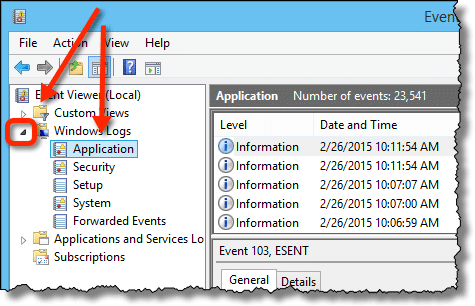 In the event log list that appears to the right, click on the first item. Then, one at a time, press the down-arrow key to see each successive event. You're viewing them in reverse-chronological order (most recent first). There will be many that are basically incomprehensible; don't worry about them. There may be several that display scary red "error" icons — ignore those too. They're part of the normal mess that is the Event Viewer.
Eventually, you'll come to an event with its Source listed as Wininit (Windows Initialization). The information displayed in the window below will look very familiar (there may be many other events from Wininit; we're looking for the one that has CHKDSK information in the event information below the list).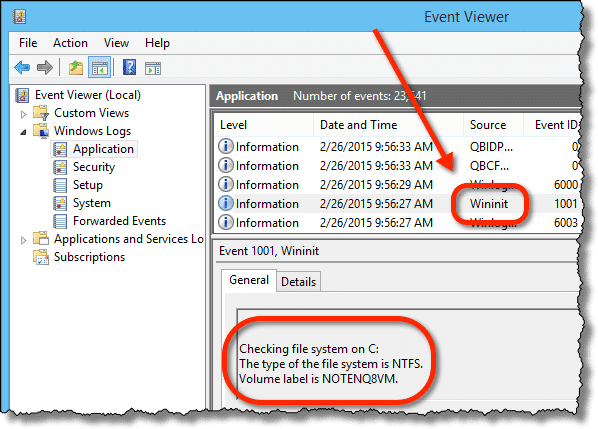 The text box within the "General" tab below the event-log listing is scrollable, and contains the entire text of the CHKDSK run that happened at boot time. You can scroll up and down to view the entire CHKDSK session.
An easier way to view the entire CHKDSK result is to click anywhere on the results text, type CTRL+A to select all, then CTRL+C to copy it all to the clipboard. Now run Notepad and paste the results there.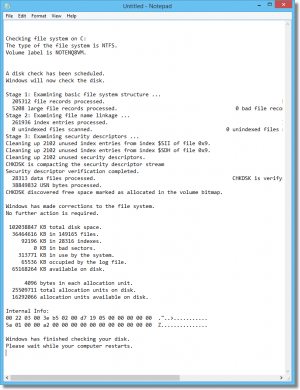 The formatting can sometimes be a little odd, but the results are exactly what you'd expect: the text generated by CHKDSK as it ran on boot. It's all there for you to view at your leisure.
Do this
Don't get frustrated or annoyed if it seems CHKDSK results are difficult to find. They are.
But now you know where to look should you ever have the need.
Another good place to look is in your inbox, if you subscribe to Confident Computing. Less frustration and more confidence, solutions, answers, and tips in your inbox every week.
Podcast audio

Download (right-click, Save-As) (Duration: 4:10 — 5.8MB)
Subscribe: RSS