It's not really missing if you know where to look.
Is it really gone, or just hidden? Either way, we'll work through the solution to get Windows Explorer back.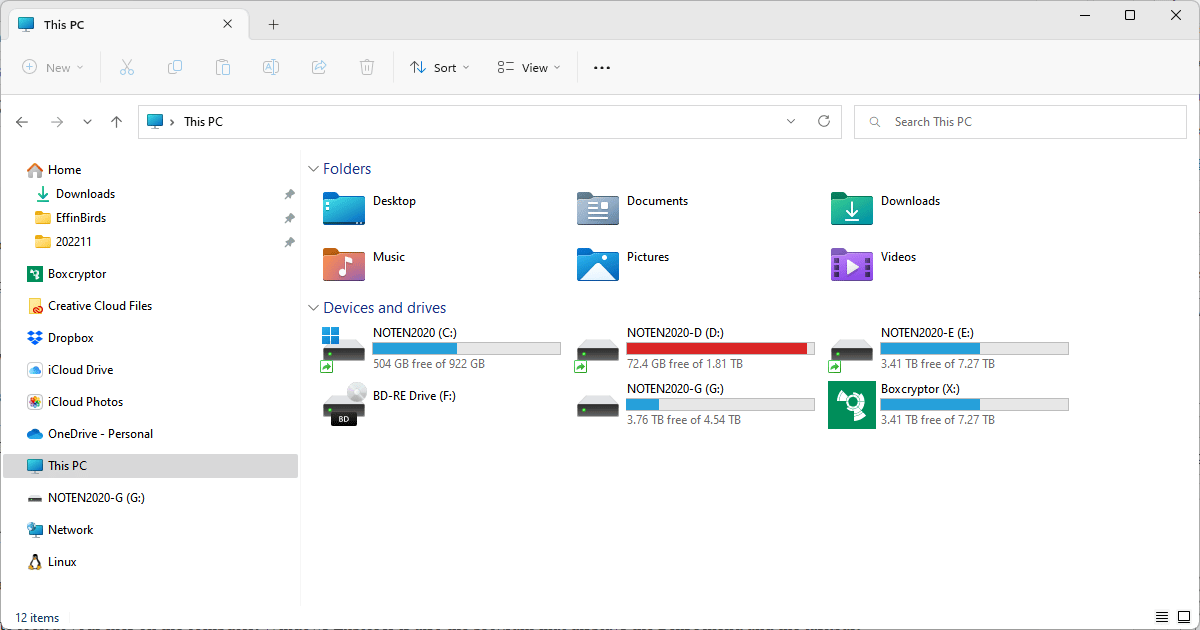 Question: Microsoft's malicious software removal tool seems to have removed Windows Explorer in my Windows. What can I do?
I'm very skeptical that Windows Explorer has actually been removed. However, there are a couple of steps I would have you take to diagnose exactly what's going on and repair it.
Missing Windows Explorer
It's exceptionally rare that Windows File Explorer — explorer.exe — would be removed for any reason. Shortcuts to the program might disappear or the program might not be running, but it should still be there. Running "explorer.exe" via Task Manager is a quick way to run Windows Explorer and possibly re-create shortcuts to the program. If explorer.exe really isn't present, then the System File Checker or a System Repair might be called for.
If you can Start, it's not gone
If your Start menu and taskbar are still visible, Windows Explorer has not been removed.
Besides being used to look at your files on the computer, Windows Explorer is also the program that displays the Start menu and the taskbar.
Perhaps what's happened is that the shortcut to Windows Explorer has been removed. I can see that happening, although not necessarily as part of the malicious software removal tool.
What I would have you do is to create a new shortcut to explorer.exe — that's the file name for Windows Explorer. If you create a shortcut that runs that, you'll have Windows Explorer back. You can then also pin it to your taskbar (right-click on the taskbar icon and click on Pin to taskbar).
But if you don't have a taskbar and a Start menu? Then maybe explorer.exe is gone.
Explorer.exe not running
Type Ctrl+Alt+Delete and select Task Manager. Click on the File menu and then on the Run option (or the Run new task button in more recent versions of Windows). In the resulting dialog box, type in explorer.exe and press OK. If you suddenly get your Start button and taskbar back, that means explorer.exe has not been removed. It wasn't running, but it is still on your computer.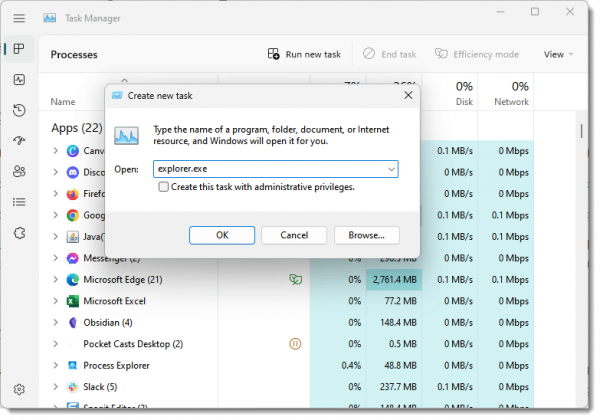 On the other hand, if you get a message that the program was not found, then perhaps it has indeed been removed (although I really don't know why or how that would be).
Explorer.exe gone
This time we're going to run the system file checker. Open Task manager again and type in sfc /scannow. Click OK and have that run.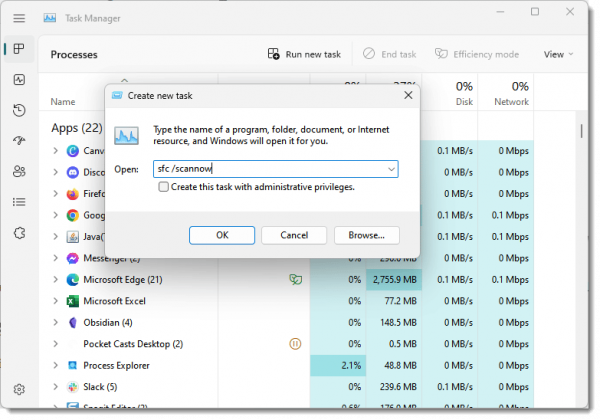 SFC will scan your machine for missing critical files, including Windows Explorer. This process may require that you reinsert your installation media or otherwise provide access to original replacement files.
If that doesn't do the trick, you may need to perform a repair install of Windows.
The worst case scenario is a complete reinstall of Windows from scratch. But unless there's something more significant going on, a repair should restore Windows Explorer without forcing you to erase everything that's on your machine.
Backups always save the day
A guaranteed recovery from this situation is to recover your machine from an image backup that was taken prior to whenever this started happening. An image backup basically captures the state of the entire machine top to bottom. When you restore that image backup, you're restoring your machine to that state.
When this kind of thing happens, simply restoring to a backup that was taken prior to this problem immediately makes the problem go away.
Podcast audio

Download (right-click, Save-As) (Duration: 5:05 — 7.1MB)
Subscribe: RSS