You hit send, and they never get it. Ugh.
Spam prevention measures have made getting email delivered more difficult. We'll look at how to maximize the chances your email will make it through.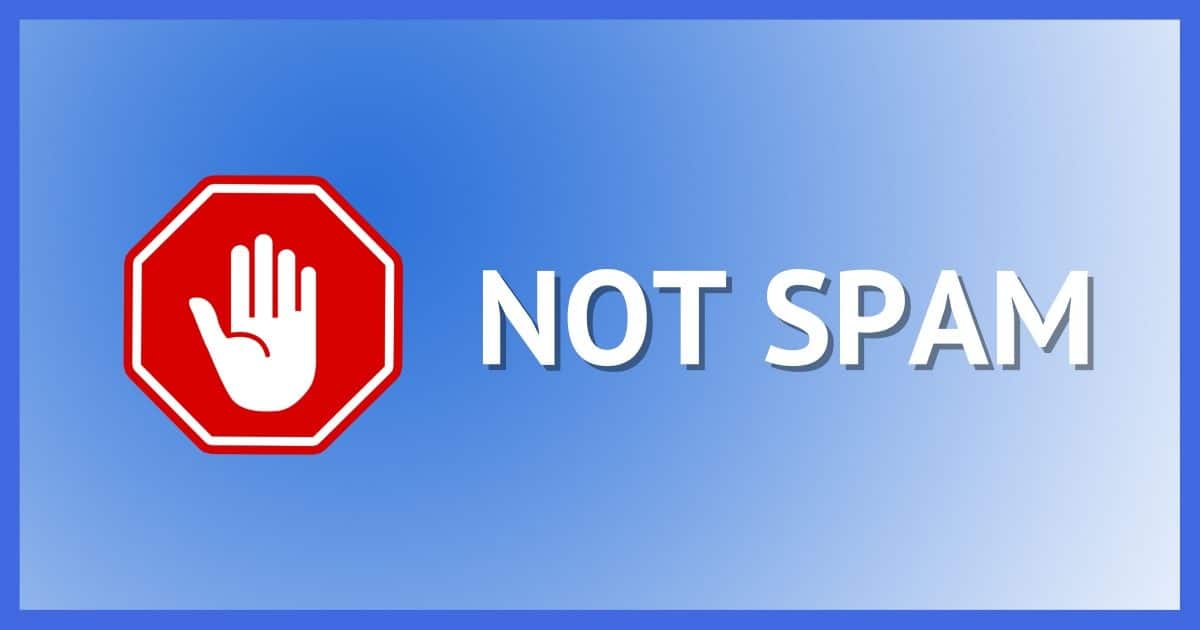 Even after all these years, email spam remains a serious problem. With some people (like me) getting literally hundreds of unwanted messages per day, most internet service providers (as well as some individuals) take drastic steps to reduce the amount of junk mail arriving in their inboxes.
A problem with any anti-spam measure is that it blocks some amount of legitimate email as well.
If email sent to one person is not getting through but email sent to other people is generally working, it could be that your email is being blocked by an anti-spam tool.
Why your email might not be getting through
It's easy for email to accidentally "look like" spam.
What recipients think is spam is not in your control.
Reputation of the sender and any services used matter more than ever.
Spam generally doesn't cause bounces, but is discarded or placed in a spam folder instead.
Blocking legitimate mail
Legitimate email can get blocked in error for a couple of reasons:
The receiving system thinks your email looks too much like spam.
The receiving system thinks you have a reputation for sending spam.
Note that I said thinks. It's the mistakes associated with that thinking that cause legitimate email to be mistaken for spam.
Looking like spam
Spam filters look at your email and assign points for various behaviors associated with email that "looks like" spam. As soon as you collect too many points (where "too many" is arbitrary and up to the receiving system or the individual recipient to define), your email is flagged as spam. Some things to watch for in your email include:
Sexually explicit terms or phrases.
Certain drugs (typically linked to sexual performance or characteristics).
SHOUTING. Spam filters often consider shouting (typing in all caps) as sales copy.
Fake, inconsistent, or illegal return addresses or a "reply-to" address that does not match the "from" address. (If you don't know how to even make that happen, don't worry about it.)
HTML email. It's not a huge mark against you, but some spam filters still consider HTML or "rich text" email as having a higher likelihood of being spam when compared to plain text email.
Marketing terms. Because so much spam is an attempt to get you to buy something, many filters look for various words and phrases associated with sales and marketing efforts.

1
No one is saying that any of those things in your email are bad, or that any one of those things will cause your email to be blocked.
The unfortunate reality of the situation is that the more your email looks like spam, however innocuous, the more likely it is to be treated as spam.
The eye of the beholder
Despite this list of factors that might contribute to your email being considered spam, things aren't nearly so cut and dried.
When someone hits the "This is SPAM" button in an online email interface (like Gmail, Outlook.com, and others), that system assumes "Email that looks like this is spam to me." If enough people mark similar email as spam, any email considered similar to that email stands a much higher chance of being automatically filtered as spam, regardless of what it contains.
For example, if a million people on an email service get an email that says "The sky is blue" and half of them mark it as spam,2 that email service may consider "The sky is blue" as an indicator of possible spam. Future emails that contain that phrase may be more likely to be filtered out as spam and not arrive at their destined inboxes.
What that means is that depending on what everyone considers spam to be at any point in time, anything can be labeled as spam.
There's almost nothing you can do about this.
Email reputation
Another factor in determining the authenticity of an email is the reputation of the email's source.
In the past, email was blocked if it came from an IP address identified as related to spammers. Because spammers now use botnets to make it look like spam comes from millions and millions of different IP addresses, this technique is less effective than it used to be. Unfortunately, it's still in use.
Certain email providers have poor reputations. Hotmail used to be a hot source of spam, so sending from a Hotmail email address was considered a strike against you. While Hotmail (now Outlook.com) has improved, some ISPs and services simply have better reputations — and better deliverability — than others.
This is true of mailing list providers; some have better reputations than others and thus deliver email more reliably. This is one reason I continue to use Aweber as the email service provider for my  Confident Computing Newsletter.
The only "cure" for a provider with a poor reputation is to switch to one with a good one.
Spam rarely bounces
Because bouncing email flagged as spam would give the real spammers too much information about how to bypass the spam filters, it's not done. Email flagged as spam is not delivered or is delivered to the recipient's spam folder, where they may or may not find it.
A quick test to make sure any email can get through is to use another provider — for example, a friend's email account on a different service or a free account on another service.
Do this
Do the best you can, of course, not to write email that could be considered spam. Unfortunately, since that's a moving and ill-defined target, remember that spam filters can get it wrong. Use the information above to see if you can determine if your message might be getting flagged as spam, and perhaps send it a different way if it is. If you have one particular recipient that's finding your messages in their spam folder, make sure they're marking it as "not spam" as well.
Here's something that's not spam: Subscribe to Confident Computing! Less frustration and more confidence, solutions, answers, and tips in your inbox every week.
Podcast audio

Download (right-click, Save-As) (Duration: 9:38 — 13.3MB)
Subscribe: RSS