Question: Gmail just turned on some kind of tabbed inbox feature. It's randomly putting mail into different "categories." How do I turn that off?
Full disclosure: that was me asking the question, some time ago.
While I was away on a trip, Google enabled a new "tabbed" inbox. My first reaction: How do I turn this thing off?
The "tabbed inbox" is Gmail's attempt to organize your incoming email into categories, or tabs. Unfortunately, they often mis-categorize email, leading to messages being overlooked. You can turn category tabs off in the "Inbox" tab of Gmail settings by unchecking all the category tabs listed.
Gmail's tabbed inbox
Here's what I'm referring to: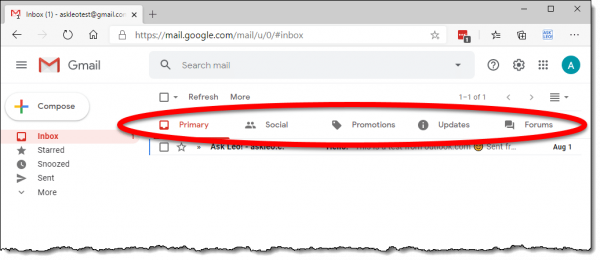 Above the inbox is a series of tabs, one for each of these categories:
Primary
Social
Promotions
Updates
Forums
When this was first enabled on my account, Gmail had "helpfully" categorized all of my email, distributing it among the various categories.
Not only did I not need or want the help (I can manage my email very well on my own, thank you), Gmail's categorizations were wrong. As I update this article some seven years later, categorization has not improved. I believe it remains one of the most common reasons Gmail users miss email messages: they're placed in the wrong category.
I turned it off, and strongly recommend you do the same.
Turning it off
Click on Gmail's gear icon in the upper right, then click on Customize underneath "Inbox type".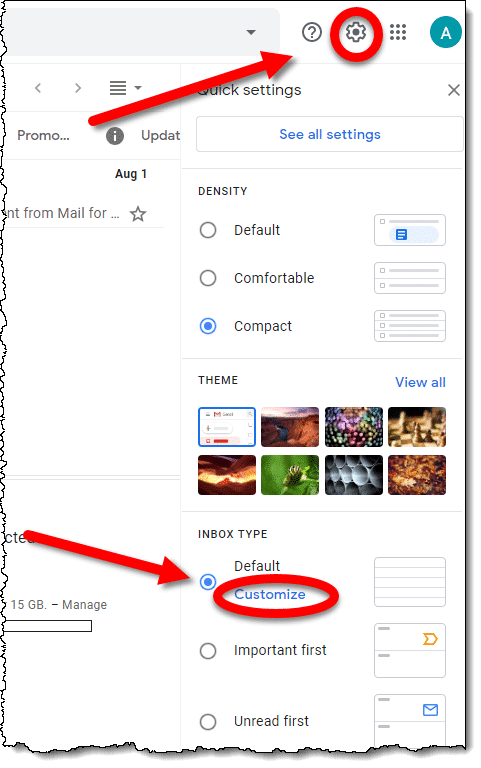 The "magic" is right there: "Deselect all categories to go back to your old inbox". Uncheck everything but Primary.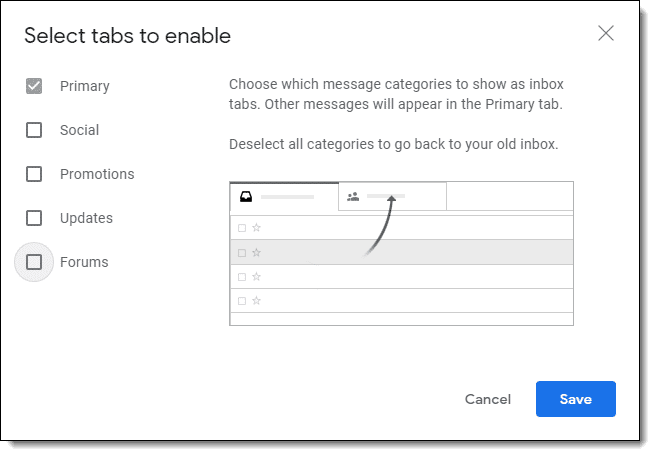 Click on Save, and you're back to your single, manageable Inbox, without Gmail's "help" trying to guess what should go where.
Gmail settings
This top-level setting has changed over the years, but you can also control this using normal Gmail settings.
Click the gear, click Settings, click See all settings, and then click the Inbox tab: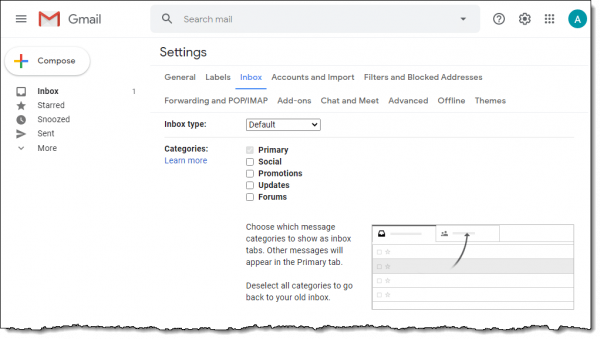 The process is the same: uncheck all of the categories you can and you'll get your inbox back. Be sure to scroll to the bottom of the Settings page and click Save Changes when you're done.
About change
I'm all for change, but I'm also all for choice. I'm grateful Gmail has made this an optional feature.
The issue is simple: the feature doesn't work for me. Honestly, I don't see how it works for anyone. I'm convinced that rather than helping organize or prioritize email, it leads to more missed and lost email instead.
It certainly doesn't fit the way I handle email. I also don't want to give up control to Gmail to make its bad categorizations.
With inboxes overflowing, this might be a useful addition — if it worked.
Podcast audio

Download (right-click, Save-As) (Duration: 3:32 — 3.6MB)
Subscribe: RSS