When viewing some websites, I want to send them an email for whatever reason. I click "contact us", a window opens and I type my question. When I press "send", I realize that the email is being sent using Outlook, and as a result I  am asked to setup a POP address etc. I prefer to send and receive my messages using my Gmail account. Can you tell me how I can set it up so that when sending a message as explained above, Gmail will come up as my email carrier?
Chances are that page was set up using a "mailto:" link that instructs your web browser to send an email using your PC. The most common approach assumes you have a desktop email program like Microsoft Office's Outlook, Thunderbird, or other installed, or that you're using the Mail program that comes as part of Windows.
If you're using web-based email like Gmail, Outlook.com, or Yahoo! Mail, things get more complex.
Windows has a notion of a "default" email program used to send mail, most commonly in response to a webpage's "mailto:" link.
You can easily tell Windows 10 what installed email program to use as the default for sending mail. (The process is slightly different for Windows 7.)
Web-based email can typically not easily be set as the default for sending, with the exception of Gmail if you use Chrome.
An installed email program can be set as the default to access your web-based email service.
Choosing a program in Windows 10
Windows has a notion of what your "default" email client is. This is the email program installed on your PC that is used when your PC encounters a request to deal with email.
Common programs include the default Mail program that comes with Windows, Microsoft Office's Outlook, Thunderbird, and any of perhaps hundreds of other mail programs you can install. In your case, your system's default email client is obviously Outlook.
To change it in Windows 10, run the settings app, search for "mail", and click on "Choose a default mail app" when the option appears. (If that doesn't appear search for "choose default apps"). Click on the currently-listed application (Chrome, in my example above, which I'll explain in a moment), and you'll be presented with a drop-down list of possible choices.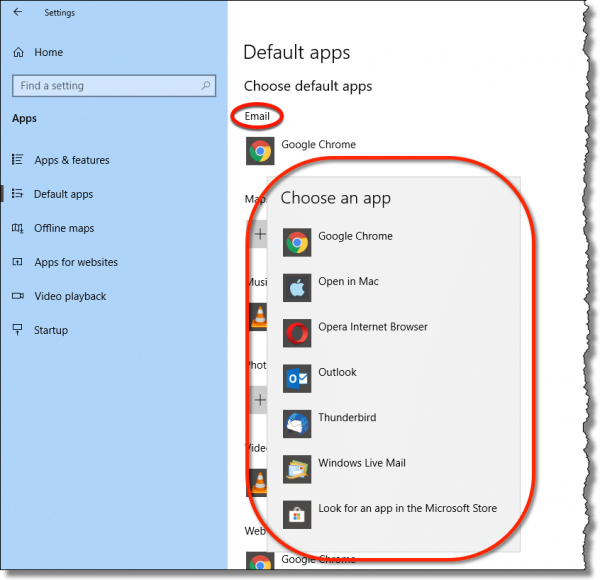 If you see the application you want to use to send mail — perhaps you use Thunderbird to manage your email, but for some reason it's not the default — just click on the one you want.
If you don't see the application you want, then you don't have this option. The list is generated from several sources, including:
Windows' own defaults.
The email programs you install on your PC (like Thunderbird, Outlook, and even Windows Live Mail, all of which I installed at one time or another and so are present in the example above).
Other email-related programs installed on your PC (like Google Chrome, Opera, or in my case, "Open in Mac", a side effect of running Windows 10 in a virtual machine on my Mac.)
You might notice that Windows Mail, the default Mail program in Windows 10, does not appear on the list. That's because at one point I uninstalled it. You can click on "Look for an app in the Microsoft Store" to download and install it once again if that's happened to you as well.
Choosing a program in Windows 7
Windows 7 looks at things a little differently than Windows 10. In Windows 7's Control Panel, go to "Default Programs", and then "Set Default Programs". On the left will be a list of programs installed. Click on the program you want to use as your email program, and its details are presented in the right.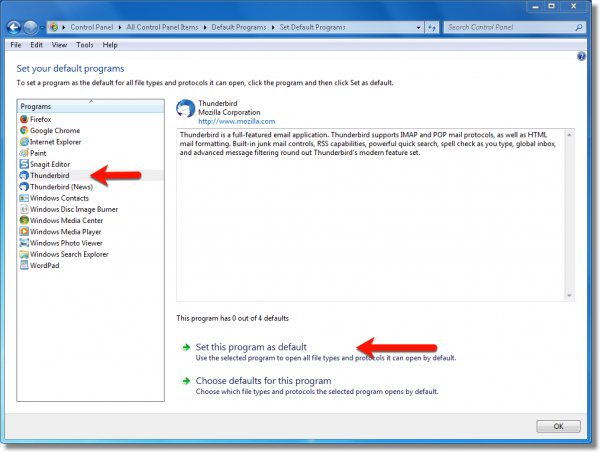 Click on Set this program as default to make it the default mail program. Note that this will only set the program as the default for things it knows how to do. You can't, for example, set your word processor to be your default mail program — you must select a program capable of being a mail program in order to have it take that role. To see what a program is capable of, click on Choose defaults for this program.
Choosing a web browser as your email "program"
This gets … weird.
Email services like Outlook.com, Gmail, and others are not programs. They are pages on the web that you view using your web browser. Windows wants to set a default mail program. A web browser is not a mail program — it's a web browser.
If you follow that frustrating circle, the only apparent answer is "You can't." You can't set a web browser or webpage or web-based email service to be the default email program in Windows.
Except, of course, when you can. Kind of. There is at least one specific situation where you can make it work, but it has to meet the following criteria:
The email service you use is Gmail.
The web browser you use is Google Chrome.
When you visit Gmail using Google Chrome, you may1 find a double-diamond icon in the right-hand side of the address bar. Hover your mouse pointer over it, and you'll get a message: "This page wants to install a service handler."
Click on it, and you'll be given the option to allow Gmail to be used to open mail links.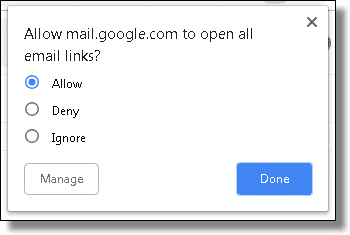 But what about other browsers and web-based email services?
You may be out of luck. At least directly.
Using an installed email program for web mail
The "right" workaround is somewhat cumbersome, but boils down to this:
Continue using your web-based email as you normally do.
Configure an installed email program — typically the default email program in Windows — to access your web-based email account.
For example, if your email is hosted at Outlook.com, and you're running Windows 10, then you might configure the default Windows Mail program to access your Outlook.com account.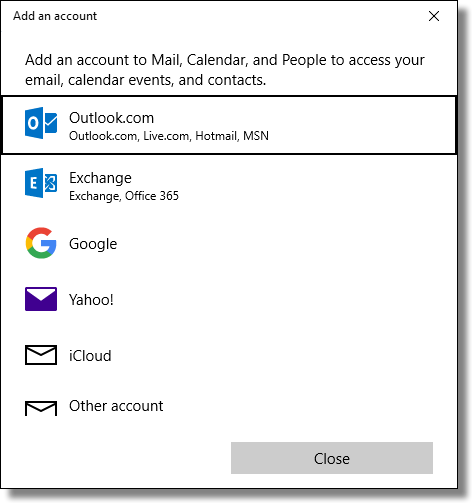 Once the program has been configured to access your email, it will also be able to send email. You would only use the Mail program when something on your PC needs to send mail, like clicking a "mailto:" link in a browser or other mail-sending activity on your PC.
This technique works for just about any email account, and can be used with any desktop email program, not just the one that comes with Windows.
If this technique sounds familiar, it's exactly the same setup that we use to back up your web-based email: install an email program on your PC and allow it to periodically download a copy of all your email. As a side effect, it can be set as the default email program for when you need to send.
Podcast audio

Download (right-click, Save-As) (Duration: 7:25 — 3.5MB)
Subscribe: RSS
Video Narration