With the impending end of support for Windows 7, and the relatively low uptake of Windows 8.1, the next natural question to ask is, of course: how long will Windows 10 be supported?
It's complicated.
Unlike prior versions of Windows with specific end-of-support dates, Windows 10 doesn't really have one.
Or, if you look at it differently, its support ends every six months.
It's all about feature updates
The short, simple rule of thumb is this: each Windows 10 "feature update" is supported for 18 months — a year and a half.
A "feature update" is the major update that happens every six months, usually around May or September. You'll see them referenced with a four-digit number, like 1809 for the September 2018 feature update, or 1903 for the March 2019 update.
Regardless of the name, each feature update is supported for 18 months from its actual release date. For example, according to the current Windows lifecycle fact sheet, the most recently released feature update — 1903, or March 2019 — will be supported until December 8, 2020, 18 months from its actual release date.
Determining your feature update
To see which feature update you have installed, right-click on the Start button and click on System in the resulting menu.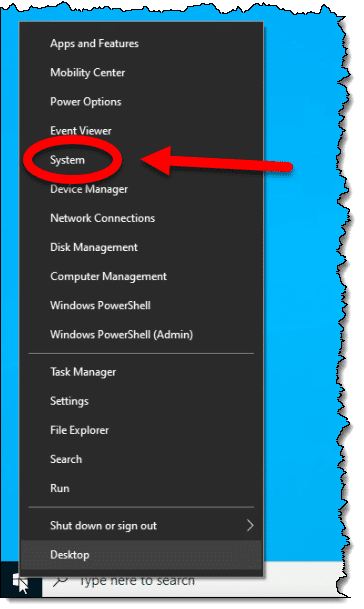 You may need to scroll down in the resulting window to make "Windows specifications" visible. It'll include "Version", which is the feature update we're looking for.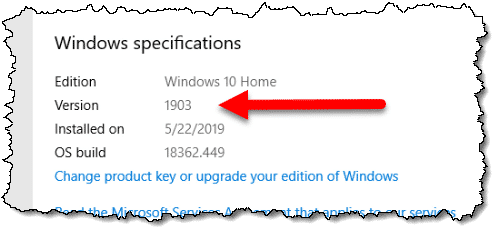 Keep updating
As long as you continue to take feature updates as they're made available, your machine will continue to be supported. Your end-of-support date will jump ahead each time to 18 months from the date that particular feature update was released.
In theory, that means your machine will be supported forever — feature update after feature update.
In theory.
If you can't update
I vaguely recall a statement to the effect that "Windows 10 will be supported for the life of the hardware on which it's installed" when it was first introduced. I'm either mistaken, or that rule no longer applies. Based on this quote from the lifecycle page, I suspect the latter:
A device may not be able to receive updates if the device hardware is incompatible, lacks current drivers, lacks sufficient storage space, or is otherwise outside the original equipment manufacturer's (OEM) support period.
I've certainly heard reports of specific machines not being able to receive the latest feature update. Changes were introduced that make the feature update incompatible with that machine.
If you can't move forward, you can't alter the end-of-support date. Your installation of Windows 10 will reach end-of-support 18 months from the date of the latest feature update you were able to install.
End of support doesn't mean end of use
As we've seen with both Windows 7's impending end-of-support, and Windows XP's, which is long past, if your Windows 10 installation does reach its end-of-support date, it'll keep working just fine.
Over time, more and more software will become incompatible as it also moves forward, but you can keep using the machine and all the software that runs on it, with one important caveat: you must pay special attention to security.
When support for a Windows 10 feature update ends, the primary problem is that no further security updates will be released. That means that eventually, it's possible that a vulnerability will be discovered that won't be patched. Similarly, while security software — including Windows Defender — will continue to work and be updated for some time past the Windows end-of-support date, eventually, that will also cease. You'll need to ensure that your security software, in particular, continues to work properly for as long as you run that edition of Windows 10 — or replace it with software that will.
Related Video
Podcast audio

Download (right-click, Save-As) (Duration: 4:37 — 5.0MB)
Subscribe: Apple Podcasts | RSS