Chicken, meet egg. Or maybe say hello to Heisenberg.
Backing up your new machine on arrival can be an important safety net. But there are degrees of safety.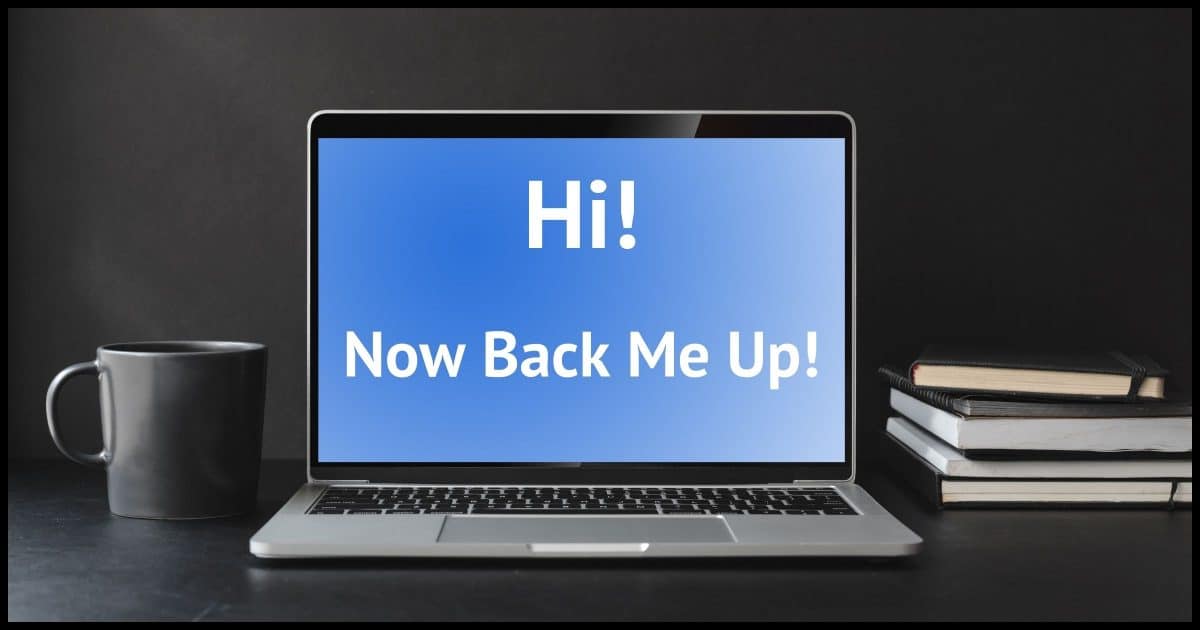 Question: I'm supposed to receive a new laptop tomorrow and don't quite understand how to make your suggested system image backup before connecting to internet without connecting to get the software. Can I download it to an external drive and then run software directly onto the new machine (offline)?
Creating an image backup of a brand-new machine boils down to a chicken-and-egg scenario: you want to back up the unmodified machine, but you must modify the machine by installing software to back it up.
Or do you?
There are a couple of approaches to this. One is pragmatic and easy, and the other is technically more accurate.
Backing up a new machine
Creating an image backup of a new machine is a good safety net should you ever need to restore to true factory settings. Pragmatically, just back up as soon as possible after setup. To create a truly pristine backup image requires booting from the backup software's rescue media before anything else, or removing the hard disk and creating the backup image elsewhere.
The goal: a pristine backup
The concept is that we want to create a backup image of the new machine's hard drive exactly as it arrived from the factory. This can be useful in the future if the machine needs to be reset to its true factory-initial conditions.1
The obstacle is that creating that backup will change the contents of the hard drive, either by completing Windows Setup first, or by installing the backup software, or both. Regardless, the contents of the hard drive will have been altered. The backup we create will no longer be a pristine copy of the hard disk exactly as it arrived.
The approaches range from living with that as "good enough" to jumping through a few hoops to get exactly what we want.
Pragmatic: install the software ASAP
My approach in this situation is typically to take the pragmatic path, as it's both easier by far and good enough.
Turn on the machine and complete the initial setup, including going online.
As soon as that process completes to a point where you can download and install software, download and install your backup tool.
Take an image backup of the machine.
This then becomes your almost-factory-settings backup image. Should you ever want to restore your machine to this initial condition, you can.
Unfortunately, we've applied Heisenberg's uncertainty principle2 in that we've affected what we wanted to back up in order to back it up.
If we want to avoid that, things get complicated.
Pragmatic, but disconnected
Before we complicate things too much, however, there's another fairly straightforward approach that gets us closer to our pristine image.
Do not connect the machine to the internet (unplug the cable or don't configure Wi-Fi).
Complete the initial setup.
Download the installer for your backup software on a different machine.
Transfer that installer to your new machine using a thumb drive or other portable media.
Install the backup software and create the image backup.
Connect to the internet and carry on with updates and other installs.
There are a couple of issues that can make this a little bumpy.
You need that second machine.
Your backup software's installer has to work without an internet connection.
Technically, this has also modified the contents of the hard disk prior to taking the backup, but less so that the previous approach.
Pedantic: touch nothing
An approach that gets you an image backup of a machine that's been unaltered in any way is:
Using a second machine, download and install your backup software of choice.
Using that backup software on the second machine, create "rescue" or "emergency" bootable media.
Boot the first machine from that rescue media.
Use that rescue media to create a backup image.
Reboot the machine normally and complete the setup process.
The backup image that results from this process is an exact copy of the hard disk as it arrived from the factory.
Unfortunately, there are risks and pitfalls with this process.
You need a second machine.
Getting your new machine to boot from the rescue media can be tricky and sometimes nearly impossible.
Accidentally not booting from the rescue media begins the setup process and invalidates the pristine backup we're trying to create.
It's the second one that's often more frustrating that it's worth; hence my personal reliance on the pragmatic approach.
Pedantic overkill: remove the hard drive
I rarely consider this, but for those who really desperately want a pristine backup of their new drive before a single change, this approach can also work.
Remove the hard drive from the new machine.
Attach it as an external or second drive to a second machine.
Use backup software on that second machine to create an image backup of the attached drive.
Reinstall the drive into the original machine.
Boot the machine normally and complete the setup process.
This might make sense, I suppose, if you're comfortable with hardware, have that second machine to attach something to, and feel the need to go this far.
I don't.
Do this
Back up.
Back up as soon as you can.
Personally, I wouldn't worry too much about getting a bit-for-bit pristine copy of the hard drive as it was delivered. Instead, using the pragmatic approach above, back up as early in the process as you can, and save that image somewhere safe. You may never need it, but if you do, you'll be glad to have it.
And then, of course, make sure to configure regular automated backups for the future.
Speaking of the future: subscribe to Confident Computing! Less frustration and more confidence, solutions, answers, and tips in your inbox every week.
Podcast audio

Download (right-click, Save-As) (Duration: 8:13 — 11.4MB)
Subscribe: RSS
Footnotes & References
1: A reset within Windows only returns the machine to the initial conditions of the current version of Windows, not your machine's actual day-one condition.
2: Grossly over-simplified for popular culture as: you can know where something is, or you can know how fast it's going, but you can't know both. Or: the mere act of looking at something affects that something, making the conditions prior to looking uncertain.