All good things come to an end. Or do they?
Windows 10 is and is not going away. It depends on your perspective.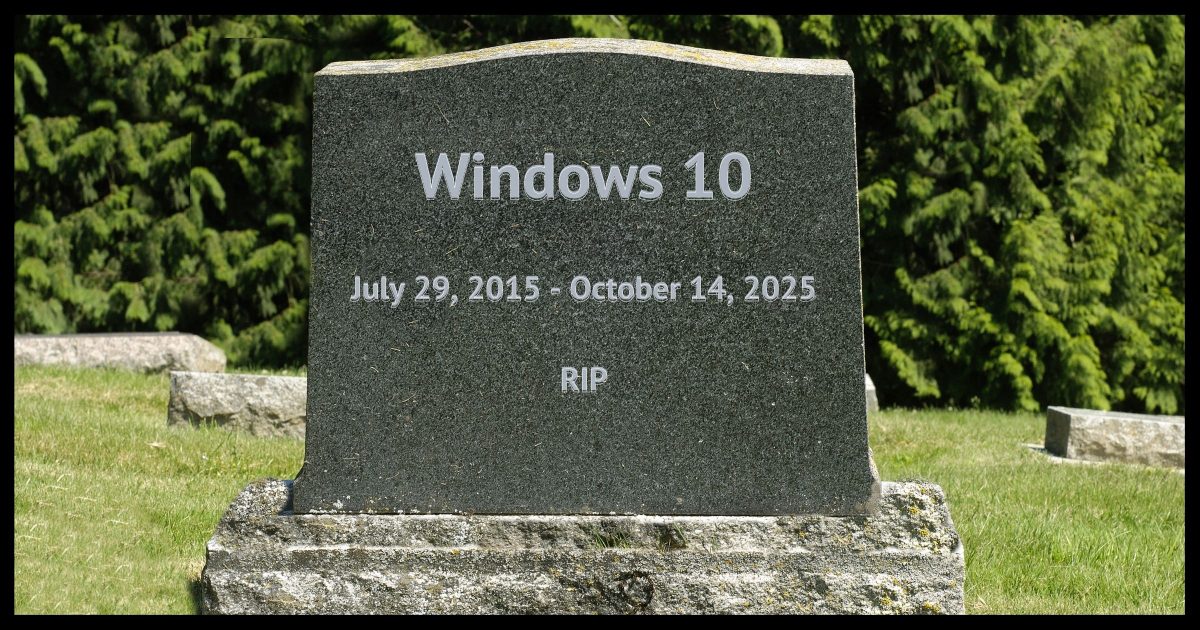 Question: So, is Windows 10 going away or what? If so, when? And what should I do about it?
Yes, it is…
And yet it's not.
It's complicated.
Microsoft has a vested interest in the "Yes it is" answer, and that's what they promote. However, reality is a little more complicated than that.
Windows 10 going away?
Windows 10 is going away in the sense that you'll no longer be able to purchase it and it will stop being updated at the end of 2025. Windows 10 isn't going away in the sense that it'll keep working after the end-of-support date. With a little common sense, you'll be able to continue to use it for a long time.
Yes, Windows 10 is going away
Microsoft announced a formal end-of-support date for Windows 10 Home and Pro editions: October 14, 2025. After that date, there will be no further updates to the operating system.
Inferring from the documentation, at this writing it's likely there will be only one more "major" update: 23H2, in the second half of 2023. There will presumably be bug fixes and security updates until the end-of-support date.
In a sense, Windows 10 is already going away. It's difficult to find copies to purchase legitimately,1 and new machines generally come with Windows 11 pre-installed.
It's safe to assume it'll be more and more difficult to find Windows 10 for new installations over time.
It's going away.
No, Windows 10 is not going away
Nothing magical happens on October 14, 2025. Computers running Windows 10 will continue to operate just fine.
Microsoft will not force you to upgrade or take any other action. They may pester you about upgrading, as they've done before, but there's no requirement that you do so.
Your copy of Windows 10 will simply stop getting updates. Some components — like the Windows Security database (likely, but not guaranteed) and Microsoft applications installed on the system — will continue to be updated.
There are people who continue to run Windows 7, and even Windows XP and Vista, years after their end of support. While theoretically they're at somewhat higher risk of security issues, there haven't been mass exploitation events when the final date passed. Used with common sense and perhaps third-party tools to increase security, they continue to be used safely and effectively.
It's not going away any time soon.
Yes, Windows 10 is going away… eventually
A more practical cause of Windows 10's demise has nothing to do with Windows 10 itself, but rather the other software you run on it.
Over time, vendors will remove support for Windows 10. This means that if you want to upgrade/update some package you've been using on Windows 10, at some point you won't be able to. You'll have to choose to live with whatever version you're left with, find an alternate tool that still works on Windows 10, or upgrade to whatever newer version of Windows is available at the time.
There's no predicting when this will happen, other than to say that it'll be a while, and it depends a lot on what tools you use.
Let's face it, some software you purchase today will still run in Windows XP.
Windows 95 compatibility, however, is rare. Someday, that'll be true for Windows 10 as well.
Do this
Honestly, if you're running Windows 10 and aren't interested in upgrading to Windows 11, that's fine. Keep using Windows 10. Just understand the ramifications of eventually not getting updates from Microsoft. Expect that over a longer period of time, some applications you rely on will also stop being updated.
In the meantime, subscribe to Confident Computing! More information about Windows 10 as its end nears, as well as less frustration and more confidence, solutions, answers, and tips in your inbox every week.
Podcast audio

Download (right-click, Save-As) (Duration: 7:29 — 10.3MB)
Subscribe: RSS
Footnotes & References
1: As always, third-party resellers will continue to supposedly have copies of Windows 10 to sell. They're generally not to be trusted, and could sell copies that won't activate or eventually stop working.
Related
The claim that wasn't: Did Microsoft Lie?