It's here, I backed up, and I updated, updated, and updated some more.
Now what?
Well, now it's time to put my new machine into service. Let's review some of the software I've installed and use every day, as well as what's been working well. There's also one thing that falls into the "not so well" category.
Software, software, and more software
Whenever I get a new machine, or rebuild an existing one, I follow an "install it as you need it" approach, only installing programs I actually use as I encounter the need for them.
Thus, in roughly chronological order, the software I spent the first few hours downloading and installing included:
There's more — probably much more — that I'm overlooking, but you get the idea. I spent a significant amount of time downloading and installing software.
Performance: the need for speed
As I type this, I've been using the machine for the better part of a month, and overall, I'm not disappointed. Quite pleased, actually.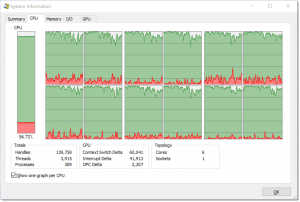 The machine is lighter than some laptops I've had in the past, and will make a fine traveling companion. The wide-screen external monitor on my desk is awesome in the true sense of the word
.
The horsepower is what I was looking for — video encodings, my most demanding CPU-intensive operation, are on a par with my previous computer, even though I have only half the number of CPUs.
I did order a 32gig RAM upgrade from Crucial. Running virtual machines, as I mentioned in prior articles, tends to be memory-hungry, and maximizing the available RAM made that scenario run a lot smoother immediately. (Here's the article detailing what it took to perform the upgrade.)
The other items I added include a 6TB external drive, as planned; an Amazon Basics keyboard and mouse; and a gaming mouse to use when the machine is docked.
Which leads to my only disappointment.
The docking station.
It docks, but …
In theory, the dock is an excellent idea. One connection gets you power, as well as almost all the external connections you might want. I plugged in my external mouse and keyboard, the external drive, and the external display, and with one connection, my laptop was connected to all and getting power.
The problem, however, was very simple yet annoying: when connected via the docking station, every so often both screens would go black for a second and then return. It doesn't sound particularly serious, but I can tell you that over time, it became incredibly frustrating.
Remedies from Dell support consisted of making sure that all drivers were as up-to-date as possible — something I'd already done. I played with various connection alternatives with no success. I also saw online that I am not the only one experiencing this problem.
The only scenario that worked reliably was to not use the docking station on my desktop. And that's what I'm looking at as I type: my laptop has four connections instead of just one: power, HDMI to the display, a USB -C connection to an ethernet adapter (so I can get wired speeds), and a USB 3 connector to a hub where the external disk and other peripherals are connected. It's disappointing, but it's really only an inconvenience when I want to take off with the laptop or when I return.
This article, like any article on Ask Leo!, may contain "
affiliate
links". Without affecting the price you pay,
or my decision to include them
, using affiliate links may result in my being paid a commission should you purchase the product mentioned. Affiliate links help pay the bills and support Ask Leo!.
More detailed information.
The docking station? Rather than returning it, I've elected to use it in my video studio as a glorified power supply, ethernet adapter, and USB hub. Hopefully someday I'll hear of a driver update that resolves the issue.
Bottom line
Aside from the docking station, which I formally recommend avoiding, I'm very happy with the results. The machine provides the right balance of power and portability for me. I can do everything I need …
… everything that used to be spread out over three machines.
Podcast audio

Download (right-click, Save-As) (Duration: 6:13 — 2.9MB)
Subscribe: RSS