My new laptop is here, and I'm ready to start playing with it.
The first thing I'll do probably won't surprise you, but how I do it almost certainly will.
The problem I want to solve
I want to back up my machine. Specifically, I want to create a pristine image of the hard drive before I do anything to it.
Anything.
Unfortunately, in order to install backup software, I'll have to fire up the machine and complete Windows setup first. That defeats the purpose, as by then the hard disk will no longer be "pristine"; it'll have been modified by the setup process.
I want a backup before I set it up. I want an image of the hard disk that I've only semi-jokingly referred to as the disk "before I turn on the machine".
Of course, short of removing the hard disk (not a practical option here), I'll have to turn on the machine to back it up.
A classic chicken-and-egg dilemma: I have to turn the machine on to back it up, but I want to back it up prior to turning it on.
Rescue disk to the rescue
Popular imaging backup software like Macrium Reflect or EaseUS Todo creates rescue disks. They "rescue" by restoring a backup image to a machine that won't boot from its internal hard drive or replacing whatever is on that hard drive.
What many people don't realize is that rescue disks can also can also be used to back up.
So the sequence I'll follow is this:
Using a different machine, create a bootable Macrium Reflect (Free) rescue "disk" on a USB stick.
Change it to boot from a USB stick.
Reboot, booting from the rescue disk.
Make a backup image to an attached external hard drive.
Reboot, immediately entering the BIOS/UEFI configuration to reset it to boot from the hard disk as normal.
Reboot one last time into Windows 10's initial setup.
The result will be an image of the hard disk before Windows setup was ever attempted.
Changing BIOS settings
Honestly, this was probably the most difficult part of the exercise to figure out.
As I've explained before, modern UEFI BIOSs are complex and have additional security that — in extreme cases — can lock the machine down so tightly that I wouldn't be able to do what I wanted. Fortunately, the Dell BIOS didn't come that locked down.
The sequence I used follows, but I need to be clear: unless you're dealing with a Dell machine — perhaps even a very similar Dell — what you need to do will almost certainly be different. As with this entire series, I'm presenting my experience not as a step-by-step guide, but rather an example of the kinds of things you'll need to look for and do.
I powered on the machine and began pressing F2 to enter BIOS Setup.
I disabled "Secure Boot".
In "Advanced Boot Options", I enabled both "Enable Legacy Option ROMs" and "Enable Attempt Legacy Boot".
In "Boot Sequence" I switched from "UEFI" to "Legacy External Devices".
I then had to reboot and return to the "Boot Sequence" BIOS setup page.
I disabled "Diskette Drive" and "CD/DVD/CD-RW Drive" from the Boot Sequence, and made sure that "USB Storage Device" was to be checked first.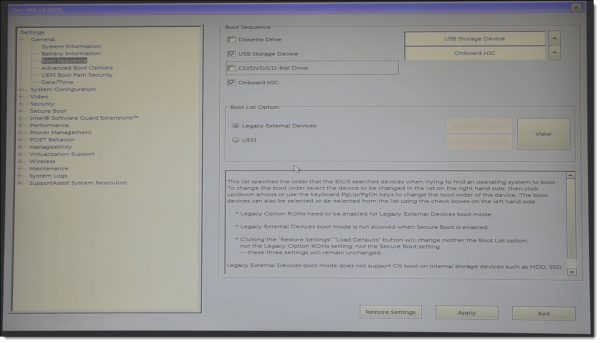 I inserted the rescue disk USB stick and rebooted the machine. Macrium Reflect started automatically.
Creating the image backup
The copy of Macrium Reflect on its rescue disk is essentially identical to the version that you install on your PC. Using it, I:
Selected "Image selected disks on this computer".
Selected the internal hard drive, including all of its partitions, as the disk to be backed up.
Connected my external USB hard disk.
Selected that external disk as the destination for the backup image.
Ran the backup.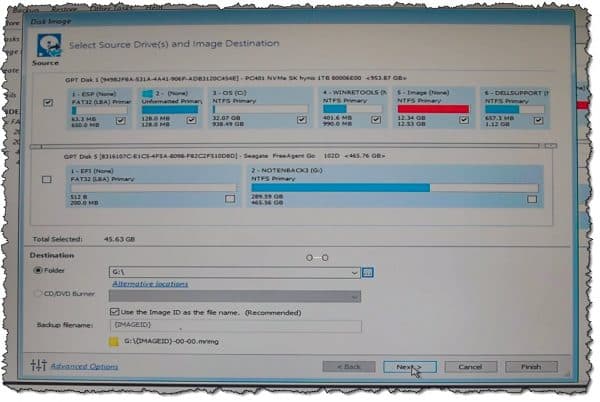 Reflect proceeded to image the internal hard disk and create an image backup file on the attached external drive.
Once the backup was complete, I detached my USB rescue disk and external disk.
Undoing the BIOS changes
In order to boot into the pre-installed Windows, I needed to revert the changes I'd made to my BIOS settings. Specifically:
In "Advanced Boot Options" I disabled "Attempt Legacy Boot".
In "Boot Sequence" I changed "Boot List Option" back to "UEFI".
Back in "Advanced Boot Options" I disabled "Enable Legacy Options ROMs". (I'm not sure why it had to be done in this sequence.)
I enabled "Secure Boot".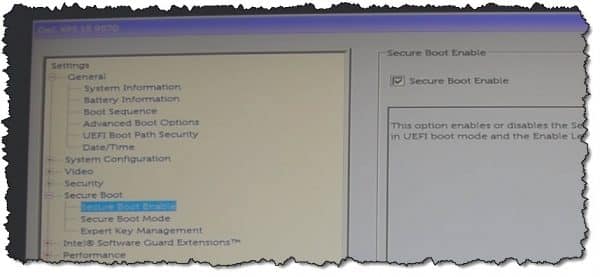 After doing all that, I exited the BIOS setup. After a somewhat lengthy reboot, the machine began Windows' first-time setup.
Why?
As I mentioned above, the moment you turn on a machine with Windows pre-installed, you initiate the Windows setup program. By definition, that immediately begins making changes and customizations to the copy of Windows installed on that hard drive.
By backing up the hard disk before any of that happens and saving the backup image somewhere safe, I have an additional recovery option available in the future: a restore to true factory-fresh condition, as if I'd never touched it. I can start Windows setup from scratch and, should I want to, make completely different choices in the process.
It's not a replacement for backups taken after Windows has been set up. Those represent additional options that, with Windows already set up, might require less work should you ever need them.
But this truly pristine backup gives me an ability to truly start over that those backups simply can't provide.
Next up? Updates. Lots of Updates.
Podcast audio

Download (right-click, Save-As) (Duration: 6:37 — 3.0MB)
Subscribe: RSS
More for Patrons of Ask Leo!
Silver-level patrons have access to this related video from The Ask Leo! Video Library.
  Backing Up A Machine Before Turning It On