As I described in a previous article of this little series, the first thing I do with any brand-new machine is make an image backup. Whether I go to the extreme to back it up prior to Windows Setup running or take an image immediately after Windows setup completes, I want an image as early in the process as I can get it.
Then it's time to play, knowing that in the worst case, I can restore to that image.
Though I suppose not everyone will call the next steps "play".
Step 1: Connectivity
What follows requires an internet connection, so the first thing I need to do on completion of Windows setup (or as part of it) is to connect to my local network. (I opted not to connect during the setup process so I could isolate the setup process from the update process for these articles, and be able to install my screen recording software inbetween.)
Establishing network connectivity, particularly for a wireless connection, is no different than taking your laptop to a new location with a set of wireless networks to choose from. Click on the network icon, and a list pops up from which to choose a connection.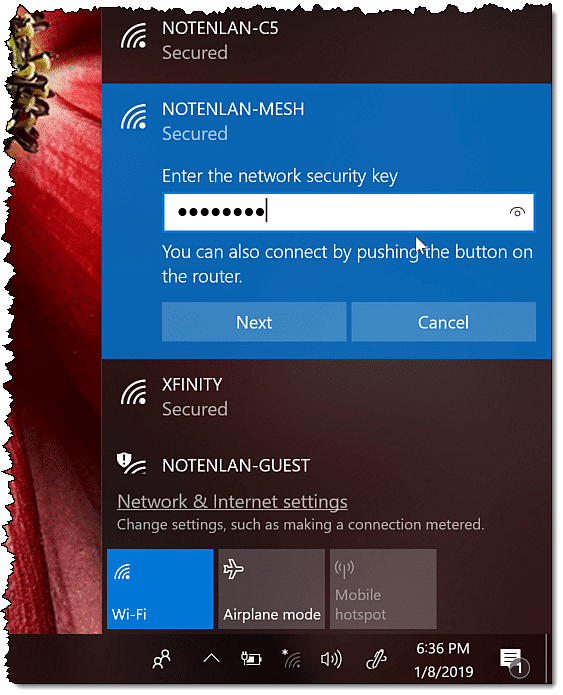 I made my choice, entered my network security key (aka Wi-Fi password), and was immediately connected.
Update Windows
Once connected, my next step is to update Windows itself. By update, I mean bring it as up to date as possible before proceeding further. I recommend doing this first because it minimizes the chances of any conflicts with subsequently installed software.1
In the Settings app, click on Update & Security to get to Windows Update settings.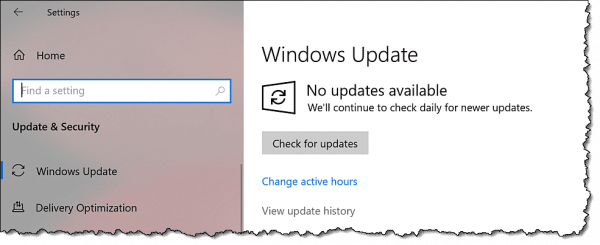 It's interesting to note that there are "No updates available". This is simply because without a network connection until now, Windows has been unable to check.
Click the Check for updates button to begin the process. Windows will reach out to Microsoft's update servers to check for and begin to download updates.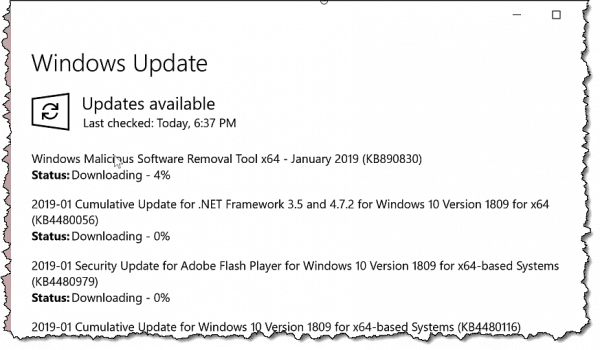 It's extremely likely you'll need to reboot after the updates are installed. Do so.
Return to the Windows Update settings page and repeat the process: click on Check for updates again. You will probably see more updates to be downloaded and installed. Let it do so, and once again, if a reboot is required, do that too.
Repeat the process again. And again.
Repeat the process until Windows tells you that there really are no updates available.
Windows is now as up-to-date as possible. Consider creating an image backup so you can restore to this point in the future without needing to repeat this process.
Update drivers
Your next step varies depending on the manufacturer and model of your computer.
While not strictly necessary — I generally avoid updating drivers unless there's a problem I'm trying to fix — setting up a brand new computer is the perfect time to do so since, like Windows updates, it really does maximize the chances of success and minimize the cost of failure.
In my case, I plan on using a docking station. Dell actually went out of their way to indicate that both the system BIOS and drivers should be updated as soon as possible.
With Dell, there are two approaches.
The first is to visit the Dell support web site. I generally just go to support.dell.com, which redirects me to the appropriate page. The first thing that page asks is for you to identify the machine you're running. While it allows you to do so by model number or service tag number, I prefer to let it "Detect PC".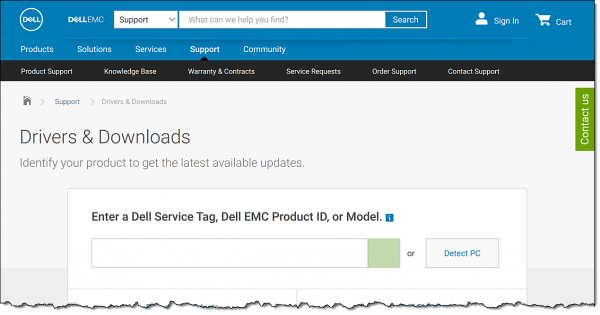 "Detect PC" runs the Dell "Support Assist" software typically pre-installed on the machine (downloading it if necessary) to identify the machine's configuration and current software versions. The site then recommends updates as needed. In my case, there were two updates immediately available, including a BIOS update.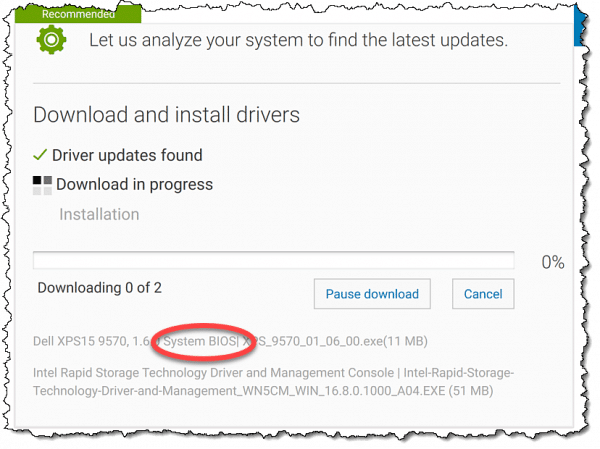 The driver was updated automatically, but the BIOS update required that I run an update utility manually. That utility updated the system BIOS and rebooted the machine.
The second approach to Dell updates is to run the unsurprisingly-named "Dell Update" program, which is also generally pre-installed. If it's there, you'll find it in the Dell section of the Start menu.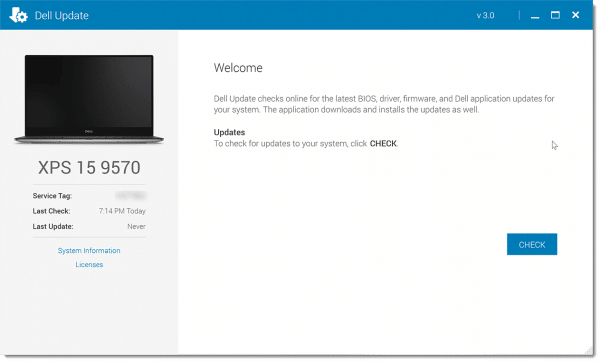 My sense is that it performs the same basic function as visiting the Dell website: it identifies your system configuration and software versions, and then downloads and installs any necessary updates.
As with the Windows updates we did before, keep running the utility and installing any updates until it reports that no more are available.
And once again, this would be a fine place to take an image backup.2
Next up in the conclusion of this series, some of the software I install first, as well as my reflections on the choices made.
Podcast audio

Download (right-click, Save-As) (Duration: 5:24 — 2.5MB)
Subscribe: RSS