My new laptop was capable of holding 32GB (gigabytes) of RAM, but for reasons I didn't bother to pursue, I could find it only available with 16GB pre-installed.
I didn't worry about it too much, knowing I could easily upgrade the RAM myself should I find it necessary.
I found it necessary.
16GB worked fine, but it was clear that running virtual machines put a little too much stress on the machine, and RAM was the limiting factor.
I purchase RAM upgrades from Crucial.com.
Upgrading RAM, if possible, involves opening your computer and potentially removing components.
Once accessible, RAM cards are relatively easy to swap.
Purchase
I've come to rely on Crucial.com for RAM upgrades.
The primary reason is that the process for selecting exactly what RAM you need can be confusing, and Crucial maintains an extensive database with an easy-to-use interface that leads you to exactly what will fit your specific machine. I entered the brand and model number of my machine and was shown all the options available to me, with a guarantee that they would fit.
Since I had 16GB already installed as two 8GB SODIMM (Small Outline Dual Inline Memory Module) cards, my only choice was to replace them with two 16GB SODIMMs.
I ordered them and they showed up a few days later.
Accessing the RAM cards
Now it was time to open the machine and gain access to the cards so as to replace them.
I have to stress that this is an example. While the steps I'll describe are typical, they're very likely to be different on your machine, unless you happen to have the exact same brand and model.
I did locate and download the service manual for my laptop, available from the Dell website, which gave detailed steps for what follows.
It all starts with screws. Lots of screws. Lots of tiny screws.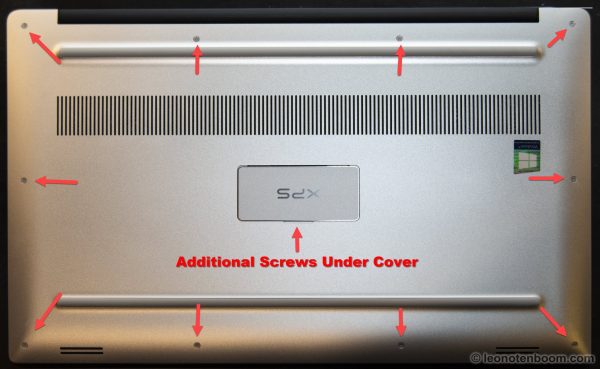 There were 10 tiny exposed screws and two more (of a different size, of course) underneath a cover. I happen to have a toolkit that includes screwdrivers specifically for these screws. I strongly recommend that if you're faced with non-standard sized screws, you do not try to use regular household or otherwise ill-fitting screwdrivers. The wrong tool can damage or strip the screws.
After removing the screws and carefully setting them aside, I was faced with the inside of my brand-new laptop.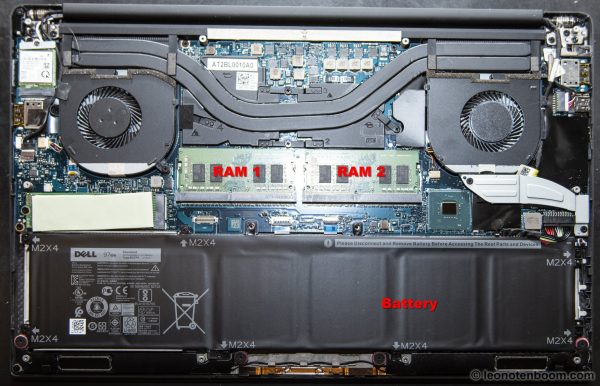 As you can see, there's a lot packed in.
The instructions from Dell indicated that the next step was to remove the battery. Even though it doesn't obstruct or interfere with accessing the RAM cards, I elected to follow instructions. Having power available anywhere creates additional risk of something as simple as a dropped screw accidentally damaging circuitry if it comes into contact with the wrong thing.
I removed the battery by removing the seven screws that held it in place and carefully disconnecting its connection to the computer's motherboard. I then carefully removed the two RAM cards.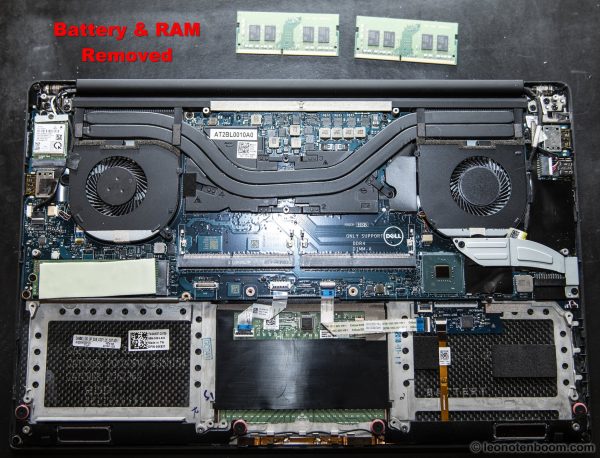 I'd reached my destination.
Replacement and reconstruction
Upgrading the RAM was a simple matter of inserting the replacement RAM cards.
Then it was time to reverse the steps I'd taken so far:
I replaced the battery with its seven screws.
I put the computer's cover back in place, carefully using the 12 screws that held it in place.
I do want to reiterate the need for using the proper tools, as well as being careful when replacing screws so as to thread them properly and tighten them firmly but without over-tightening and potentially stripping the thread.
I flipped my computer over and rebooted. Windows dutifully reported my new capacity.

This article, like any article on Ask Leo!, may contain "
affiliate
links". Without affecting the price you pay,
or my decision to include them
, using affiliate links may result in my being paid a commission should you purchase the product mentioned. Affiliate links help pay the bills and support Ask Leo!.
More detailed information.
RAM matters
As I've said before, adding RAM is one of the simplest upgrades you can perform on most computers, and often one that has the most direct impact on your computer's performance.
When purchasing a new computer, what matters is not how much RAM it comes with, but how much it can hold. You may only need a certain amount today to get your job done, but as with so many things, RAM requirements for software only grow over time. By making sure your computer has room for more, you'll effectively lengthen its usable lifespan.
In my case, of course, that day came quickly because of my RAM-hungry requirements from the start.
Podcast audio

Download (right-click, Save-As) (Duration: 4:54 — 4.6MB)
Subscribe: RSS
Video Narration