Spammers do it; why not you?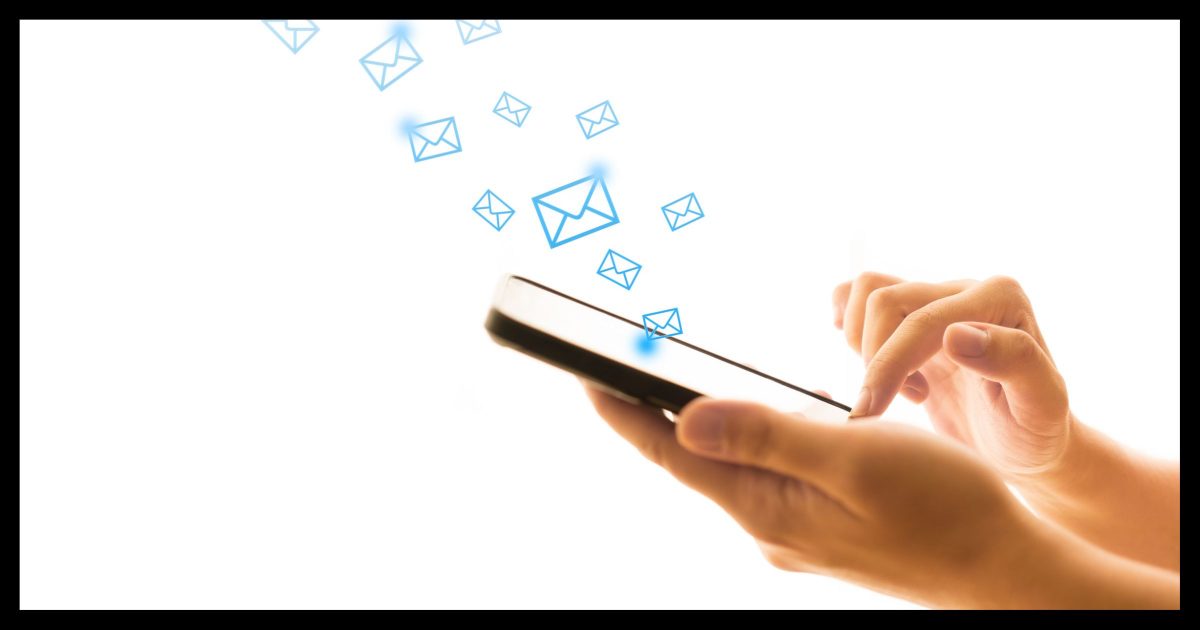 It's possible to send email to someone without having their email address show up on the To: or CC: lines by using Blind Carbon Copy, or BCC.
Have you ever gotten a piece of email without being listed as a recipient?
Your email address wasn't present on either the To: line or the CC: (carbon copy) line, but somehow you got it anyway.
What you didn't see was what's called the blind carbon copy line, or BCC:, which allows the sender to specify one or more email addresses to get it without their names appearing on it.
Why "carbon" and what's this about being blind?
Hiding email recipients with BCC
The BCC or Blind Carbon Copy feature of most email interfaces and programs can be used to send an email to someone without their name or email address being exposed. It's a useful tool in many situations, but it can also be abused. BCC is often somewhat hidden by your email interface, so be sure to look for it in order to use it.
Carbon paper
The term "carbon copy" dates from the pre-photocopy typewriter days, when the way to make a second copy was to insert a sheet of carbon paper between two sheets of typewriter paper. When the typewriter struck an image of a letter on the top sheet, it would also press an image through the carbon paper onto the second page.1
In today's digital age, the term simply means any copy of a document or email sent to someone besides the primary recipient(s) listed without exposing who else got it.
It's common courtesy on business correspondence to let the recipient know who else is getting the document by listing them after a CC: somewhere on the document. Email, of course, does this automatically with the CC: field into which you enter email addresses. Everyone who gets the email can see who was CC'ed.
Blind Carbon Copy, or BCC, simply means that someone else gets a copy of an email without being shown as a recipient. No one receiving the email can tell who, if anyone, was BCC'ed.
Finding and using BCC
Here's the rub: how you access the blind carbon copy function depends on your email client or interface.
In Outlook.com and Gmail.com, it's in the upper right of the compose window.


In Microsoft Office's Outlook desktop email program,2 there is a BCC: field that's not visible by default. When you compose a message, hit the Options menu, and then the ellipsis at the far right of the menu, and under "Show Fields" you should find an item labeled BCC: field, which will turn it on.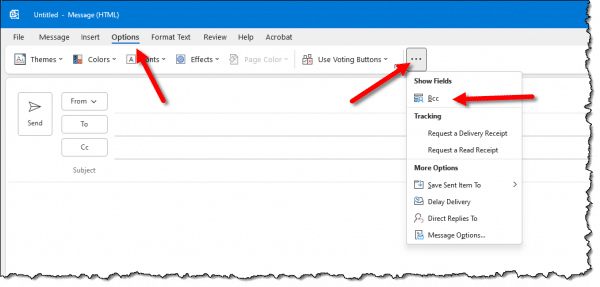 In Thunderbird, while composing a message you'll find it on the View menu.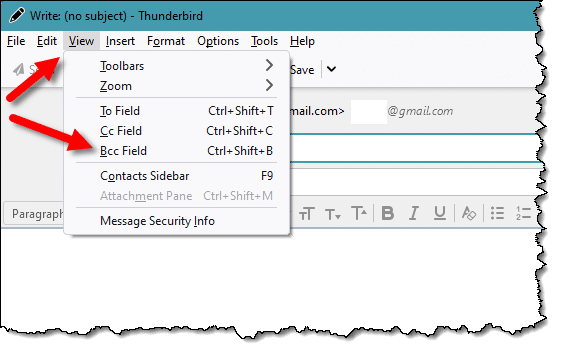 If you use another email interface or program, check the online help or support options to find the BCC setting.
Do this
BCC: can be a courtesy if used correctly. If you're sending email to many people, you can reduce the size of the message and the To: or CC: headers that people might have to wade through by BCC'ing your message to them. It's also an appropriate way to respect the privacy of those you want to get your message because it doesn't expose their email addresses to all who receive the message.
It can also be rude to BCC: what someone might think is a personal message to others, as the primary recipient will not know that the people BCC'ed are privy to that information.
Use BCC responsibly.
Podcast audio

Download (right-click, Save-As) (Duration: 4:43 — 4.3MB)
Subscribe: RSS
Footnotes & References
1: With a powerful enough keystroke or electric typewriter, we could create multiple pages this way, all stacked on top of one another with carbon paper between each. Legibility suffered, sometimes greatly, as more copies were attempted.
2: Outlook.com and Outlook the desktop email program are completely unrelated, but they do share one trait in common: they change frequently. If you don't find your situation matches what's shown here, keep looking. It's in there somewhere.