I am a musician. Every couple weeks or so, I will sit down and send a large number of emails (on average 150 – 200) to radio stations, magazines etc. in order to promote my music. My email will usually consist of an attached mp3 and/or links to YouTube videos etc., along with a bio/description about myself and my music. Though I have had many responses through email, there are still several that have never replied. It suddenly occurred to me, as well as not being interested in the music I am sending them, (can't please everyone) could some of my emails be getting marked as spam?
I use a Hotmail account, which I know you say is bad. But I fear that suddenly changing my email will result in a loss of business. I used to send each email individually, personalizing each one, but since my contact list has grown there are not enough hours in the day to do this. So I use Bcc and send them all in one go.
My question is, do my infrequent emails qualify as spam? Despite the fact that they are spread out over numerous weeks, do the large quantities mean that only a certain number are getting through daily?
In short: yes. It's very likely that your emails are being sent to spam folders.
There are several things that could contribute to this. I'll review what I think those are, and what I recommend you do instead.
What constitutes spam
While it varies in detail, the formal definition of spam is something along the lines of "unsolicited commercial email".
Did your recipients ask for or formally agree to receive the the email? No? Then it's unsolicited. For many, that alone is enough to qualify as sending spam.
Is it promoting your work or business? Well, that makes it commercial.
So yes, sorry to break it to you, but according to at least one definition you are indeed sending spam. If anything is surprising, it's that some of it makes it through.
Now, spam filters don't always know about things like intent or what it means to be commercial. Let's face it, we all get a lot of email that we don't explicitly ask for, and some of it is very valuable. Clearly, spam filters do a pretty good job of separating wheat from chaff.
How do spam filters work? The most common approach is to evaluate incoming email by the characteristics of email that people have explicitly identified as spam. The filter tries to determine whether or not messages should be sent directly to the spam folder, unless the recipient has somehow indicated otherwise.
Besides being unsolicited, what you describe has at least three characteristics commonly associated with actually sending spam.
That Hotmail address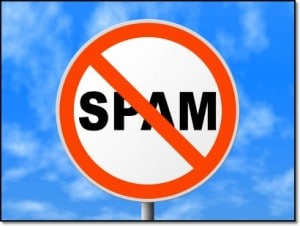 Hotmail has a very bad reputation for sending spam. Not that Hotmail itself sends spam, but spammers often use Hotmail accounts – often compromised accounts – to send lots and lots of spam.
In fact, it just has a generally bad reputation, which is why I still seriously recommend you never use Hotmail for business. To be honest, when it comes to running a business, I recommend avoiding free email accounts altogether. They bring with them both a reputation for sending spam and a serious lack of respectability in the minds of many customers and prospects.
My suggestion is to get your own domain name. You can have it serviced by a free service; I'd still avoid Hotmail, but for example, all my askleo.com mail is processed by Gmail.
With your own domain name, you're also free to change who services it, and how, at any time in the future. If I don't like Gmail, I can move my email to another service – or my own server – without needing to change any of my email addresses.
I understand your concern about losing customers. The solution here is actually pretty simple: once it's set up, start using your new email address exclusively, and have your old Hotmail address forwarded to (or picked up by) your new email address. Indeed, I have a Hotmail address, and it's automatically picked up by my Gmail account.
Attachments
In my opinion, attachments are a bad idea when trying to reach out to prospective customers. Not only are attachments yet another characteristic of spam, but they can end up taking time and disk space away from the very people you're hoping to engage in a positive way.
Instead, put the file on the internet somewhere and include a link to the file.
One simple solution is to use Dropbox: after installing Dropbox, copy your mp3 file into one of your Dropbox folders, and then generate a shareable link from Dropbox.
On the other hand, since you're getting your own domain for your email (right?), you can simply set up a simple web site, store the mp3's you want to send out on the site, and link to the mp3 files in your email.
Or, if you want some visibility, you might consider a sharing service like SoundCloud. Upload the file there and share a link to it there with anyone.
Sending many at once
Honestly, I'm surprised that you can send to 150-200 people at once. Most free email services restrict the number of recipients on a single message to something like 10. Why? Because sending to lots of people at once like that, particularly using BCC, is exactly what spammers do.
In other words, it's another thing that makes it look like you're sending spam.
Yes, sending 150-200 individual messages is probably better, but as you've experienced, it's also a big pain in your email assets.
Fortunately, there's software for this.
The best solution
The best approach to what you're doing is exactly what I do. It works like this:
Get an account at an email service provider like Aweber. They are specifically designed for sending broadcast messages to large numbers of recipients. Each week I send over 65,000 copies of my newsletter using Aweber.
Ask your stations and recipients to sign up. This is analogous to signing up for my newsletter. That means they proactively ask for your mailings, and confirm that they want it.
You send out your messages using Aweber, and a significantly higher percentage of them land in recipient's inboxes.
It really is one of the best ways to manage your marketing message. In fact, since they asked to get your email, these people are – by far – your best prospects.
And you're not sending them spam.
"But… but…" I can hear you sputtering, "Why would they ask to get my email?"
Indeed. If they don't want it, then sending it to them anyway is, once again, the very definition of spam.
You need to give them a reason. In your business I don't know what that is, but in general it boils down to making your messages valuable to them. Make it something that they would want. (Not something you want them to want – something that they, independently, would actually want to get.)
Failing that…
The second best solution
Use a less rigorous email service provider, one that doesn't require the confirmation step that Aweber does.
You can use MailChimp for this, I believe, or you may be able to set up a Google or Yahoo! group for the purpose.
What's important is that you use a service specifically designed to send broadcast email.
And yes, without that confirmation step, you are technically still sending spam. Your deliverability (the measure of how many messages actually make it into the inbox) will suffer as a result.
But it'll still be better than sending emails with attachments to lots of BCC'd recipients directly from your Hotmail account. That's just wrong.
Podcast audio

Download (right-click, Save-As) (Duration: 8:32 — 7.9MB)
Subscribe: RSS